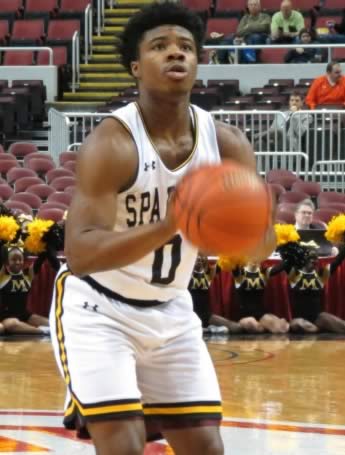 Peoria, IL-(ENEWSPF)- Marian Catholic used a 10-0 fourth-quarter run and a combined 48 points from Ahron Ulis and Malik Tidwell to top North Chicago, 58-48, to capture the IHSA Class 3A Third-Place Game at the Peoria Civic Center on Saturday.
In winning the school's first-ever men's basketball state trophy, the Spartans concluded the year at 26-6.
Ulis hit 9-for-11 from the line to lead all scorers with 30 points, while Tidwell hit a pair of threes and finished with 18 points.
Marian crashed the offensive boards effectively in the second half to the tune of an overall 22-10 advantage. Alec Dinwiddie ripped down 15 boards and Chris White 11 to pace the Spartans to a 51-29 rebounding advantage.
North Chicago erased a onetime 13-point double-digit deficit to take a two-point edge midway through the fourth period before the guard duo keyed the critical Marian run.
Marian, which finished the campaign with 12 wins in the last 14 contests, had never played North Chicago.
Marian Catholic closed school on Friday and took 13 busloads of students to Peoria for the first-ever appearance of men's -basketball in the Final Four. The team came up short in that contest, falling to Morgan Park 68-51. Morgan Park went on to defeat Springfield Southeast High School for the IHSA Class 3A championship 71-56.
Some pictures from Friday's contest:
[new_royalslider id="4″]
MARCH 17- MARIAN CATHOLIC 58, NORTH CHICAGO 48
NORTH CHICAGO- Samoa 2-2-6, Clinton 0-0-0, Walker 3-7-13, Gales 1-5-7, Coleman 1-0-2, Lymone 3-0-6, Gilmore 1-1-3, Richardson 0-0-0, Cooper (5)-0-11. Totals: 16-15-48.
MARIAN- Dinwiddie 1-0-2, White 1-2-4, Tidwell (6)-4-18, Ulis (10)-9-30, Smith 0-2-2, Green 1-0-2, T. Jones 0-0-0, Thomas-Ailara 0-0-0. Totals: 19-17-58.
Field goals: N. Chicago 16 of 51, .314; Marian 19 of 57, .333. Free throws: N. Chicago 15 of 20, .750; Marian 17 of 22, .773. Three-point goals: N. Chicago 1 of 8, .125 (Cooper); Marian 3 of 12, .250 (Tidwell 2, Ulis). Fouls: N. Chicago 17, Marian 15. Rebounds: N. Chicago 29, Marian 51. Turnovers: N. Chicago 14, Marian 17.