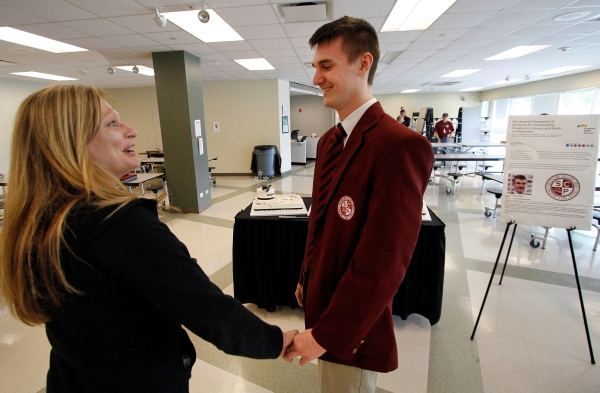 RICHTON PARK, IL –(ENEWSPF)—May 18, 2018
John Mensik, a Southland College Prep Charter High School senior, has been named a recipient of a 2018 National 180 Student Award. He is one of  15 students across the United States to be recognized for having overcome significant obstacles to becoming a successful learner.
The 180 Student Awards program, now in its twelfth year and organized by global learning company Houghton Mifflin Harcourt, honors students, who together with the aid and assistance of their teachers, have made significant progress in literacy and math achievement and who are now on the path to success in life.
Mensik is recognized as an outstanding student for his perseverance to overcome obstacles and achieve success inside and outside of the classroom.
Through the use of READ 180, an intervention program that uses adaptive technology to personalize student instruction, Mensik made significant literacy gains, increasing his Lexile®  score by 165 points in just two months.
"John came into my READ 180 class not wanting to be there," says Southland College Prep faculty member Karen Hopkins. "I made it a point to begin each class with positive enthusiasm."
"Then something clicked for John. He began to see that the characters in the stories he was reading had challenges to which he could relate.
"In class, John began to participate in group discussions and share his own struggles with his peers. John also began volunteering to read and asking questions during lessons and his mindset began to change," said Hopkins.
"I've improved my reading and writing since I've been in the READ 180 program," says John. "I've also succeeded in my other classes because I understand what my teachers are teaching now. Thanks to READ 180 I've changed my life '180.'"
Mensik plans to enroll in Vincennes University.
Student winners were selected by an HMH committee based on several factors, including teacher recommendations, student statements and video submissions, as well as data demonstrating reading or math growth according to the Lexile® or Quantile® framework. Each winner will receive a cash prize and the student's school will receive READ 180, System 44 materials for their school.
Source: www.pcipr.com