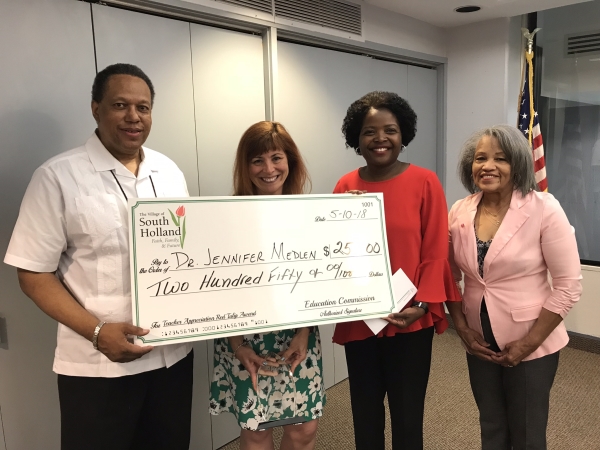 SOUTH HOLLAND, IL –(ENEWSPF)—May 18, 2018
By: SSC Media
South Suburban College recently hosted their annual Spring Tea Awards to recognize employees' years of service, retirements, and announce the Faculty Appreciation Awards.
The SSC Faculty Appreciation Awards have now become an annual tradition under direction of college president Don Manning and vice president of academic services, Lynnette Stokes. "We have so many wonderful, talented faculty members at SSC," said President Manning. "It is only fitting that we begin recognizing them appropriately with a formal expression of our appreciation."
This year's annual Faculty Appreciation Award recipients were:
Outstanding Faculty Member of the Year Award – Beth Beno, Math
Outstanding Adjunct Faculty Member of the Year Award – Marianna Troupe, Psychology in the Social and Behavioral Sciences Department
The Dr. William E. McVey Teamwork Award – Millicent Collier and the Service Learning Committee
The Outstanding Adult Educator of the Year Award – Camille Johnson, Adult Education
SSC's 2018 retiring employees were recognized at both the Spring Tea Awards and the college's May Meeting of the Board of Trustees. The following employees are retiring from SSC in 2018:
Sandra Bein, Communications & Humanities – 21 years
Marcia Bult, Business & Accounting – 28 years
Patrice Burton, Student Services – 35 years
Susan Cline, Reading – 11 years
Leslie Cooper, Bookstore – 34 years
Caryl Damiani, Business & Accounting – 16 years
Kathryn Eberhardt, Allied Health – 30 years
Don Manning, President – 28 years
Carol Weber, Art & Design – 23 years
Also at the meeting, SSC's Dr. Jennifer Medlen was presented with the Village of South Holland's Red Tulip Award. The award is given to a certified teacher in South Holland, IL who has demonstrated outstanding service by going beyond their daily duties to effectively change student lives.
SSC is a fully accredited, comprehensive community college with locations in South Holland and Oak Forest. SSC offers over 50 career education and transfer programs awarding Associate Degrees, professional certifications and transferable credits. SSC also has numerous community outreach programs including Adult Basic Education (ABE), High School Equivalency (HSE), English as a Second Language (ESL), Continuing Education and a Business & Career Institute. For more information about all of SSC's programs, admissions and registration, please visit www.ssc.edu or contact the Admissions Office at (708) 210-5718
Source: www.ssc.edu