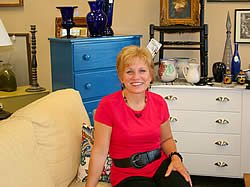 Chicago Heights , IL–(ENEWSPF)– Although she enjoyed her career as a registered nurse, Janice Sabey always dreamed of having her own business. About two years ago, Sabey decided to retire from nursing and chase her dream.
Not knowing how to begin, Sabey, of Frankfort, decided to enroll in an entrepreneurship course run by Prairie State College and Governors State University. After five weeks of classes, she learned how to turn her dream into a thriving business.
"The entrepreneur course helped me perfect my business idea," said Sabey. "I learned from attorneys, bankers, and CPAs on how to get started, which gave me the confidence to open my store."
In early August 2009, Sabey cut the red ribbon on her dream and opened Evilena's Red Dresser in Frankfort. Named for her mother, a dresser that has been in her family for generations, and her favorite color, the store is an upscale consignment store featuring painted furniture, art, and home accessories.
"Shopping consignment is a great way to decorate your home with reclaimed items using creativity, individuality, and affordability," said Sabey. "My store encourages people to make things new again."
Sabey has some goals for her business. Following her passion for helping people, she plans to donate 10 percent of her sales to the New Horizon's Youth Ministries when her business reaches profitability.
"The wellness of people has always been an interest of mine and by giving back to the community through the success of my store is something that is important to me," she said.
Although her store has only been open for a short time, Sabey said the satisfaction being a business owner has been rewarding.
"I've enjoyed helping customers recycle their old items and discover new ones to bring into their homes," said Sabey. "I am excited to be living my dream."
Those looking to start their own business can enroll in the Business for Entrepreneurs Simplified course at Prairie State College. The class runs for five consecutive Saturdays from 9 a.m. to 4:30 p.m. beginning October 3. Attendees will learn the essentials of managing a business and developing a business plan from presenters including attorneys, bankers, certified public accounts, and other business owners. For more information, contact the college's Matteson Area Center at (708) 709-3750.