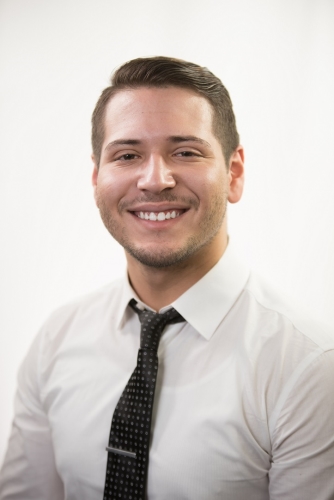 CHICAGO HEIGHTS—(ENEWSPF)—April 30, 2018
Prairie State College (PSC) student Omar Martinez of Homewood, Ill., recently was awarded the 2018 Dr. Juan Andrade Scholarship for Young Hispanic Leaders at the 36th Annual United States Hispanic Leadership Institute (USHLI) National Conference. He was one of only 20 high school and college students chosen nationwide to receive the 2018 scholarship, and the fourth PSC student recognized with the award in four consecutive years. Past PSC recipients were graduates Emmanuel Lopez who won the award in 2015; Juan Cazares, who was named a recipient in 2016; and Celeste Garcia, who won the award in 2017.
Martinez was presented his award during the Educational Achievement Luncheon at the USHLI Conference, held at the Sheraton Grand Chicago Hotel.
Winning this award, Martinez said, was an honor, and he feels it will open doors for him in the future. He expressed appreciation for the opportunity to not only receive the scholarship but to be able to attend the USHLI Conference for the second time.
"Winning the Dr. Juan Andrade Scholarship was an amazing feeling," said Martinez. "I was extremely grateful to see so many successful Hispanic leaders who I could relate to — people who grew up no different than me and faced many obstacles but still were able to become successful. It is truly an inspiration."
In addition to the Dr. Juan Andrade Scholarship, Martinez has earned numerous other scholarship awards. In the past two years, he has received the PSC Board of Trustees Scholarship, a scholarship through Phi Theta Kappa, and the Governors State University (GSU) Promise scholarship, an award that covers the full cost of tuition and fees at GSU. Despite all he has achieved, Martinez says he first had to overcome a few barriers to get where he is today.
"One of the main obstacles I faced was not knowing what to do after high school," said Martinez. "You're told what to do all your life up until you graduate from high school. After that, you're expected to know what to do with your life."
At the age of 18, Martinez said he did not know what he wanted to do, and even if he did, his family did not have the finances to support it. He explained that his parents grew up in extreme poverty and were forced to drop out of school at a young age to help their families. Despite all they endured, his parents emigrated from Mexico to the United States and were able to make a life for their family. Martinez says his parents encouraged him to pursue higher education and earn his degree. With little money and resources, Martinez said he was lucky to have met PSC Hispanic Outreach Specialist and Enrollment Advisor Jennica Rodriguez.
"Jennica helped me plan my entire future and put me on the right path," said Martinez. "I will graduate with my associate degree and move on to get my bachelor's degree with zero debt."
At PSC, Martinez is president of the All Latin Alliance student organization. He also works closely with the Student Government Association and the PSC Foundation. He is a member of TRiO, and Psi Beta and he is currently enrolled in the PSC Dual Degree Program in collaboration with GSU. He also is a member of the Nu Sigma Chapter of the Phi Theta Kappa Honor Society, and was named to the 2018 All-Illinois Academic Team.
Martinez will graduate from PSC in May, and says he is excited to share the special day with his sister, Jessica Martinez. They are the first two members their family to graduate from college.
In the fall, Martinez will attend GSU and plans to earn his bachelor's degree in criminal justice, with a minor in accounting. While there, he plans to continue his involvement in student leadership activities with the hope that he will inspire others.
"I want to not only be an example for others to follow; I want to raise the bar and hopefully inspire them to do more," he said.
Source: www.prairiestate.edu