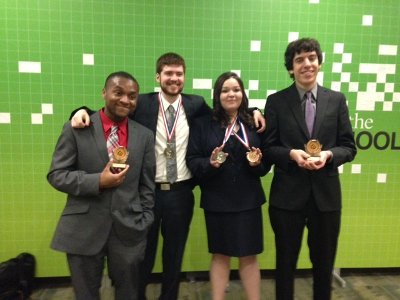 CHICAGO HEIGHTS–(ENEWSPF)–February 9, 2015. The Prairie State College (PSC) team members brought home several individual awards during the recent "Frank-ly Speaking Speech Tournament" hosted by the College of DuPage.
Kelly Crescenzo of Steger was named tournament champion for prose interpretation and received fifth place for persuasive speaking; Patrick Sheard of Dolton received fifth place for informative speaking; Colin Gallagher of Homewood received sixth place for informative speaking and Dan Blewitt of Crete received fifth place for poetry interpretation.
The team was coached by PSC Professors Dave Naze, Ed Schwarz, Elighie Wilson and Joshua Green.
"The students are experimenting with new events, so it's great to see the success they are having as they continue to develop their competition skills," said Naze.
Source: www.prairiestate.edu