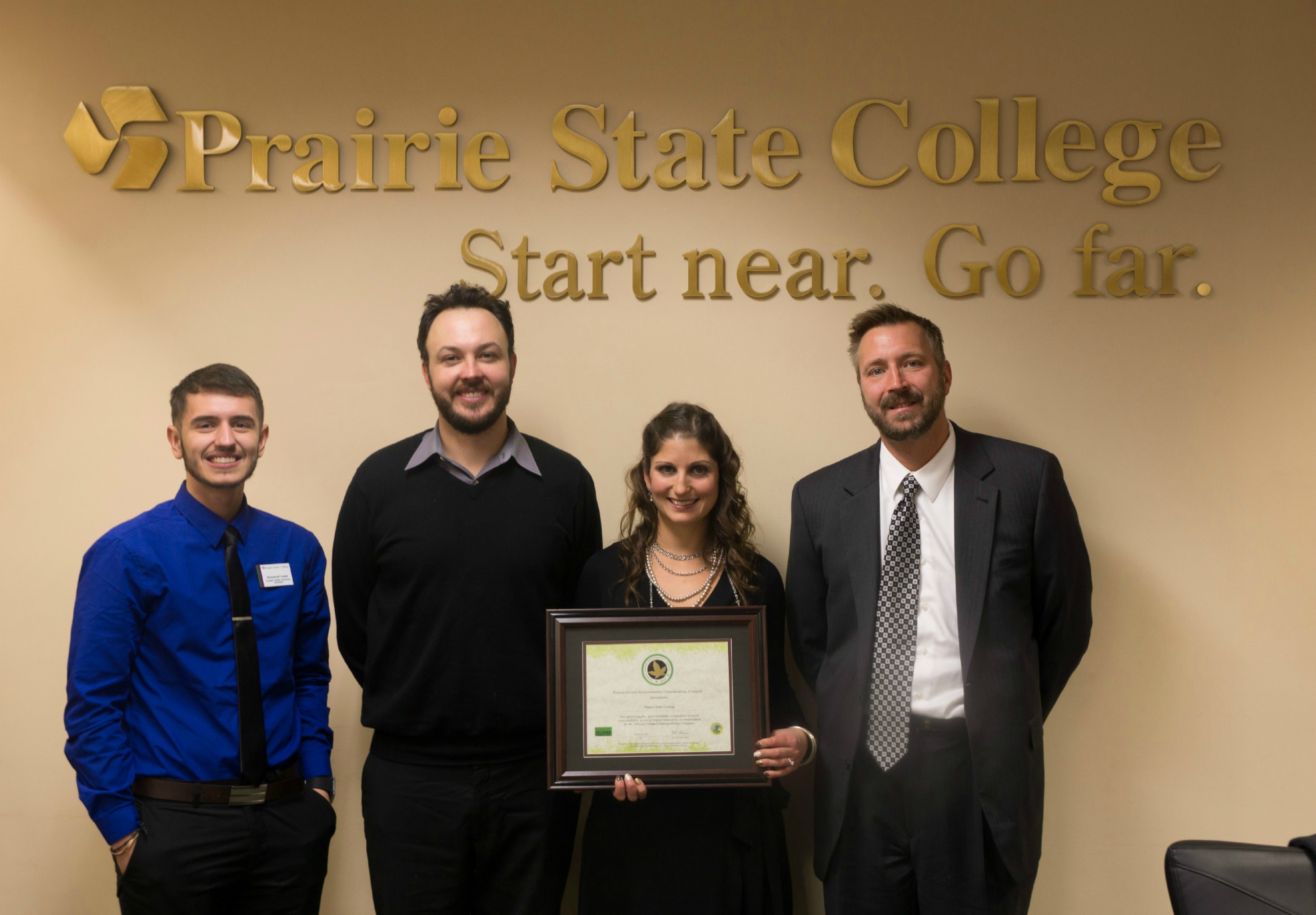 Pictured from left to right:  Emmanuel Lopez, SGA President, Eric Heineman, Sustainability Director for Gov. Quinn, Allessandra Cairo, Sustainability Coordinator, and Tim Kosiek, Executive Director of Facilities and Operations.
CHICAGO HEIGHTS–(ENEWSPF)–Decmeber 19, 2014.  Prairie State College (PSC) was among only eight college and university campuses recently recognized by the Illinois Campus Sustainability Compact for setting and meeting environmental goals on their campuses.
PSC was named as a Gold Level Compact school by Illinois Gov. Pat Quinn and the Green Governments Coordinating Council. The college had previously been recognized at the bronze and then silver level. With this recognition, PSC becomes one of only 15 schools in the gold category.
The announcement was made during the 2014 Governor's Sustainability Awards and presented by the Illinois Sustainable Technology Center (ISTC) during a ceremony in Chicago.
The compact encourages public and private colleges and universities to incorporate sustainability into their campus operations, academic and research programs, student activities and community outreach. The gold level is intended to recognize institutions that are integrating sustainability throughout their campus and working towards measured improvement.
Among the many efforts that the college has made to achieve this recognition, PSC adopted a written statement acknowledging support for sustainability; created a focal point to lead sustainability work across the campus; created a web site that raises awareness and generates interest about the institution's sustainability efforts; created opportunities for students and faculty to provide suggestions for advancing sustainability on campus; fosters student involvement on several committees to guide administration on issues of sustainability; set measurable sustainability objectives though a sustainability plan; purchases green cleaning products, adopted policies to address new building through the sustainability plan, hosts campus wide events to encourage students to adopt sustainable practices, and partners with local entities to promote sustainability at the community level; integrated sustainability broadly into campus operations and management by developing a sustainability plan that covers multiple topics and issues and incorporating sustainability at a high level in the strategic plan and publishes an annual campus sustainability report.
"We are very proud of this recognition, and credit is due to many people across the college for the successes of the sustainability center," said Allessandra Cairo, sustainability coordinator. "Through a coordinated effort, PSC will continue to identify opportunities to integrate sustainability into the daily operations of the college."
Source: www.prairiestate.edu