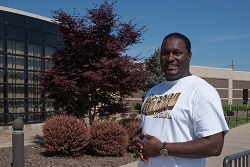 CHICAGO HEIGHTS—(ENEWSPF)—June 21, 2018
By: Prairie State Communications
Apprenticeship programs meet the skilled workforce needs of American industry by connecting job seekers looking to learn new skills with employers looking for qualified workers. This results in a workforce with industry-driven training and employers with a competitive edge. Thanks to a generous apprenticeship grant from the Illinois Department of Commerce and Economic Opportunity (DCEO), Prairie State College (PSC) launched the Driving Toward Apprenticeship Success initiative, a Commercial Driver's License (CDL) apprenticeship program offered at PSC, in partnership with KLLM Driving Academy, Inc. (KLLM). This initiative supports enrollment in a registered Department of Labor CDL apprenticeship program, providing an "earn-while-you-learn" model. One of the recent completers of the program, Central Hightower was doing factory work and forklift driving when he says he "stumbled upon the program through word of mouth."
"I wanted to do something different," Hightower said. "I heard about the program, and since I am licensed in Illinois, Prairie State College was the first place I thought of."
Hightower completed his training in January 2018. After successfully completing the program, he earned his CDL license, completed 2,000 hours obtaining an apprenticeship certificate, completed a paid internship and obtained employment with KLLM Transport Services. He most recently completed the leasing truck class in Mississippi to get his own truck, which he says will give him more career options.
"With my own truck, I can continue to have the over-the-road experience but not have to travel all over the map," he said. "I enjoy working outside, traveling over the road, and seeing new things. Leasing my own truck will give me flexibility and the option to focus my driving in a few states and explore new things."
Hightower says his experience in the Driving Toward Apprenticeship Success initiative and CDL program was a positive one.
"The training was very hands-on, but it was a pretty wild experience over the road if you're not used to it," he said. "It was a challenge to control a truck that weighs over 40 thousand pounds while driving down a hill, but you can pull through any situation if you put your mind to it.
Hightower plans to partner up with a friend to grow their business of car hauling, and intends to build a small fleet of trucks.
PSC, in partnership with KLLM, offers Illinois residents 21 and older an opportunity to earn a Class A CDL in just 22 days, with no out of pocket costs. Learn more at www.prairiestate.edu/kllm.
Source: www.prairiestate.edu