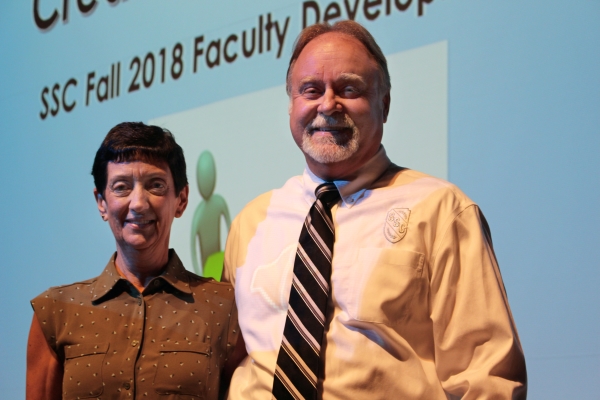 SOUTH HOLLAND, IL–(ENEWSPF)—September 6, 2018
By: South Suburban College Media
Marybeth Beno, of Flossmoor, was recently presented with the Outstanding Faculty Member of the Year award at South Suburban College. The recognition represents a culmination of emotions rooted in 35 years of distinguished, loyal service to students of all ages and backgrounds. For Beno, who will be retiring at the end of this academic year, it was always about the students.
"I feel very honored. It's always nice to be recognized for doing a good job, especially after pouring your entire heart and soul into your career for over three decades," said Beno.
Beno ran into one of her former students who let her know if it weren't for her teaching methods and encouragement, he wouldn't have made it through her class and engineering school. "When students thank you at the conclusion of a semester, or when you run into a former student who tells you that your class made a difference in their lives, it's the best feeling!"
Beno is a firm believer that community college is the best place to start for college degree seekers. All three of her children attended SSC before completing their Bachelor's Degrees at DePaul and Purdue and becoming gainfully employed in their chosen fields. "Faculty and staff here really care about one another and the students. Our decisions are based on student needs and student success."
Beno said receiving the award and reflecting on her career is bittersweet knowing she's facing her "last syllabus, last PowerPoint, last final exam week… I will miss the students, my office, and seeing my friends every day. But, with every ending, there's a new beginning. I have three little people who mean the world to me. Mikey is 4, Sydney is 1, and Haley is brand new. I will see them as often as I can and watch them grow."
Marybeth Beno always wanted to teach. She played school with her sister when she was young, and she was always the teacher. They had a blackboard in their basement and worked on math problems together. Soon, it will be time to dust off the old blackboard for her three little people.
Source: www.ssc.edu