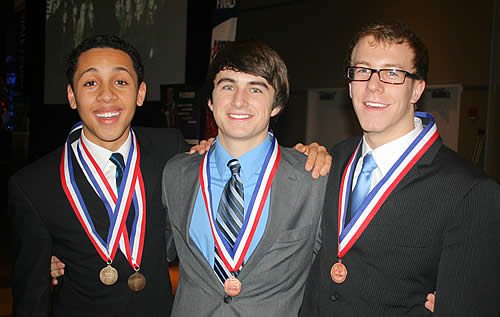 Earning medals at the IHSA State Championships are Jaboukie Young-White, Kyle Fitzgerald, and Zach Henry. (photo credit Mary Henry)
Chicago Heights, IL-(ENEWSPF)- Relying on the talent and effort of team veterans Jaboukie Young-White (Harvey), Zach Henry (Lansing), and Kyle Fitzgerald (Park Forest), the Marian Catholic Speech Team placed sixth overall at the IHSA State Speech Tournament Finals, February 17-18 at the Peoria Civic Center.
Young-White advanced through the preliminary rounds and captured two first place finishes, one in Original Comedy and one in Special Occasion Speaking from among dozens of other high school students participating at the state competition.
"Last year as a junior, I placed sixth at state. But this year, being a bit older and knowing what to expect at this level, I felt more confident going into the finals," said DePaul-bound Young-White. "Quite often the difference between first and second place is only one point," he said. "One point determines whose performance is better that particular day."
Ending the season with a Fourth Place finish at State was the Humorous Duet Acting duo of Zach Henry and Kyle Fitzgerald. Their rendition of "Rhinoceros" earned them a trip to the finals. Henry described the competition as tough, noting that they had already competed against some of the entries at the Regional and Sectional levels.
"There's always the possibility of being in a preliminary round at State, going up against a team we have never seen before," Henry stated. "It's the wildcard factor that keeps us on our toes."
Fitzgerald, the lone junior among the State medalists, concurs.
"We compete in so many tournaments in and around the Chicago Metropolitan area, that we become familiar with our competition. But, sometimes there's a group from down state that can surprise us at the state level," he said.
Marian's Performance in the Round group notched a sixth place finish at state with their production of "Taming of the Shrew."  The ten member cast includes Dan Blewitt (Crete), Kyliah Thompson (Richton Park), Emerson Pavur (Monee), Ken Pilota (Chicago Heights), DeAira Cooper (Lynwood), DeAngelo Davis (Lynwood), Asher Miles (Matteson), Scott Mlcoch (Munster), Shayna Vaughn (Lowell), and Jenna Hoffmann (Lansing).
Mark Donaway, in his sixth year as Marian's Speech Coach, is pleased with his team's performance.
"When Joe Wlos won two State Championships last year, I thought the bar had been set pretty high," he said. "But Jaboukie tallied tremendous scores in the preliminary rounds, and really gave the best performances of the season in the finals. I'm very proud of all our students. They showed grace, poise, and good sportsmanship all the way around."