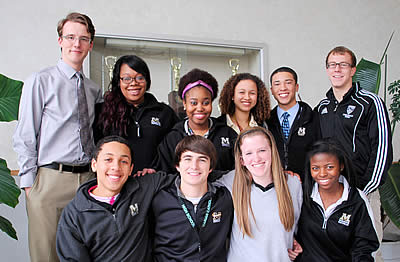 Marian Speech Team members who placed in the finals at the 218 Fling Tournament at Eisenhower High School in Blue Island include (seated) Jaboukie Young-White (Harvey) first in Original Comedy and second in Special Occasion Speaking; Kyle Fitzgerald (Park Forest) second in Prose Reading and fifth in Humorous Duet Acting; and, Laura Hilger (Oak Forest) and Kyliah Thompson (Richton Park) third in Humorous Duet Acting. Thompson also placed fifth in Poetry Reading. Standing is Michael Irwin (Frankfort) third in Informative Speaking; Courtneigh Summerrise (South Holland) fourth in Impromptu Speaking; DeAira Cooper (Lynwood) fourth in Original Comedy; Summer Fields (Richton Park) fourth in Radio Speaking and fifth in Dramatic Duet Acting; Trevor Thompkins (Olympia Fields) fifth in Dramatic Duet Acting and fifth in Informative Speaking; and Zach Henry (Lansing) fifth in Humorous Duet Acting. Not pictured are Brittany Presley (Steger) who placed fifth in Special Occasion Speaking and Michelle Caperelli (Chicago Heights) who placed fifth in Original Comedy. (PHOTO SUPPLIED)
Chicago Heights, IL-(ENEWSPF)- The IHSA speech season began last October with the Homewood-Flossmoor Viking Halloween Classic, and since then, the team from Marian Catholic High School has placed first in six out of eight tournaments, along with notching second and fourth place finishes. Poised to enter into Regional and Sectional competitions in the upcoming weeks, Coach Mark Donaway remains cautiously optimistic about the team's prospects.
"This group includes some of the most talented students I've had in my six years at Marian," he stated, not wanting to sound over-confident. "They have come a long way since first joining the program, and deserve every accolade for the amount of hard work they have put in over the years."
As required of many extra-curricular activities, dedication to the program, along with countless hours of practice, generally yield success.
Senior speech team member, Summer Fields of Richton Park, has competed in Prose Reading, Poetry Reading, Oratorical Declamation, Original Oratory, Special Occasion Speaking, and Radio Speaking prior to this year, where her concentration has been Radio Speaking and Dramatic Duet Acting.
"Having competed in such a wide spectrum of events over the past three years has really helped my ability to communicate with other people," she said, checking her watch, already a bit late for practice.
"The persuasive speaking events like Oratorical Declamation, Original Oratory and Special Occasion Speaking were especially useful tools to have when interviewing for college and in the scholarship application process," she continued. "Plus, being able to experience someone else's story and then convey it to an audience effectively gives me a sense of self that is priceless."
As the team and coaches make the final push before upcoming regional and sectional competitions, every inflection, every physical nuance of a performance, and every facial expression is under scrutiny.
"We, as coaches, know that this team is capable of phenomenal individual performances," added Donaway. "We just keep encouraging them to strive for their own personal best effort, and it happens."