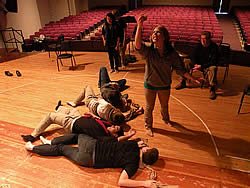 Williamsen, Wlos sectional champs for 3rd place Marian
Chicago Heights, IL–(ENEWSPF)– Jonathan Williamsen (Steger) captured first place in Dramatic Interpretation and Joe Wlos (Crete) earned first place in Extemporaneous Speaking, leading Marian Catholic to 34 team points and third place overall at the Thornwood IHSA Sectional last weekend. Overall, Marian advanced six entries to the IHSA state on Friday-Saturday at the Peoria Civic Center.
Second-place sectional finishers included Adam King (Lansing) and Mollyanne Nunn (Crete) in Dramatic Duet Acting, and Zach Henry (Lansing) and King in Humorous Duet Acting. Marian earned third-place points with Wlos in Impromptu Speaking and with its Performance in the Round.
The Performance in the Round actors include Jaime Patriarca (Park Forest), Megan McDonnell (Oak Forest), Marylou Herbias (Calumet City), Hannah Lang (Monee), Kelly Crescenzo (Steger), Bernadette Senick (Tinley Park), Kieran Dziallo (Orland Park), Kyle Fitzgerald (Park Forest), Tony Vaughn (Lowell), Kyle Habben (Matteson), and Michael Irwin (Tinley Park). Coached by Mark Donaway, Marian captured a fourth-place finish at IHSA State last year in Performance in the Round.