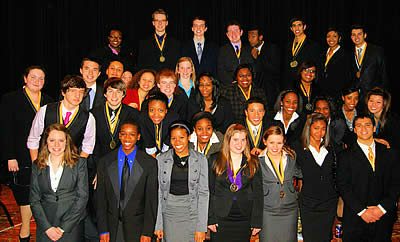 Members of the Marian Catholic Speech team, many sporting medals earned Saturday, include front row, Theresa Milazzo (Matteson), Asher Miles (Matteson), Zakiya Harris (Hazel Crest), Bernadette Senick (Tinley Park), Hanna Lang (Monee), Paris Glenn (Olympia Fields), and Ken Pilota (Chicago Heights). Second row, Al Gallinaro (Monee), Kyle Fitzgerald (Park Forest), Pia Lyander (Hazel Crest), DeAira Cooper (Lynwood), Trevor Thompkins (Olympia Fields), Chandler Carter (Olympia Fields), Brittany Forrest (Glenwood), Jasmine Jackson (Hazel Crest), and Michelle Caperelli (Chicago Heights). Third row is, Brittany Presley (Steger), Kieran Dziallo (Orland Park), Jaboukie Young-White (Midlothian), Shayna Vaughn (Lowell, Ind.) Summer Fields (Richton Park), Cooper Packard (Lansing), Laura Hilger (Oak Forest), Kyela Wilson (South Holland), Jasmine Roberts-Sawyer (South Holland), and Courtneigh Summerrise (South Holland). Fourth row is Desiree McCray (Country Club Hills), Michael Irwin (Frankfort), Sean O'Sullivan (Munster, Ind.), Conor Keane (Oak Forest), LaMar Riddle (Richton Park), Adam King (Lansing), Kiayla Jackson (Sauk Village), and Blake Rivera (Chicago Heights). (PHOTO SUPPLIED)
Chicago Heights, IL-(ENEWSPF)- Marian Catholic High School hosted its first "Marian Classic" speech tournament for area high schools on Saturday, January 15 at their Chicago Heights campus.
Students from Shepard, Oak Lawn, Lemont, Richards, Eisenhower, Homewood-Flossmoor, Bolingbrook, Thornwood, Reavis, and Thornridge high schools competed in 14 different speech contest categories with many schools submitting multiple entries in the same category. Oak Lawn High School took top team honors with Richards and Lemont high schools rounding out the top three. As host of the tournament, Marian Catholic declined to submit their scores for team competition.
Among the top finishers for Marian were Kiayla Jackson and Adam King, taking first place in Humorous Duet Acting, Blake Rivera a first in Humorous Interpretation, two firsts for Summer Fields in both Oratorical Declamation and Radio Speaking, and a first place for Jaboukie Young-White in Original Oratory. Spartans earning second place honors included Joe Wlos in Impromptu Speaking, and Conor Keane in Special Occasion Speaking. Notching third place honors were Bernadette Senick and Zach Henry in Humorous Duet Acting, Joe Wlos for Extemporaneous Speaking, Courtneigh Summerrise in Impromptu Speaking, and Alex Gallinaro for Original Comedy.
Spectators at the event included Sister Judine Hilbing, O.P., Marian Catholic President, who remarked, "What a wonderful opportunity to see so many extremely talented young people at one contest. Watching the finals of the Humorous Interpretation entries was like being in our own little comedy club. I couldn't imagine being a finals judge and having to assign places to the participants," she said.
Marian Catholic Speech Coach, Mark Donaway, echoed similar thoughts.
"These students are the best of the best when it comes to speech competitions," he said. "It was a pleasure to host such a well-attended event and witness firsthand the dedication and talent they all put forth. Special kudos to assistant speech coach Maureen Kelly who did an amazing job putting this tournament together."
Speech Team competition swings into high gear with contests and tournaments nearly every weekend until the State Finals at the end of February.