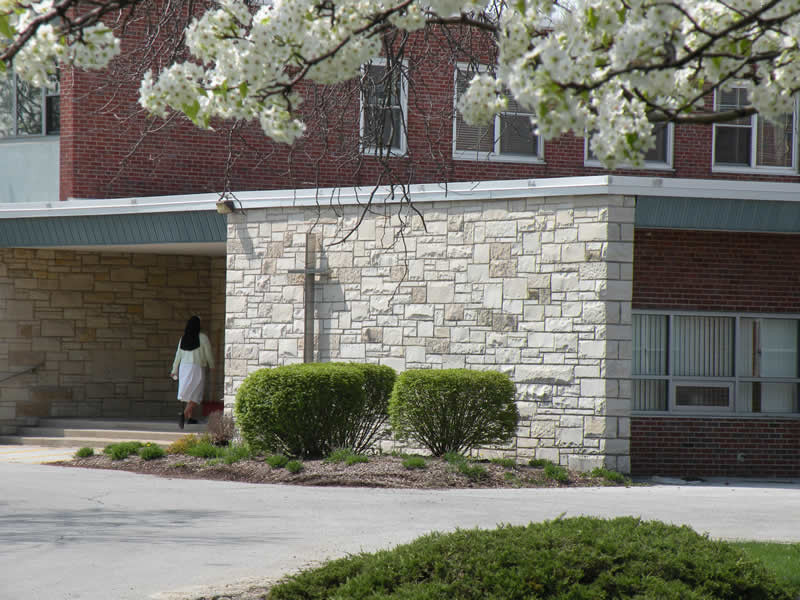 Chicago Heights, IL-(ENEWSPF)- Marian Catholic High School will host its Fifty-Ninth Commencement Ceremony celebrating the Class of 2020 on Sunday, July 26 at 5:30 p.m. in Spartan Stadium. Six graduates are from Park Forest: Aamina-Nikole Adebayo, Shannon Fitzgerald, Oluwakemi Johnson, Nicole Krizmanich, Grace Owolabi, and Ashley Saul.
Results of a survey distributed to students and their families indicated overwhelming support for a socially distanced, in-person ceremony.
So, given the current circumstances with the world in the midst of a pandemic, this year's ceremony will be like no other before it.
Graduates and their guests will sit together in family "pods" on Dave Mattio Field. In compliance with the State of Illinois restrictions on large gatherings, the number of guests is limited for each graduate. Adequate spacing will be allotted between family groups to maintain appropriate social distancing. Guests will be allowed to progress to the stage area with their graduate so that everyone has a front-row seat for the conferring of their student's diploma. Graduates and guests will be required to wear masks at all times, except for when the graduate is walking across the stage.
In an effort to ensure the safety of all in attendance as well as abide by State of Illinois' guidelines, temperature checks and symptom screenings will be performed prior to entry to the stadium. Hand sanitizer will be readily available throughout the space.
The 213 members of Marian Catholic's Class of 2020 will attend over 93 colleges and universities in 26 states, the District of Columbia, and two countries, the United Kingdom and Japan. A complete list of graduates is attached along with their hometowns. Sunday's ceremony is a celebration of each of them and their perseverance and resilience over the past few months.
The members of the Class of 2020 follow, beginning with those from Park Forest.
Marian Catholic High School Class of 2020
Illinois
Park Forest
Aamina-Nikole Adebayo, Shannon Fitzgerald, Oluwakemi Johnson, Nicole Krizmanich, Grace Owolabi, Ashley Saul
Alsip
Madison Lockwood
Beecher
Alexis Delgado
Blue Island
Vania Franco
Burnham
Miguel Rosales
Calumet City
Rhayna Berryhill, Brianna Foxworth, Sierra Green, Monica Lofton, Luis Solis
Chicago
Samantha Avila, Joshua Coats, David Guevara, Kyle Lavin, Prentiss Luster, Mario Prancevic, Jessica Reyes-Reynoso, Jenna Zivat
Chicago Heights
Thomas Cellini, Beckett Clasen, Kevin Colin, Jaclyn Cornet, Melissa Coyt, John Hatcher Jr., Juliana Horta, Bryce Jackson, Brandon Kelly, Isabelle McNeil, Ernesto Mendez, Karli Ochoa, Selena Salvador-Earl, Armando Solis Jr., Trevor Thurston, Fabian Tovar, Alexandra VanDerAa, Neelam Warren-Pal, Jordan Williams
Country Club Hills
Khadijah Ishola, Rebecca Mogbo, Dante Ross
Crete
Dominick Angellotti, Molly Brown, Armani Clay, Juliann Craft, Benjamin Goncher, Ali Hamza, Jordan Kostick, Kaitlyn McGary, Keagan Morgan, Cheyanne Painter, Paige Parker, Nigel Pennington-Flax, John Ringo Jr., Jessica Stickler, Myles Taylor, Jasper Waddington
Dolton
Kiara Terry
Flossmoor
Oluyemi Elutilo, Alec Gonzalez, Fiona Keating, John Malloy, Cameron Smith
Frankfort
Anthony Helsel, Allison Thieman
Glenwood
Destiny Durden, Ruby Melendez, Jaylah Rather, Jaylen Scott
Harvey
Paris McCullough-Williams
Hazel Crest
Destiny Earl
Homewood
Bianca Faso, Justin Haney, Ryan Swanson
Lansing
Alexandria Bland, Leandra Cabrales, Melina Duda, Kandis Fletcher, Dejontae Jones, Luke Martinson, John Roe
Lynwood
Desani Ambrose, April Del Rio, Jayden Jones, Skylar Walker, Aria Whetstone
Matteson
Ariana Armstrong, Elijah Barnes, Chase Beckley, Jack Biegler, Zexuan (Calvin) Cai, Maksim Deev, Taalib Ferguson, Jonah Hickey, Trevor Hickey, Imani Hooper, Hailey Isaac, Haneul (Joy) Kang, Hyowon (Elena) Kim, Yun Hyun (Jason) Kim, Romy Macasaet IV, Le Thao Ky (Vanessa) Nguyen, Thanh Quang (Benny) Nguyen, Amarachi Nwawueze, John Perrot, Hien Anh (Alex) Pham, Payton Ramsey, Christopher Rouse, Eternity Sledge, Kayla Sydnor, Ahron Ulis, Yanming (Simon) Yang
Monee
Jenna Furlan, Samantha Gutierrez, Christian Hamilton, Darius Mahone, Kayla Moore, Sarah Shubert, Tyler Van Es, Erika Wojtanowski, Destiny Woody
Oak Lawn
Ethan Alexander
Olympia Fields
Faith Allen, Kiegan Chivers, Alexandria Flowers, Ashley Frazier, Carrington Johnson, Nakita McNeal, Laila Middleton, Martin Wilson
Orland Park
Samantha Barrett, Surayyah Elsharif, Nikolas Gerretse, Jibril Griffin
Peotone
Margarita Fernandez
Richton Park
Courtnee Napue, Nyia Nelson, Endiyah Terry, Judah White
Riverdale
Julianna Holloway
Sauk Village
Rodney Fears II, Delaney Phillips
South Chicago Heights
AnnaMarie Piattoni
South Holland
Jada Calvert, Demetrius Draper, Gerald Floyd III, Elijah Jones, Treyvon Kozup, Meshach Melton, Kenneth Norwood, Brian Obi, Sydney Powell
Steger
Luis Hernandez Jr., Stephanie Iacovetti, Vanessa Lopez, Jeremiah Nobles, Lily Osuch, Isabella Pressler, Jason Rebultan, Alyssa Reichert
Thorton
Riley Forsythe, Madison Marcum, Victoria Nielsen
Tinley Park
Nathan Bennett
University Park
Alanna Leedy, Kerris Norfleet
Indiana
Crown Point (IN)
Alan Enriquez, Grace Mallee, Marissa Velazquez, Daniel Wallace
Dyer (IN)
Cruz Arteaga, Timothy Caballero, Robert Grill, Adam Huekels, Umang Sahi
Griffith (IN)
Genevieve Gehring-Gervase
Munster (IN)
Janina Abrinko, Matthew Hrinda, Erynn Escobedo, Sheldon Lewis II, Uchechukwu Onyeukwu III, Daniel O'Shea
Hammond (IN)
Hailey Croak
St. John (IN)
Caroline Bell, Kaitlin Clary, Erik Curtis, Dylan Engel, Kiersten Gora, Brenna Grooms, Connor Horwath, Kevin Johnson Jr., Mary Keith, Savka Popovic, Grace Rado, Zachary Schilling, Analise Segarra, Claire Shenker, Ryan Staack
Schererville (IN)
Christian Alexander, Adam Haney, Michaela Jackson, Haley Knueppel, Kyle Kwok, Zivana Labovic, Mollie McKone, Shealee Munsey, Evangelia Panos, Simon Uhrick
Merrillville
Casimir (CJ) Heneghan