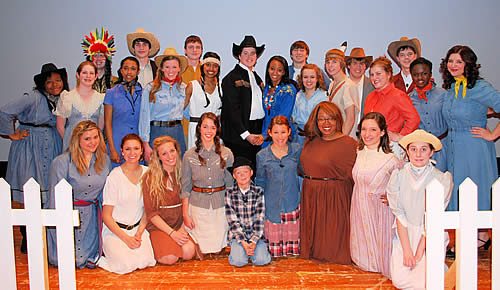 The cast includes front row, Rebecca Hauser '15 of Crete; Kendyl Todd '14 of Crete; Aimee Tiberi '14 of Chicago Heights; Anna Petrelli '13 of Park Forest; Noah Uhlenbrauck of Crete; Hope Lang '15, of Monee; Courtneigh Summerrise '12 of South Holland; Shayna Vaughn '14 of Lowell; and Emily Callahan '15 of Monee. The middle row includes Gabreale Rucker '15 of Country Club Hills; Riley Harber '15 of Whiting; Alise Morrow '15 of Matteson; Laura Hilger '14 of Oak Forest; Marisol Juarez '13 of Tinley Park; Stephen Daw '13 of Homewood; Deana Williams '12 of Park Forest; Hannah Lang '13 of Monee; Patrick Nagle '13 of Orland Park; Bernadette Senick '12 of Tinley Park; Edith Boiquaye '13 of Schererville; and Sara Farrar '13 of Lansing. The back row is Daniel Blewitt '14 of Crete; Tom Fagan '14 of Chicago Heights; Patrick Fagan '13 of Chicago Heights; Sam Hart '14 of Homewood; Ben David '12 of Chicago; and Jason Molitsky '13 of Dyer. (PHOTO SUPPLIED)
Chicago Heights, IL-(ENEWSPF)- The Marian Catholic High School Fine Arts Department proudly presents "Annie Get Your Gun" Friday, April 27 at 7:30 p.m., Saturday, April 28 at 7:30 p.m., and Sunday, April 29 at 2:00 p.m., in the Monsignor Croarkin Auditorium on campus. Tickets are $10 for students and $12 for adults.
Plenty of free parking is available in the Joe Orr Road parking lot.