Chicago Heights, IL–(ENEWSPF)– The Marian Catholic High School community has embarked on a plan to reduce its carbon footprint as recommended by the ad hoc Environmental Committee of the Board of Directors.
"The plan is a commitment from our board, administration, faculty, and student body to environmental responsibility. From curriculum, to community involvement, to purchasing and maintenance of infrastructure, we are committed to efficiency and environmental responsibility," said Will Chapleau '73, Chair of the Board's Security and ad hoc Environmental Committees.
"When purchasing goods or replacing infrastructure, we have a 'cradle to grave' approach in ensuring we make responsible decisions and have a plan for recycling all materials when they are no longer of use to the school," Chapleau stated.
As funding becomes available through gifts or grants, this initiative will help reduce Marian's carbon footprint. The ultimate goal is zero waste and self-sustainability of the entire 72- acre campus.
One of the first priorities, as recommended by Carl Lisek of Legacy Environmental Services, is to improve energy efficiency in lighting the school's 59 classrooms, multiple hallways, two gymnasiums, two band rooms, theater, and office spaces.
"Some of the lights in the building are nearly 52 years old and have been utilized 12-14 hours a day. Through an energy audit conducted by ComEd and a private contractor, retro-fitting light fixtures to newer energy-efficient models will save a significant amount of electricity," Lisek stated.
The gyms at Marian have undergone a major transformation over the past year. During the summer of 2009, both floors were sanded, re-painted, and resealed, allowing the school colors to shine through clearly. Add to that new energy-efficient, T5HO fluorescent hibay light fixtures, and the gyms are gleaming.
"The difference in the lighting is truly amazing," said Marian Catholic President Sister Judine Hilbing, O.P. "What's even more amazing is the projected energy savings."
Funding to replace the lights came through a grant from ComEd, with the stipulation that the old lights be recycled.
"A contact of mine from Habitat for Humanity will take all 72 old gym lights," added Vince Krydynski '81, Chair of the Facilities Committee of the Board of Directors. "They can use them in their warehouse."
Student involvement makes the commitment school-wide.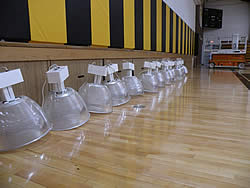 Formerly called Ecology Club, the student group Generation Green, led by teachers Jennifer Clifford '88, and Tona Heywood, is partnering with school administration, and has been tremendously proactive in raising awareness and educating the MCHS community. Recycle bins for plastic bottles and paper are located throughout the building, as well as the implementation of "Power Down Fridays," where classrooms utilize half or no lights at all.
Members of Generation Green will monitor energy savings by analyzing ComEd bills over the next several months and report their findings back to the Board.
President of Generation Green, junior Megan Murday (Frankfort) adds, "We are committed to cutting Marian's energy waste and use by 10% by the end of the school year. With the cooperation of students and faculty, Generation Green hopes to promote awareness of individual contributions that can have a large impact on our environment."