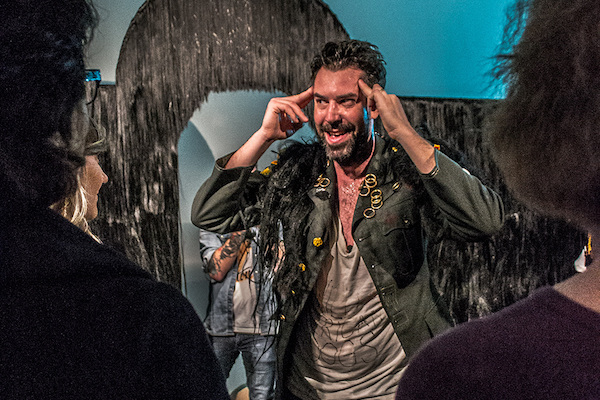 'Out of Easy Reach' and 'BEVERLY FRESH: Really Somethin Else' offer different approaches to art
CHICAGO—(ENEWSPF)—March 22, 2018
By: Julie Rodrigues Widholm  [email protected]
CHICAGO — This Spring, DePaul Art Museum will offer an unconventional dialogue between its two exhibitions.
In one gallery, Beverly Fresh — artist, rapper, musician and world-record breaker — takes on the incongruities, social rituals and archetypes of the rural Midwest in his first solo museum exhibition in Chicago.
In the other galleries, 13 female-identifying black and Latina artists who employ various forms of abstraction will comprise "Out of Easy Reach."
"The exhibitions both create conversations around the construction of an artistic identity (Midwestern male, black or Latina women) in the face of social norms and expectations that often stifle artistic agency and freedom," said Julie Rodrigues Widholm, chief curator and director of the museum. "The titles of the exhibitions — 'Out of Easy Reach' and 'Really Somethin Else' — reflect an interest in complicating identities and aesthetics rather than feeding into common stereotypes and clichés."
The exhibitions open April 26 and run through Aug. 5 at DePaul Art Museum on the university's Lincoln Park Campus.
'BEVERLY FRESH: Really Somethin Else'
Beverly Fresh is the artistic persona that Zack Ostrowski, an associate professor of art, media and design at DePaul, uses to explore Midwest culture. With mixed-media installations, sculptures and videos from the last six years, the exhibition pulls from age-old performance traditions, juvenile graffiti, backyard debauchery and pig wrestling to explore rural Midwest symbols, behaviors and vernacular that stem from his Michigan childhood. "BEVERLY FRESH: Really Somethin Else" is anchored by Ostrowski's "Outskirts" video series of his interventionist performances in small Midwestern towns.
"My exhibition is called 'Really Somethin Else' because nothing is truthfully represented," Ostrowski said. "It all gets pushed into a fictional realm."
The persona Beverly Fresh relishes in the absurd and finds common ground with other instigators who challenge cultural norms. Ostrowski's work aims to refute the notion that Middle America is void of culture.
"The exhibition offers a meandering experience of the artist's interest in the role of performance in everyday life and how meaning is produced and shared in rural aesthetic forms," Widholm said.
"BEVERLY FRESH: Really Somethin Else" includes work related to Ostrowski's visits to Colon, Michigan, the self-proclaimed magic capital of the world, and the St. Clair County 4-H Fair in Michigan where he won a rooster crowing contest. The exhibition features an interactive component where visitors can simultaneously be the host and guest of a fictional television talk show. There will be a live performance at 6 p.m. May 30 that mimics a tent revival-like atmosphere.
"It's a continuation of my research into the rural Midwest," Ostrowski said of his exhibition. "Something that attracted me to the Midwest is that it is misunderstood, undefined and contradictory. So, my work reflects that.
'Out of Easy Reach'
DePaul Art Museum is one of three co-organizers of "Out of Easy Reach," a collaborative exhibition that is guest curated by Allison Glenn, associate curator of contemporary art at the Crystal Bridges Museum of American Art in Bentonville, Arkansas.
The exhibition, which also takes place at Gallery 400 at the University of Illinois at Chicago and Rebuild Foundation's Stony Island Arts Bank, is "one show in three parts," Widholm explained. Exhibition locations were deliberately chosen to connect Chicago's North, South and West sides.
"Situating 'Out of Easy Reach' across three different cultural institutions in Chicago leads the audience on a journey across three distinct parts of the city," Glenn said. "It also allows for multiple and varied audiences to experience the exhibition."
"Out of Easy Reach" spotlights 24 female-identifying artists, spanning three generations, from the black and Latina diaspora and the artworks they created from 1980 to 2018.rtists featured at DePaul Art Museum will examine landscape, the human body and the archive, or how found material is incorporated into an artist's work. Among them is Bethany Collins, a multidisciplinary artist, whose "Southern Review, 1985 (Special Edition)" piece features redacted pages of the Louisiana-based literary journal. Chicago-based Edra Soto will design a pattern inspired by the intricate fences found in Puerto Rico for the museum's front window. Other works feature artists Candida Alvarez, Abigail DeVille, Maren Hassinger, Ariel Jackson, Steffani Jemison, Jennie C. Jones, Caroline Kent, Ayanah Moor, Kellie Romany, Xaviera Simmons and Brenna Youngblood.
Information about the exhibition and artists at Gallery 400 at University of Illinois at Chicago is at http://gallery400.uic.edu/exhibitions/out-of-easy-reach. Information about the exhibition and artists at Rebuild Foundation's Stony Island Arts Bank is at https://rebuild-foundation.org/exhibition/out-of-easy-reach/.
Major support for "Out of Easy Reach" is provided by the Joyce Foundation, through its program to support arts organizations in Chicago and the Great Lakes region. Additional support is provided by a grant from the Nathan Cummings Foundation, with support and encouragement of Jane Saks. Support is also provided by Dedrea and Paul Gray, the Bruce and Vicki Heyman Family Philanthropy Fund, Gary and Denise Gardner, Deone Jackman, Jason Pickleman and Leslie Bodenstein, Bob and Susan Wislow, John Ellis, Larry and Marilyn Fields, Lisa Yun Lee, James Rondeau, Kevann Cooke, Janis Kanter and Tom McCormick, Yumi Ross, Cari Sacks, Jacqueline Stewart, Samuel Levi Jones, Tony Karman, Christopher Audain and an anonymous donor.
More information about the collaborative exhibition and its catalogue is at http://www.outofeasyreach.com/.
DePaul Art Museum is located at 935 W. Fullerton Ave. Admission is free. Hours are 11 a.m. to 7 p.m. Wednesday and Thursday; 11 a.m. to 5 p.m. Friday, Saturday and Sunday. The museum is closed Monday and Tuesday. Additional information is available at http://museums.depaul.edu or by calling 773-325-7506.
Source: www.depaul.edu