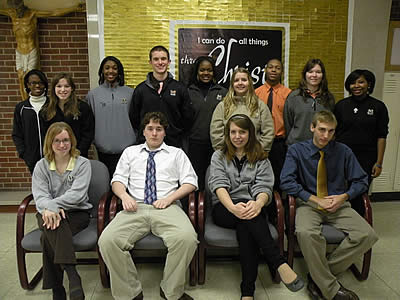 Seated are National Merit Semifinalists Kathryn Bryzgalski, Samuel Kirschenheiter, Jaime Patriarca, and Sean Woods. Standing are National Merit Commended Students and National Achievement Scholars Jade Stansbury, Haley Boblink, Amber Simonton, Ian Gurley, Abriana Anderson, Anna Mitros, Chester Peterson, Sarah Smith and Morgan Slaughter. Not pictured James C. Jackson III and Stephen Hudson. (PHOTO SUPPLIED)
Chicago Heights, IL–(ENEWSPF)– Marian Catholic seniors Kathryn Bryzgalski (Homewood), Samuel Kirschenheiter (Flossmoor), Jaime Patriarca (Park Forest) and Sean Woods (Olympia Fields) have earned Semifinalist status in the 2009 National Merit Scholarship Program.
Semifinalists numbering 16,000 nationally now have the opportunity to continue in the competition for approximately 8,200 Merit Scholarship awards, worth $33 million, that will be offered next spring. To become a Finalist, students must have an academic record of very high performance, be endorsed and recommended by the school principal, and earn SAT scores that confirm the students earlier qualifying test performance.
More than 1.4 million juniors in nearly 21,000 high schools entered the 2009 National Merit Program by taking the 2008 Preliminary SAT/National Merit Scholarship Qualifying Test (PSAT/NMSQT). The nationwide pool of Semifinalists represents less than one percent of U.S. high school seniors.
Four Marian students also earned status as Commended Students (top 50,000 in the nation) in the National Merit Program, including Haley Boblink (Highland), Ian Gurley (Hammond), Anna Mitros (Flossmoor) and Sarah Smith (Crete).
***
James C. Jackson III (Country Club Hills) and Amber Simonton (South Holland) earned recognition as Semifinalists in the National Achievement Scholarship Competition. They rank among more than 1,600 high school seniors named Semifinalists in the 46th annual program, a competition for Black American High School Students.
Five Marian Catholic High School seniors are among 3,000 National Achievement Scholarship Program participants being "referred" to U.S. Colleges and Universities. Marian referred students include Abriana Anderson (Lynwood), Stephen Hudson (South Holland), Chester Peterson (Dolton), Morgan Slaughter (Olympia Fields) and Jade Stansbury (Matteson).
More than 140,000 Black American students took the 2008 Preliminary SAT/National Merit Scholarship Qualifying Test (PSAT/NMSQT) to enter the program. The 3,000 referred students are in the top five percent of students testing. The students will be referred to more than 1,500 colleges and universities.
Sarah Smith (Crete) earned recognition as a National Hispanic Scholar, as her GPA of 3.5 or higher distinguished her in a group of nearly 5,000 recognized from a national pool of more than 200,000 students.