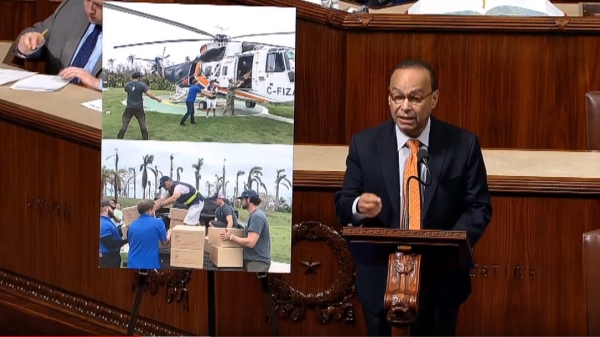 Washington, DC –(ENEWSPF)—October 3, 2017
Authored by: Office of Rep. Luis V. Gutiérrez
Today, Rep. Luis V. Gutiérrez (D-IL) spoke on the House floor about what he saw while he was in Puerto Rico over the weekend, the humanitarian crisis that is unfolding, and the need for U.S. cities and towns to prepare to receive Puerto Rican evacuees.  Yesterday in Chicago, Rep. Gutierrez and other Puerto Rican and city leaders met with the Mayor of Chicago and the Mayor made it clear at a press conference that Chicago would take steps to welcome Puerto Rican and U.S. Virgin Islander evacuees, in addition to aid that the city is sending.
Rep. Gutiérrez used part of his speech to address the Puerto Rican people directly in Spanish, saying, "Oímos tus peticiones de ayuda, y la fuerza del gobierno estadounidense finalmente vienen a ayudar". ("We hear your cries for help and the full strength of the American government is finally coming to help.")  He continued:
Ciudades y pueblos, alcaldes y gobernadores a través del país, están abriéndote las puertas de sus comunidades para que tengas un lugar seguro mientras el rescate, la recuperación y la reconstrucción continúan.  Y ayer, presente con el alcalde de Chicago, él me dijo que quiere que la ciudad de Chicago sea un lugar en el cual todo Puertorriqueño que necesite un lugar seguro pueda llegar inmediatamente y reestablecerse.  Puerto Rico, no estás solo.

[TRANSLATION] Cities and towns, Mayors and Governors from across the country are making their communities available to you so that you have a safe place to be while the rescue and recovery and rebuilding continues.  And standing with the Mayor of Chicago just yesterday, he said he wants the City of Chicago to be a place where any and all Puerto Ricans who need a safe place can come immediately and we will help you resettle.  You are not alone.
Switching back to English, Rep Gutierrez spoke of what he saw in Puerto Rico:
It was worse than I imagined and it broke my heart.  To see my beloved Island so destroyed, so scared for its future, and feeling so alone and isolated.  There were dead animals all over the place, the people were still desperate for food and water, and anyone who is sick or elderly is finding it hard or impossible to get medicine and care.
He concluded his remarks by stressing the need to prepare for receiving evacuees and the role Chicago hopes to play in that effort:
One thing I learned in Puerto Rico this weekend is that in Chicago and the rest of the U.S. we need to start thinking about evacuation in addition to rebuilding and recovery.  I have welcomed family into my own home and people I know across the country are welcoming relatives escaping Puerto Rico and the Virgin Islands, but we need to ramp up our commitment beyond the family-to-family, informal relationships and look systematically at how we organize ourselves to meet the great need of our fellow citizens in the Caribbean.

Rebuilding Puerto Rico — making her a strong and self-sufficient Island Nation of industrious and hard-working people again will take years and require a long-term commitment from this Congress and this country to the well-being of our fellow man.

So, Mr. Speaker, let's roll up our sleeves and get to work.
Rep. Luis V. Gutiérrez is a Member of the Judiciary Committee and the Chair of the Immigration Task Force of the Congressional Hispanic Caucus.
A video of the Congressman's speech is here: https://youtu.be/EZdyL5esGXM
Source: www.gutierrez.house.gov