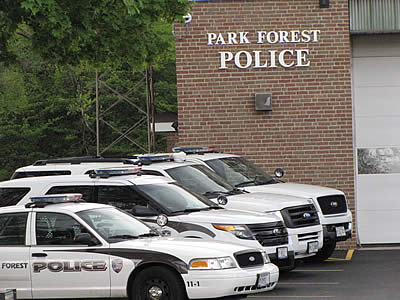 Park Forest, IL–(ENEWSPF)–Editor's Note: We continue our reporting on news from police reports. Besides covering the many stories from around Park Forest that otherwise might go unnoticed, we want to bring more complete coverage of police reports than is reported by other local media.
An arrest does not mean that a person is guilty. All those arrested are presumed innocent until proven guilty. It is the policy of eNews Park Forest to not remove items in the public record from publication. If your name is listed in the police reports, we will only add information relevant to the final disposition of the case at hand, e.g. "Mr. Smith was subsequently acquitted," "Mr. Smith entered a guilty plea," or "All charges against Mr. Smith were subsequently dropped." We will do so upon receiving and verifying proof of such disposition.
Persons wishing to leave anonymous information on any criminal matters including narcotics or gang activity are encouraged to call 708-748-4701.
Advertisement: Visit Tower Cleaners
A resident told police on December 11 that she was a victim of identity theft. She stated that she received her ComEd bill in the mail and observed the total amount due to be $1128.25. She advised that she pays her electric bill in full each month and that this bill is incorrect because it is usually only about $168. Police are investigating.
The right rear tire of a vehicle parked in the 100 block of North Arbor Trail was reported slashed on December 13.
Police responded to the 400 block of Stanton Street on December 14 to assist the Park Forest Fire Department with a vehicle fire. When officers arrived, they observed a four-door sedan parked on the north curb in the 400 block of Stanton Street. A large fire was burning from the whole interior of the vehicle. Police heard loud popping sounds emanating from the vehicle, possibly airbags and tires bursting. The Park Forest Fire Department arrived on the scene and began extinguishing the fire. The cause of the fire is still under investigation.
Police responded to the 200 block of Dogwood Street on December 15 to investigate a report of a residential burglary. A chrome book computer valued at $200 was reported stolen. Additionally, an HP laptop valued at $275 was reported stolen. Three credit cards were also reported stolen and police discovered unauthorized transactions against the cards that had occurred in Matteson and Chicago Heights. Entry was gained to the residence by using an object to push the plastic window on the wooden door open enough for someone to reach inside and unlock the door, according to police.
Advertisement: Bree Breedlove State Farm
A pair of roller skates valued at approximately $49 and a Sharper Image remote control drone valued at approximately $99 were reported stolen from a vehicle parked in the 23400 block of South Western Avenue on December 15. The vehicle may have been left unlocked, according to police.
An officer was dispatched to the 200 block of Mantua Street on December 16 to investigate a deceptive practice incident. A man told them that two or three weeks ago he was on his laptop when the laptop displayed a blue screen indicating that he should call a "technical support" phone number. The man called the phone number and a male subject answered and stated that he was a representative from Windows support system. The man identified himself as "Daniel Boone." He then advised that the man's computer was being hacked by "people out of the country" and that he had a virus. Boone told the man that if he paid him $250 he would fix his computer. The resident then gave Boone his credit card number over the phone. His computer was fine and worked normally after this. He then advised that Boone has called him several more times requesting more money to fix his computer. Police are investigating.
Advertisement: Mike Jordan State Farm
Shaquil A. Lawrence, 22, 7745 S. Saginaw St., Chicago, was arrested on December 18 and issued a municipal citation charging possession of cannabis when an officer on patrol pulled into the Metra Commuter Lot in the 500 block of Homan Avenue and observed a vehicle parked in the farthest east side of the lot that had two occupants. The vehicle appeared to be filled with smoke, according to police.
A package delivered to a residence in the first block of North Arbor Trail was reported stolen from outside the residence on December 19.