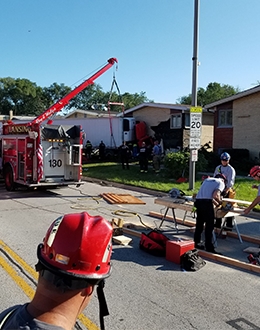 Park Forest, IL—(ENEWSPF)—September 13, 2018
On Tuesday, Sept. 11, while the Park Forest Fire Department was preparing for a moment of silence in memory of the 9/11 attacks, a request for the MABAS Division 27 Technical Rescue team was dispatched to assist the Lansing Fire Department after a semi truck drove into an apartment building.
The two-story structure was compromised due to the crash. The uncertainty of the stability of the building became a concern for the safety of the rescuers working on the scene. Members and equipment from Park Forest responded with numerous other departments to perform this task. Team members are specially trained in structural collapse along with rope, confined space and trench rescue. The team arrived on scene and went to work building a structural support wall to reinforce the building. After removal of the truck, the building stood firm and allowed occupants to remove belongings before being boarded up.
Technical rescue is one of many specialty divisions that the fire service has become the rescue resource in an emergency. There are a very limited amount of rescuers trained to these specialty levels.
Currently, other Technical Rescue teams from around the area are on standby to respond to the east coast if the need for rescuers escalates as Hurricane Florence approaches.
Special response teams are a very skilled section of the fire service and therefore require multiple departments to come together to create a rescue group.
The Park Forest Fire Department has skilled members on each of the special rescue teams that includes Technical Rescue, Hazardous Materials, Water Rescue and Fire Investigation.
More on PFFD's Technical Response Team
Source: www.villageofparkforest.com