Park Forest, IL-(ENEWSPF)- The Park Forest Village Board will consider two ordinance changes Monday night: one will reduce the number of options available for hospital transport from two to one, the other will hike ambulance fees.
Ambulance fees haven't haven't seen an increase in four years. Both proposals come from Park Forest Fire Chief Tracy Natyshok.
The first item relates to the hospital to which ambulances will transport Park Forest residents. "With the announcement of the closing of St. James Hospital in Chicago Heights, fire department staff began research on what the impact of the closing would be for the Park Forest Fire Department," Chief Natyshok said in a memo to Village Manager Tom Mick. "Of the issues we control, the decision of which emergency department/facilities the fire department transports to needs to be changed."
The ordinance currently reads, "Persons requiring transportation to a hospital emergency department or other facility within a hospital shall be transported either to St. James Hospital in Chicago Heights or Olympia Fields Osteopathic Hospital in Olympia Fields. At the direction of the fire administrator, transportation may be made to any other facility only in a major disaster or in response to obligations arising under mutual aid agreements as authorized pursuant to section 42-12."
However, with St. James Hospital in Chicago Heights due to close, the Fire Chief notes there is nothing in the current ordinance that requires the Village to offer two hospital choices for ambulance transport. South Suburban Hospital, therefore, will not be an option. Chief Natyshok notes, "Olympia Fields Hospital is 4.6 miles away from the fire station. South Suburban Hospital is 7.1 miles away from the fire station. While only a few miles more in distance, [transport to South Suburban Hospital] would add significantly to turn around time."
The Fire Chief also notes a positive point if the Village were to off a choice of either St. James Olympia Fields or South Suburban, "South Suburban is an Advocate Hospital and Olympia Fields is a Franciscan Hospital. By offering both hospitals, more citizens may be able to go to the hospital their insurance suggests."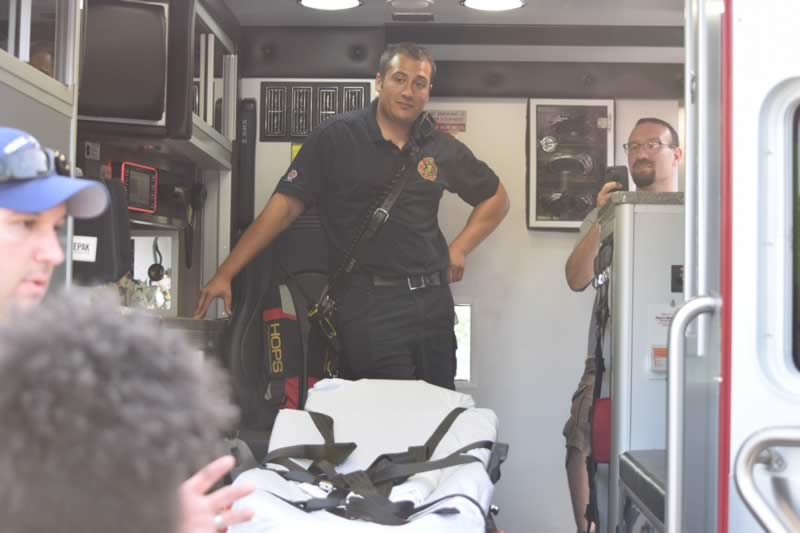 The bottom line, though, is the bottom line, "Given the current call volume and number of double calls, fire department staff recommends we identify Franciscan Olympia Fields Hospital as the only hospital available to patients for transportation by the Park Forest Fire Department."
The term "double calls" refers to times when two or more paramedic calls come to the station at once.
Ambulance Fees To Rise To A Flat Rate For All Transport Categories
Along with hospital choices, ambulance fees will more than double or nearly double depending on types of transport. The current fee schedule follows a tiered approach:
| | | |
| --- | --- | --- |
| Service | Resident | Nonresident |
| Basic Life Support | $425.00 | $700.00 |
| Advanced Life Support | $525.00 | $800.00 |
| Advanced Life Support 2 | $725.00 | $900.00 |
| Mileage (per mile) | $12.50 | $12.50 |
| Treat/No Transport | $100.00 | $200.00 |
The proposed fee schedule would make all life support categories the same, with resident fees jumping to $1,000 and non-resident to $1,250:
| | | |
| --- | --- | --- |
| Service | Resident | Nonresident |
| Basic Life Support | $1,000.00 | $1,250.00 |
| Advanced Life Support | $1,000.00 | $1,250.00 |
| Advanced Life Support 2 | $1,000.00 | $1,250.00 |
| Mileage (per mile) | $15.00 | $15.00 |
| Treat/No Transport | $100.00 | $200.00 |
The rationale here? "The Village has not had an increase in ambulance rates since 2014," Chief Natyshok writes. "After research and careful consideration staff believes the fees as proposed are reasonable and in-line with the industry norms."
These items are on the agenda for discussion at Monday's meeting but appear on the subsequent agenda for the Regular Meeting for First Reading only. The Regular Meeting will follow the Rules Meeting Monday. "First Reading" means that, per changes to ordinances, there will be no vote on these items until they appear on the agenda for a future Rules Meeting for "Final Reading."
Cook County Class 8 Assessment Incentive for Taco Bell
In other business Monday, the Village Board will consider a renewal of the Cook County Class 8 Assessment incentive for Taco Bell 413 Sauk Trail. This item is complicated because ownership of the building changed hands since the original Class 8 incentive was authorized in 2006. Also, it appears that the previous owners of the Taco Bell were paying taxes on property, in part, occupied by the neighboring Subway Restaurant.
According to memos prepared for the agenda, staff recommends moving forward with the renewal of the Class 8 incentive, and staff will assist the owner of the Taco Bell Restaurant in sifting through the confusion created by the improper legal descriptions of the two properties.
Taco Bell employs 28 people at the Park Forest location.
Report a Typo or Send Us A Letter To Publish: [email protected]