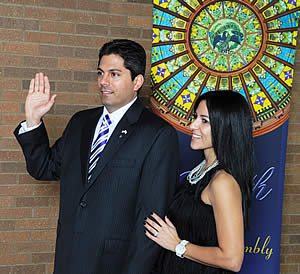 Springfield, IL-(ENEWSPF)- State Rep. Anthony DeLuca, D-Chicago Heights, is calling on members of the General Assembly to override the governor's veto of a bipartisan piece of legislation that would increase government transparency and require state agencies to more accurately report their debt obligations.
"Despite having a bipartisan, balanced budget for the first time in nearly three years, the bill backlog is historically large, but we are still not fully aware of the amount owed since state agencies have not reported all of their bills," DeLuca said. "The governor's attempt to block transparency will only hurt the residents of Illinois, and I refuse to leave taxpayers on the hook for avoidable late fees."
DeLuca voted yes on House Bill 3649, also known as the Debt Transparency Act, which is an initiative of the Comptroller and would require state agencies to disclose bills they are holding the Comptroller monthly, as well as estimate the amount of late payment interest penalties that will be paid on those liabilities. When liabilities are not reported to the Comptroller in a timely manner, taxpayers are hit with late fees. According to the Comptroller's Office, at least $800 million in late payment interest penalties have been accrued on old bills.
"Government transparency is critical to protect hard-earned taxpayer dollars," DeLuca said. "I voted in favor of the comptroller's efforts to try to get a better sense of what agencies owe to vendors so that we can develop a plan to pay down the state's bill backlog."