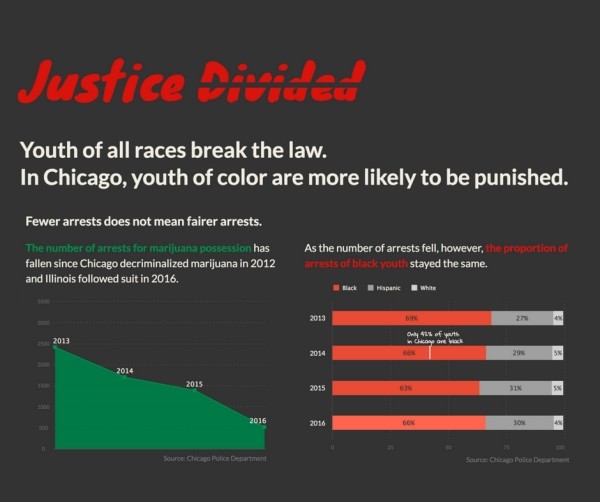 Datasets available for download include juvenile arrests by demographic and offense from 2013 to early 2017.
CHICAGO –(ENEWSPF)–June 9, 2017.  Justice Divided (justicedivided.com) is a new educational tool focused on a long-recognized problem of the juvenile justice system: Youth of all races break the law, but black youth are more likely to be punished for it. The project seeks to promote awareness of this phenomenon, also known as disproportionate minority contact, and equip youth and those who advocate for them with strategies for creating a more equitable justice system.
The Justice Divided project synthesizes several datasets into engaging infographics to illustrate how Chicago's black youth are impacted by the justice system more than their peers. Statistics visualized include:
Arrests for marijuana possession have fallen since Chicago decriminalized marijuana in 2012. However, the proportion of arrests of black youth stayed the same through statewide decriminalization in 2016.
In 2014, black youth were almost twice as likely to be arrested citywide. In some Northside neighborhoods, black youth made up the smallest share of the population, but the largest share of arrests.
In 2015, 87% of youth released to Chicago from Illinois juvenile prisons were black, even though black youth only make up 42% of the population of youth in Chicago between the ages 10 and 17.
The data behind Justice Divided were obtained from public agencies and are available for download at justicedivided.com/download-data. Further information on how the data were processed, as well as raw source data, is available on GitHub at github.com/datamade/justice-divided/tree/master/data.
Click here to view and download the datasets, including:
Juvenile arrests by demographic, 2013 to early 2017 (Chicago Police Department)
Juvenile arrests by Chicago police district, 2014 (Chicago Police Department)
Illinois Department of Juvenile Justice exits to Chicago ZIP codes, 2009 to 2015 (Illinois Department of Juvenile Justice)
Justice Divided users are encouraged to learn about youth incarceration then take action by raising awareness, volunteering and contacting legislators. The site also connects young people with resources they can use to navigate the juvenile justice system, including legal aid, expungement, information on legal rights, places to find summer jobs and more.
Credits: DataMade built Justice Divided in partnership with the Illinois Justice Project, Adler University, and Project NIA, with funding from the Polk Bros. Foundation.
Source: http://justicedivided.com.