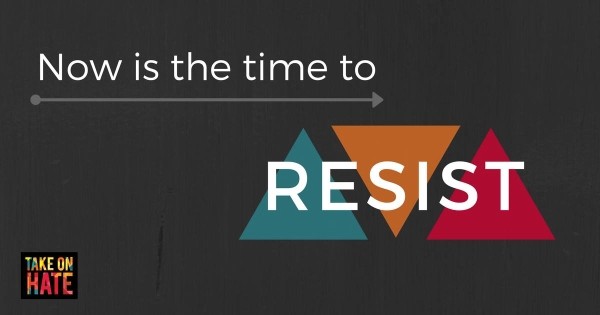 PALOS HILLS –(ENEWSPF)–July 7th, 2017 — Palos Township residents and others will rally against racism and hate on Monday July 10th, 2017, in response to recent hate speech attacking Middle Eastern students, posted to Facebook by current Palos Township Trustee Sharon Brannigan.
Brannigan uses racist accusations against Arab and Muslim community members for political gain. In social media posts, Brannigan says that "… very few integrate within the communities keeping themselves and their activities hidden from the general public. Everywhere you turn, from Orland Park to Bridgeview, those numbers are are increasing in leaps and bounds. We are allowing these people whether they have peaceful intentions or not into our country without questions." This hate speech pattern has been used by Brannigan since 2015.
"The spread of hate speech and targeted propaganda from elected officials like Palos Township Trustee Sharon Brannigan contributes to the spike of hate crimes against Arabs, Muslims, Black, LatinX, LGBTQIA, and many other marginalized communities," said Bassem Kawar of the national Campaign To TAKE ON HATE.
Palos Township, which includes Bridgeview, Hickory Hills, Orland Park, Palos Heights, Palos Hills, Palos Park, Willow Springs, and Worth is home to the largest Arab community in Illinois, according to Zip Atlas.
An ad hoc community coalition and allies are mobilizing community members, residents, and supporters for the rally on Monday, July 10at 6:00 PM and also encouraging all residents to attend the Palos Township general meeting, 10802 S. Roberts Rd., Palos Hills, at 7:00 PM, where the coalition members' testimonies and concerns will be voiced.
Follow the action and general meeting on Twitter using hashtags:
#TakeOnHate #TakeOnHateChi #ItsOurHomeToo
Organized by The Campaign to TAKE ON HATE – Chicago, AMVOTE PAC, Arab American Action Network, Arab American Democratic Club, Arab American Family Services, Kiswani Law, P.C., Law Offices of Reema Odeh, MPower Change, along with community members and activists.
Source: Take On Hate – Chicago