The new complex is slated to support the school's college preparatory curriculum, athletic and arts programming, as well as alumni and prospective student outreach.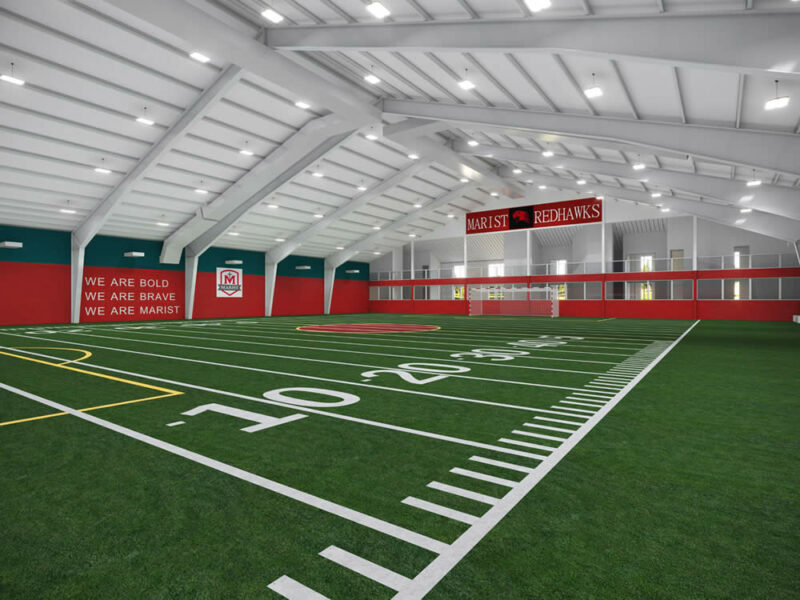 Chicago, IL-(ENEWSPF)- Marist High School announces the expansion of its Mt. Greenwood campus with the purchase of a 75,000 sq. ft. facility, located in Palos Heights, Illinois. The building will undergo extensive renovations and once complete is slated to provide a state-of-the-art indoor center to support the school's growing college preparatory curriculum, developing athletic and arts programming, as well as ongoing alumni and prospective student outreach.
The conceptual design of the 75,000-square-foot complex consists of four sections: two turf arenas, one all-purpose court, as well as three multi-purpose rooms located at the east end of the complex. The facility will feature cutting-edge flooring, lighting, and playing surfaces designed to accommodate any type of activity. Additionally, divider curtains will separate each section into smaller areas. Further amenities will include air conditioning, boys' and girls' locker rooms, concessions, and a full line of audio-visual equipment.
"Our commitment to excellence drives us to continually be forward-thinking," shared Larry Tucker, President of Marist High School. "This facility is an investment not only in the future of our school, but in our holistic approach to educating and caring for the body, mind, and spirit of each and every student, alumni, donor, and community member."
The development of the facility will provide infrastructure relief to Marist High School's main campus. The new space will enhance the welfare of the entire student body, expand sports medicine, sports performance, and athletic training opportunities within the school's curriculum and co-curricular offerings, and increase alumni, student, and future RedHawk engagement. The indoor center also will create a year-round, climate-controlled venue for mission retreats, band practices, and performances, as well as event space for reunions, leagues, and more.
"The school's facilities are consistently maxed, utilizing every available space," said Meg Dunneback, Principal of Marist High School. "The new facility allows us the opportunity to further support initiatives related to student mental health and wellness while building a curriculum that leads into many of the advanced fields our students are looking to enter once they complete high school and beyond."
As Marist redevelops the complex located along Ridgeland Ave. in Palos Heights, Illinois, the school is working with an exploratory committee to refine facility utilization and operations. 
This story was provided by Marist High School