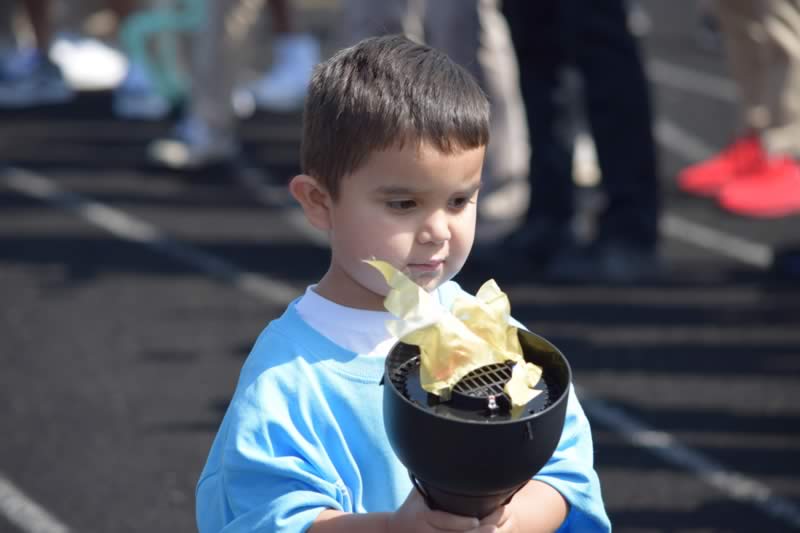 Over 150 Young Athletes Participate in Sports Event
Chicago Heights, IL-(ENEWSPF)- Last Wednesday, May 15, 2019, Marian Catholic High School was the host for the Region E Culminating Event for the Young Athletes of Special Olympics. Over 150 athletes between the ages of two and seven from Cook, Will, and Grundy Counties took part in activities designed to help them improve physically, cognitively, and socially.
Traditionally, to compete in Special Olympics, an athlete had to be eight years of age, leaving a large gap in a very important developmental age. In 2006, Special Olympics piloted a gross motor-sports play program for young children, with and without intellectual disabilities to introduce them into the world of sports. The Young Athletes program provides athletes who are not old enough to participate in Traditional Special Olympics competitions the opportunity to begin preparing for those events.
Since its inception, the Young Athletes program has grown to include more than 130 agency and school sites statewide reaching more than 18,000 youth.
Marian Catholic students lend emotional support to the athletes by making posters for each child and participating in an Opening Ceremony that includes a torch relay with Chicago Heights police officer escorts. Marian Catholic students line the path holding posters, pinwheels, and ribbon wands to encourage the young athletes. Seniors volunteer to organize and oversee individual activities.
"Involving the students in the day helps them gain a sense of appreciation for all people, regardless of their limitations and celebrate their 'abilities' rather than focus on their 'disabilities,' said Denise Iggins, Faculty Coordinator of Marian Catholic's Discovery in Service Program. "It is an opportunity to show respect and inclusion towards all."
Liz Gebbia, the Special Olympics Coach for the SPEED Learning Center, said, "I love days like this. I love when the kids get to be celebrated for all their actions and their accomplishments. I think it's even better that all the Marian students come out and cheer us on. They've been working on signs and things and the kids love seeing their names up in print. It makes their day."
This is the fourth year Marian Catholic has hosted the Regional Young Athletes event.
[new_royalslider id="22″]