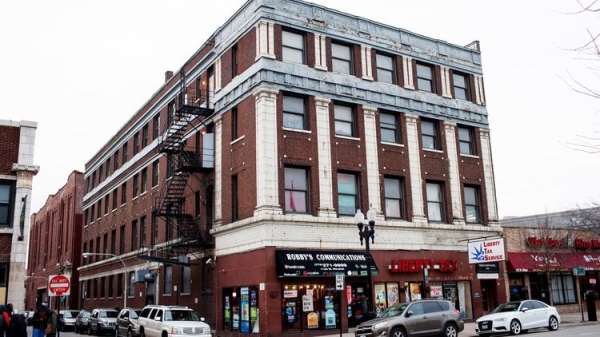 Wilson Men's Hotel Residents Demand Developer Cease Retaliatory Evictions
CHICAGO, IL – (ENEWSPF)—February 8, 2018
By: H. Kapp-Klote and Tommie Hannah
In a press conference this morning, tenants of the Wilson Men's Hotel, a Single Room Occupancy (SRO) building in Uptown, demanded City Pads LLC developer Andrew Ahitow cease his eviction of the residents and ensure tenants are a key part of negotiating the relocation process. Last week, all 100+ tenants of Wilson Men's Hotel were served with 60-day eviction notices.
From the beginning, tenants of Wilson Men's Hotel have demanded a binding commitment from City Pads LLC,. (owned by Andrew Ahitow) for the right to remain in affordable, long term housing on the Northside. They have also demanded a full relocation plan, which Ahitow offered when he first purchased the building. Ahitow ultimately refused to collaborate with tenants or ONE Northside, a community organizing group working with tenants, and has shown no evidence of moving forward on this viable relocation plan for all tenants.
In the last few months, City Pads has allowed conditions in the Wilson Men's Hotel to become increasingly unlivable. The bathrooms have sanitation issues, the heating is inconsistent, and tenants are concerned about exposure to asbestos in the walls, as CityPads has prematurely begun the demolition process. To fight these conditions, tenants have made repeated complaints to the Department of Buildings, which required City Pads to make repairs.
Tenants say that this eviction is retaliatory, and the City of Chicago has threatened to file a lawsuit blocking the evictions as a violation of the SRO Preservation Ordinance. It is critical that the City follow through on enforcing the SRO ordinance, to protect tenants and prevent future developers from breaking the law.  More than 300 community members are also in support of Wilson Men's Hotel tenants, signing a petition encouraging Ahitow to provide a real binding commitment for them to remain in affordable long term housing on the Northside.
City Pads has said they offered tenants alternate housing, and tried to help tenants move. However, they've given these notices to all tenants, regardless of where they are in the process of moving, and the housing choices they offered were in many cases too expensive, or substandard.
"Helping people relocate, even in the best of circumstances, is a poor substitute for taking 230 affordable units from Uptown, especially when Interfaith Housing Development Corporation was willing to preserve them," said Eric Holmes, a resident of the building. "Now, residents are facing homelessness. This eviction contributes to the gentrification and displacement already happening in Uptown."
"This eviction notice is retaliation, and so is the way we're living right now," said Tommie Hannah, also a resident of the building. "We're not going anywhere until tenants are a real part of this relocation process."
Organizing Neighborhoods for Equality: Northside is a mixed-income, multi-ethnic, intergenerational organization that unites our diverse communities. We build collective power to eliminate injustice through bold and innovative community organizing. We accomplish this through developing grassroots leaders and acting together to effect change.
Source: Organizing Neighborhoods for Equality: Northside