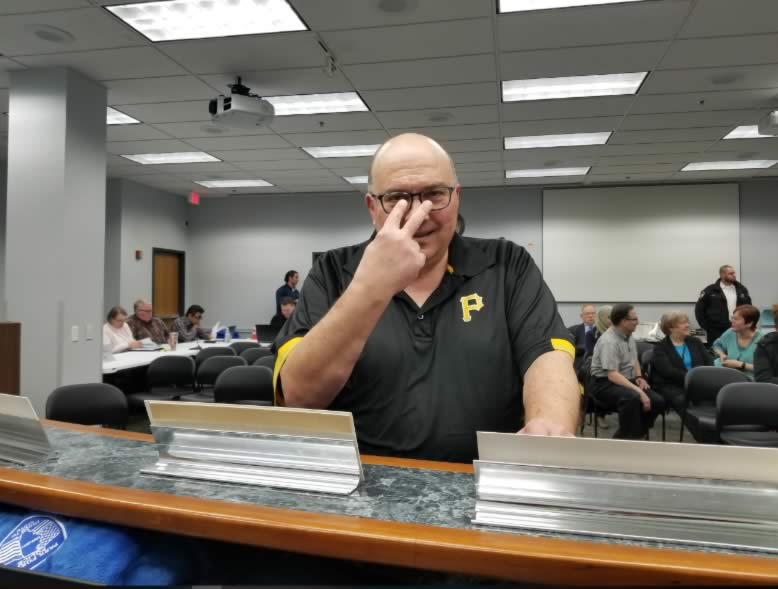 Park Forest, IL-(ENEWSPF)- Had an inspirational meeting earlier this week with Rich East High School Principal Dr. Albert Brass and Mr. Quincy Owens, Director of Culture and Climate at the flagship of School District 227.
Dr. Brass is a tall, very fit man who exudes warmth, enthusiasm, along with a belief in the heart of Rich East High School. This heart? He calls them, "Our babies." They are the young men and women who attend the high school. Mr. Owens has his own measure eagerness to discuss the many positive qualities of REHS.
Dr. Brass shared that this year's graduating class earned $5.6 million in scholarships. There were thirteen Illinois State Scholars. Ninety-four percent of this past year's seniors graduated. On an average day, 97% of the student body is in school.
Both men described Rich East students as "resilient." The school has nine buses that hold 45 students each. That works out to a little over 400 students who take a bus to school. The rest of the student body walks to school, regardless of the weather.
Resilience.
And when they arrive at school, Associate Principal Anderson is there to greet them at the door. Those who drive are greeted when they get out of their cars, in the parking lot.
Both men used the word "family" repeatedly to describe Rich East.
I told Dr. Brass and Mr. Owens eNews Park Forest will work to tell this story, the story of the students, repeatedly. We're going to start a column called "Rich East Now for TODAY'S DATE," and my goal is to run several a week, like this column.
Some will simply take information from the school's many Twitter accounts, like this video posted earlier Thursday from Rich East Wrestling:
There was also this tweet honoring senior Deshawn White and his many accolades:
I'll be following the hashtag #HonorTheRockets on Twitter. I recommend you do the same.
But "Rich East Now" will not simply be another place to catch up on Rich East tweets. We want to go into more depth, talk about restorative practices at the school, highlight four outstanding students a month: two young women and two young men.
We want to share the substance of Rich East High School, a story that deserves to be told, through the voices of every student who attends. We will work to bring you as many of these voices as possible.
So, look for interviews soon with Dr. Albert Brass and Mr. Quincy Owens. Working on transcribing those.
In the meantime…
Main Street Nights with Detective Meghan Vold
This is from the Park Forest Police Department's Facebook page. Main Street Nights went indoors Wednesday evening because of the rain, but it looks like the debut celebration was warm and dry.
The Community BBQ that had been scheduled for Wednesday evening will take place next week, June 19, beginning at 6:00 p.m. on the Village Green.
This from the police:
Despite her busy schedule in the Investigation's Division, Detective Vold reserved some time to don the PFPD patrol uniform and spend some quality time with the community. Don't panic if you missed Main Street Nights last night, you have every Wednesday from now until August 7th to join the fun.

PFPD on Facebook
In addition to the Community BBQ, next Wednesday will also feature Shaun Hays, a chalk art champion who "delights with his innovative artwork."
Mr. Taps will perform at at 6:30 p.m. "Mr. Taps' engaging personality and fancy footwork entrances audiences. Ayrie King III, better known as 'Mr. Taps,' effortlessly glides across the floor as he demonstrates different styles of tap dancing, from Fred Astaire's innovative flair to Ann Miller's rapid-fire tapping. Mr. Taps has performed at schools, colleges, theaters and festivals throughout the U.S. Workshops and residencies are also available."
7:30 p.m. features "two-time Grammy-nominated artist and American blues legend John Primer was the bandleader and guitarist for Muddy Waters, Willie Dixon and Magic Slim & The Teardrops. Having played or recorded with a who's who of blues greats including Junior Wells, Gary Clark Jr., Derek Trucks, Johnny Winter, The Rolling Stones and Buddy Guy to name a few, John Primer's personal accolades, including a Lifetime Achievement Award, reflect his countless contributions to the history of Chicago blues. There are very few fans, critics or musicians who will deny the fact that John Primer is the real deal."
Reminder: Township Day Saturday for Rich Township
Rich Township Supervisor Al Riley announced that Rich Township would celebrate Illinois Township Day on Saturday, June 15, from 10:00 a.m. to 1:00 p.m. There will be free shredding available from 10:00 a.m. to Noon.
The event will take place at the Rich Township Complex, 22013 Governor's Highway, in Richton Park.
Tall Grass Opening Reception Saturday
Tall Grass Arts Association will host a late afternoon opening reception for Thoughts Woven: Open Stories and Hidden Treasures, Works by Artists of the Midwest Collage Society. The event runs from 3:00 p.m. to 5:00 p.m.
From Tall Grass:
Come meet the Artists and view their thoughtful collage and mixed media works. Four of the Artists – Andrea Fox, Margi Hafer, Chris Jacobson and Laura Lein-Svencner, will share some insights into their pieces in the show.

Artists included in the show are Tania Blanco, Barbara Pompei Boland, Fabra DiPaolo, Carolyn Dunn, Andrea Fox, Cherylyn Gnadt, Margi Hafer, Chris Jacobson, Carol Kazwick, Laura Lein-Svencner, Joan Lucht, Lavinia Morozan, Jerri Reimann, Nancy L. Staszak, and Margaret Swedzikowski.

From figurative compositions to complex abstractions, these artists' works are created through experimentation, risk-taking, reinvention, and rediscovery.

Rich textures, layers of delicate hand-made papers and salvaged fabrics, washes of concentrated color, organic forms built upon found-object supports – all serve as media, tools and processes, the particular visual language of this experienced group of artists who are ever seeking new directions within their art.

Adult and Student groups are welcome to tour the exhibit. Please call our Director, Cody Ziebell at 708-748-3377 if you need to make special arrangements or to schedule a time to visit the gallery.
The show runs from June 15 through July 20. Curators are Claudia Craemer and Deborah Craemer. Admission to the gallery is always free.
Park Forest Art Fair on the Horizon
Just a note that the 64th Annual Park Forest Art Fair will run September 21 & 22, 2019, from 10:00 a.m. to 5:00 p.m.
Beth Mason Fleming for Caring for Every Duck, Every Day, at Marian Catholic!
Every spring, ducks arrive and hatch their ducklings in courtyards at Marian Catholic High School. There's always been an adult who "adopted" the ducks, cared for them each spring. Years ago, it was one of the sisters. In recent years, it's Beth Mason Fleming, who also runs the schools Spartan Shop.
Not only does Beth feed the ducks every day. Ms. Fleming also bought small swimming pools where the ducklings can learn to swim.
In those three families of ducks, there are a fair number that survived so far this year. The courtyards are almost safe havens from predators, but sometimes a raccoon does gain entry. And hawks from the sky? They have their own skills.
Thanks to Beth Fleming, though, for caring for these young duckling families. It's no small task, caring for every duck, every day.
Look for a Number of Police Reports this Weekend
Finally, look for a number of police reports this weekend as I continue to trek through May and into early June. There will be some burglary reports published this weekend as well.
Enjoy your Friday!
Have news for this column? Please send it to [email protected]. Also, I'm looking for people to interview. Great Park Foresters. Could be anyone. Greatness is subjective. Have a friend or neighbor who stands out? Talk to me! 708-808-0204.