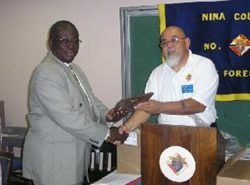 Press Release
Park Forest, IL—(ENEWSPF)— Circuit Court Judge Michael w. Stuttley was awarded the 2007 Knights of Columbus Community Service Award, this past weekend. This was an awards and installation of officers dinner for Nina Council #3602.
The Community Service Award goes to the person who has made a definitive impact on the community. Judge Stuttley has accomplished this.
For almost twenty years on the bench as judge, Judge stuttley has helped each and every client who has passed through his courtroom. He has done this in many ways, through helping clients get an education and finding necessary programs for them. Judge Stuttley helped found some of these programs. In addition, Judge Stuttley has founded the Second Chance School Program. Judge Stuttley has a "Back to School Bar-B-Que" every year where each child gets free school supplies.
Currently, Judge Stuttley serves as the supervising judge in the Markham Court House juvenile section.
The award was presented to Judge Stuttley in the social room of St. Irenaeus Church in Park Forest.
The mission of the Knights of Columbus is to honor those who have made that sort of impact in their communities through service.