Park Forest, IL-(ENEWSPF)- The Jesse White Tumblers visited Illinois School in Park Forest last week. They led an all-school rally to promote the school's positive behavior program.
The rally with the Jesse White Tumblers displaying their acrobatic ability was the kickoff of a year of events. These celebrate the Illinois Wolves PACK principles of pride, acting responsibly, character, and kindness, according to principal Dr. Shernita Mays.
The school, which has students from kindergarten through eighth grade, rewards students throughout the year for demonstrating positive behavior. Students can earn "wolf bucks" to shop at the school store and rewards for schoolwide and personal success.
One of the school's students, eighth-grader Trenton Jordan, is a member of the Jesse White Tumblers. He had a chance to show off his skills to his classmates. Mays hopes the demonstration will inspire students to understand that they can achieve their goals with hard work and discipline.
"The Jesse White Tumblers promote school and excellence. You have to have good grades to be a part of their program," Mays said. "It takes discipline, self control and being a part of a team."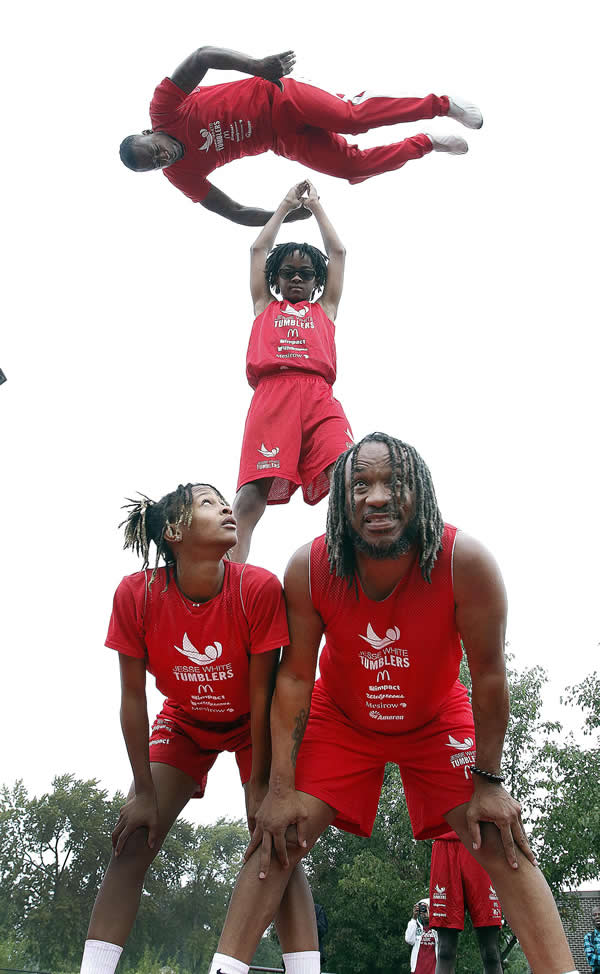 Who Are The Jesse White Tumblers?
Created in 1959, The Jesse White Tumblers provide a positive alternative for inner-city kids. Team members must stay away from gangs, drugs, and alcohol, stay in school, and maintain a minimum "C" average. The team consists of male and female participants as young as age 6.
The team, with seven units, gives more than 1,500 performances each year at major sporting events and community, business, and charity functions. The Jesse White Tumblers attract national and international attention and have performed throughout the United States, Canada, Hong Kong, Bermuda, Belize, China, Israel, Tokyo, Japan, and Zagreb, Croatia. The team has also been featured in commercials, national television shows, and motion pictures.
Because the organization requires its student-athletes to maintain at least a "C" average, team members and trainees who fall below this standard must attend tutoring classes or show proof that they are enrolled in a tutoring program. Our program assists with homework, encourages independent reading, improves writing skills, spelling and handwriting, and practices basic math facts.The program also helps to improve science and social studies grades through study skills and develops a higher level of thinking skills through group and individual work.
Source for the material about the Jesse White Tumblers courtesy of jessewhitetumblingteam.com
This is news from SD 162.