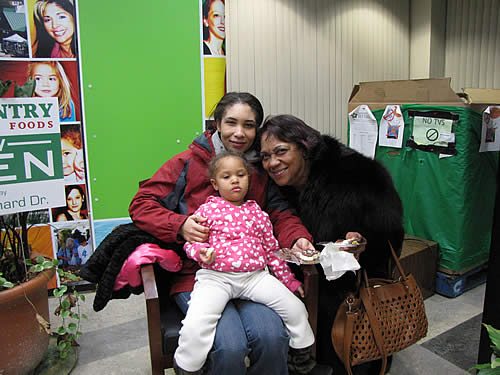 Park Forest's 2014 Business Person of the Year, State Farm Agent Bree Breedlove (right), celebrates her award with members of her family at Village Hall last Monday. (Photo: Gary Kopycinski)
Photo gallery: Bree Breedlove, 2014 Business Person of the Year
Park Forest, IL—(ENEWSPF)—December 8, 2014. Congratulations to Bree Breedlove of State Farm Insurance for being named Park Forest's Business Person of the Year for 2014. Park Forest Economic Development Advisory Group (EDAG) Business Person of the Year award is an annual award to recognize Park Forest business owners for their contributions to the community through charitable work, service and making a difference. Past recipients of the Business Person of the Year award are: Janet Fiorenzo, Tower Cleaners; Alan Franklin, Muzicnet Performing Arts Center; Jim McDannel, Lifetime Automotive Repair, Mike Jordan, State Farm Insurance; and Earl & Alia Davis, Quality Classic Health & Fitness Center.
If your club, organization or local business will be holding activities or events in our community during the upcoming week, please send an e-mail to [email protected] with the details. Submission deadline is noon on Friday of each week.
Village of Park Forest
Village Board Meeting – Monday, December 8
The Board of Trustees will meet on Monday, December 8 at 7 p.m. at Village Hall, 350 Victory Drive. Residents are encouraged to attend. Board meetings air live on cable access channels (Channel 4 for Comcast subscribers and Channel 99 for AT&T subscribers) as well as on the Village web site here.
To view previously held Board Meetings, visit the Village's web site here and click on the date of the meeting you wish to watch.
Village Commissions & Advisory Boards
The following Park Forest Commissions and Advisory Boards are scheduled to meet the week of December 8:
Tuesday, December 9 at 6:30 p.m. – Commission on Human Relations
Tuesday, December 9 at 7 p.m. – Plan Commission
Tuesday, December 9 at 7 p.m. – Youth Commission
The meetings will be held at Park Forest Village Hall and residents are encouraged to attend.
Arts & Entertainment
DePaul University Art Museum, 935 West Fullerton, Chicago
'Ink, Paper, Politics: WPA-era Printmaking from the Needles Collection' Exhibit – Through December 21
During arguably one of the more difficult times in American history — the Great Depression — artists were commissioned to help inspire the nation. "Ink, Paper, Politics: WPA-era Printmaking from the Needles Collection," on display at the DePaul University Art Museum in Chicago, provides a window into the 1930s — a time of economic hardship and struggle. The 56 prints in the exhibition were produced during the Depression, when the federal government provided financial support to a wide range of artistic projects, from fiction to fine art, through the Works Progress Administration-Federal Arts Project (WPA-FAP). When the stock market collapsed in 1929 and many people were out of work the federal government set up programs to provide jobs for people and interestingly, the initiative included artists, explained curator Louise Lincoln, director of the museum on DePaul University's Lincoln Park Campus. When the WPA was established in 1934, President Franklin Roosevelt wanted to use the arts as a way to help people identify themselves as Americans and have a project in common to get through the depression and back to prosperity. Roosevelt quite deliberately encouraged the WPA to promote art that celebrated workers, the nation as a whole, and a certain history and politics, explained Lincoln. The exhibition offers a detailed look into what people's lives were like in a time of real hardship. California artist Millard Owen Sheets brought that sentiment to life with his lithography "Family Flats," which depicts a New York housing tenement. The exhibition, which runs through December 21, also includes works by well-known east coast artists Stuart Davis, who designed the abstract lithography "Anchor," and Rockwell Kent, who created the ominous lithography "Nightmare," which depicts a man jumping off a ledge. The collection is drawn from a donation of 100 prints to the museum from the collection of Belverd Needles Jr. and Marian Powers Needles. Belverd Needles is the EY Distinguished Professor of Accountancy at the Driehaus College of Business at DePaul University; Marian Needles is an adjunct professor of executive education at the Kellogg School of Management at Northwestern University. Additional information is available at 773-325-7506 or online at http://www.depaul.edu/museum.
Drama Group, 330 West 202nd Street, Chicago Heights
'The Philadelphia Story' – Through December 13
The Drama Group is very pleased to be presenting Philip Barry's classic sophisticated comedy 'The Philadelphia Story' based on the film of the same name starring, Katherine Hepburn, Cary Grant and Jimmy Stewart; now directed by Mary Ellen Fawk and Costumes by Wayne Poulton. Performances will be held at the Drama Group Studio Theatre on: December 11, 12 and 13 at 7:30 p.m. and on Saturday December 13 and Sunday December 14 at 2:00 p.m. Tickets are $20 for adults and $19 for seniors and $15 for students with ID. Group discount rates are also available. Good seats are still available. Tickets can be purchased by calling the Box Office at 708-755-3444 or online http://www.brownpapertickets.com/profile/242073. For directions and other information regarding Drama Group activities, please visit our Web site at www.dramagroup.org or call Tina Zagone 708-738-1440.
Illinois Philharmonic Orchestra, 377 Artists Walk, Park Forest
Family Pops Concert 'Music from the Movies' – Tickets Now on Sale
Tickets are now on sale for the performance of 'Music from the Movies' that will take place on Saturday, December 20 at 8 p.m. at the Lincoln-Way North Performing Arts Center, 19900 S. Harlem Avenue, Frankfort. Lights! Instruments! Action! It's Family Movie Night with an orchestral twist! Maestro Danzmayr, himself a film music fan, leads the IPO in a program of heart-pounding, awe-inspiring music from some of the greatest Hollywood blockbusters, including Pirates of the Caribbean, James Bond, Star Wars, Raiders of the Lost Ark, Lord of the Rings and Harry Potter. Tickets are priced at $55, $45, and $35 and can be purchased online at https://secure.ticketsage.net/websales.aspx?u=ipo&pid=251196. . For additional information call 708-481-7774 or visit www.ipomusic.org.
NOTE: This performance repeats at 3 p.m. on Sunday, December 21, at the Rialto Square Theatre, 15 East Van Buren Street, Joliet. For ticket pricing or additional information, call the Rialto Square Box Office at 815-726-6600 or visit http://www.rialtosquare.com.
National Veterans Art Museum, 4041 North Milwaukee Avenue, Chicago
'The Things They Carried' – Permanent Exhibit
The National Veterans Art Museum reopened its permanent exhibit 'The Things They Carried' in a brand new gallery space meant to be more immersive for viewers. Inspired by Tim O'Brien's book 'The Things They Carried,' this exhibit serves as a visual companion that illustrates the narrative with fine art and photography from veterans that lived the stories in the novel. Much like the book, the exhibit explores the concept of storytelling and questions how one might share the story of the Vietnam experience. The exhibit takes as its central question "how to tell a true war story" and prompts viewers to consider their personal stories and contemplate how they might share their own narratives. By literally incorporating the essential elements of storytelling: Who, Where, When, and What, 'The Things They Carried' begins by chronicling the Vietnam conflict through first-hand visual accounts and descriptions. The exhibit culminates in the re-creation of an authentic Vietnam-era tented shelter to bring viewers into the intimate physical experience of sleeping, living and working in the field during that time. With artworks and objects created and collected by over twenty Vietnam veteran artists, 'The Things They Carried' also provides visual interpretations to viewers, illustrating the war by those who were there. This form of pictorial storytelling offers insights into the individual personalities of those who served, where they were in Vietnam both geographically and environmentally, and what the cultural climate of the time looked like. Representations and artifacts come together in 'The Things They Carried' to offer an individuated and holistic presentation of the social and historical context of the Vietnam War. With didactic guides and lesson plans that accompany the artwork and artifacts, visitors of all ages can gain a better understanding of "how to tell a true war story" as explored in Tim O'Brien's book, as well as explore possibilities and benefits of personal storytelling. Featured artists include László Kondor, Dean Sharp, Charles Shobe, William Myles, James McJunkin, John Hosier, Michael Harac, and Arthur Jacobs. The Museum is open Tuesdays – Saturdays, 10 a.m. to 5 p.m. and offers free admission year-round. For additional information, call 312-326-0270 or visit: www.nwam.org. 
Park Forest Public Library, 400 Lakewood Boulevard
The following events will be held this week at the Park Forest Library:
Monday, December 8 at 11 a.m. – Storypalooza — A fun story time for all kids through the age of 6 with an adult. Siblings are welcome.
Tuesday, December 9 at 7 p.m. – PJ Storytime — Wear your PJs out on the town! Bring along a fuzzy friend and your blanket too! Stories, activities, and more… Ages 12 and under.
Wednesday, December 10 at 11 a.m. – Baby Time — Story time for infants to 35 months of age with an adult. This story time is designed to engage children through movement, music, stories, and more.
Thursday, December 11 at 11 a.m. – Toddler Art — Ages 3-5. Bring your little artist to create their very own masterpiece! We may get a little messy so wear play clothes.
Saturday, December 13 at 1 p.m. – Celebrating a Green Holiday — Treat the birds outside your home this winter with tasty delights you can make yourself! Food sources are harder to find in the cold winter months, so make it easier for our feathered friends by making edible garland and a simple hanging birdfeeder. Our very own Prairie Godmothers will show you how to do it yourself and provide more recipes to make at home. Registration Required.
For additional information or to register for a program, call 708-748-3731 or visit http://www.pfpl.org/.
Potpourri of Lectures – Thursday, December 11
The Potpourri of Lecture Series continues on Thursday, December 5 at 10:30 a.m. in the Library's Ringering Room. This week's lecture will be "From Dinosaur to Kardashian: Social Media & The Stories We Tell" with James Perez. For additional information, call 708-748-3731 or visit www.pfpl.org.
Prairie State College (PSC), 202 South Halsted, Chicago Heights
Suite Prints: 25 Years of Chicago Printmakers Collaborative – Through December 19
Suite Prints: 25 Years of Chicago Printmakers Collaborative will run through Friday, December 19 at PSC's Christopher Art Gallery. Works in various methods of printmaking from an important and influential Chicago studio and collective. The curated show will feature prints in various media, from silkscreen to intaglio, by members of this Collaborative. The event is free and open to the public. For additional information or gallery hours, call 708-709-3636 or visit http://prairiestate.edu.
Educational Lectures & Opportunities
Governors State University (GSU), 1 University Parkway, University Park
Job Search Assistance Every Tuesday at GSU
The Mobile Workforce Center's mobile unit will be at GSU every Tuesday, from 9:30 a.m. to noon and 1 p.m. to 3:30 p.m., parked near the university's front entrance. Center services include resume development, access to online job boards and websites, instruction in how to conduct an online job search and improve keyboarding skills, and assistance of staff. The center is equipped with 11 computer stations with Internet access, printer, and copy machines, and is wheelchair accessible. Services are free and available to residents in all counties. For additional information, contact the Workforce Services Division of Will County at 815-727-4980.
Prairie State College (PSC), 202 S. Halsted, Chicago Heights
2015 Spring Registration Now Open – Classes Begin January 12
Registration for the spring 2015 semester is now open at PSC. New this semester at PSC is Flexible Scheduling – classes starting at different times during the semester. Students can choose their schedule, their class, their time. Hundreds of courses are offered days, evenings, weekends, and online to accommodate busy schedules. The traditional 16-week course option is still available with a start date of Jan. 12 and end date of May 7. New this spring is the 14-week course, with a start date of Jan. 26 and end date of May 7. What were formerly called late start courses are now called 12-week courses with a start date of Feb. 6 and end date of May 7. All of these courses — 16-week, 14-week, and 12-week — offer the same course material with the same credit hours. The shorter the number of weeks, the longer the class period. Also for spring, PSC is offering two different eight-week courses. First eight-week courses start Jan. 12 and end March 9. Second eight-week courses start March 10 and end May 7. The eight-week courses typically are fewer credit hours. Many of the college certificate programs offer eight-week courses, allowing students to fit two courses in a semester and to make progress towards that certificate. Spring registration began Oct. 20 for current students. New students can begin registering on Oct. 27. Students are encouraged to register early as classes will fill quickly. Both credit and non-credit courses are listed in the spring class schedule, available on the PSC main campus, located at 202 S. Halsted St., Chicago Heights. The schedule also is available at area public libraries and online at prairiestate.edu. To register for credit courses, new students must complete an enrollment application in person at the college or online. Enrollment Services is open Monday through Thursday, from 8 a.m. to 7 p.m., and Friday from 8 a.m. to 4:30 p.m. Current students can register for credit courses in person or online. Students can register for non-credit courses online or in person. To register online via Instant Enrollment, go to prairiestate.edu and follow the directions to choose How To Enroll under continuing education courses. Another option is to complete the registration form available in the back of the printed course schedule. Students also can register for non-credit courses in person at the Matteson Area Center, located at 4821 Southwick Drive in Matteson, or in the Enrollment Services Office on the PSC main campus. The Matteson Area Center is open Monday through Thursday from 8 a.m. to 9:30 p.m., and Friday from 8 a.m. to 4:30 p.m. For more information about registering for courses, visit www.prairiestate.edu or call 708-709-3500.
Online Educational Resources
Online college programs are a great way for today's busy people to complete or earn a degree. To find an online college program in Illinois, visit http://www.onlineschools.org/guides/Illinois/ where you will find a compilation of every college program offered online in Illinois offered on a full or part-time basis.
Top U.S. Universities
Choosing what college or university to attend can be a very daunting experience. With educational costs continually increasing, it's more important than ever to choose a university that meets your specific educational needs. At http://www.topschools.com/, you will find a comprehensive resource that ranks each university throughout the nation by size, degrees offered, tuition costs, admission, graduation and retention rates.
Healthy Living
Governors State University (GSU), 1 University Parkway, University Park
Free Psychotherapy Available from GSU's Psychology Program
GSU's Psychology Department is offering free psychotherapy services to members of the community. Conversations with a psychotherapist can help people cope with depression, anxiety, relationship issues, stress, and life transition problems. Confidential, one-on-one sessions are held with a GSU graduate student in psychology under the supervision of a Licensed Clinical Psychologist. Individuals and couples, 18 years and older, are eligible. All sessions are conducted in Matteson, IL. The number of sessions is determined by the client's needs. For additional information or to schedule an appointment, call 708-235-2841.
Sertoma Centre, 4343 West 123rd Street, Alsip
Free Community Education and Prevention Programs about Mental Health
Sertoma Centre's Mental Health Services facility is offering community mental health seminars, free of charge to community groups, schools, law enforcement agencies, religious organizations, and other community groups at their location in Matteson or facility. Education Programs will include: Question, Persuade, and Refer (QPR) which increases public awareness of suicide and improves one's ability to identify and refer those at risk for suicide. Mental Health First Aid (MHFA) is a public education course that helps participants identify, understand and respond to signs of mental illness and substance disorders. Also included is Mental Health First Aid for Youth and Anxiety/Depression Screenings. Thanks to a grant, these educational opportunities are available at no cost to you or your organization. To arrange a free educational opportunity for your club, group, workplace, organization, or church, call Gia Washington at 708-748-1951, Ext. 418 or email at [email protected].
Park Forest Fire Department, 156 Indianwood Boulevard, Park Forest
CPR Classes
CPR classes are available at the Park Forest Fire Department. Click on the following link for more details: http://pffd.vopf.com/cpr-classes.html
Partnership for Prescription Assistance (PPA)
Assistance With Medications & Health Services
If you, or someone you know, are struggling to pay for medications every month, they may be able to get the medicines they need for free or almost free through the Partnership for Prescription Assistance. If you live in Illinois, you can get access to more than 475 public and private program available to help you pay for your medicines. Simply visit http://www.pparx.org/en/click_illinois to find out if you can apply to any of these great programs and to get connected with 10,000 free clinics and doctors.
Shirley J. Green Senior Center, 297 Liberty Drive, Park Forest
Senior Citizen Weekday Lunch at the Senior Café
Senior citizens of all income levels are invited to lunch weekdays at the Rich Township Senior Café located inside the Rich Township's Shirley J. Green Senior Center. The CNN site is open to all south suburban residents, including those living outside of Rich Township. Participants must be 60 years of age or older. The suggested donation for lunch is $2.50. Lunch is served Monday through Friday at noon. Bingo begins at 10 a.m. For additional information or to make a reservation for lunch, call 708-747-2700.
Unitarian Universalist Community Church (UUCC), 70 Sycamore Drive, Park Forest
Qigong with Jim Kobus – Most Thursdays
UUCC will host Qigong with Jim Kobus on Thursdays from 5 p.m. to 6 p.m. at the church. This class will usually meet on Thursdays but there may be exceptions, so if you are interested in attending, please send an email to Jim Kobus at [email protected] so he can notify you when class will NOT be held. There is a suggested donation of $5 per class. Please bring your own water. It is recommended that you eat dinner after class, not before. For additional information, please call 708-799-1925 or visit www.uuccpf.org.
Free Healthy Living Program – Thursday, December 11
UUCC will host a Free Health Living Program on Thursday, December 11 from 1 p.m. to 2:30 p.m. Chiro One Wellness Centers will provide free spinal screenings and lead a discussion about managing your stress. Come join us! All are welcome. Invite friends! For additional information, call 708-481-5339 or visit www.uuccpf.org UUCC is located east of Western Avenue and south of Steger Road.
Holiday Shopping & Events
Freedom Hall, Nathan Manilow Theatre, 401 Lakewood Boulevard, Park Forest
Winter Wonderland With Mandy Barnett – Friday, December 12
On Friday, December 12 at 7:30 p.m., acclaimed recording artist and performer Mandy Barnett celebrates the warmth and joy of the holiday season, featuring classic ballads like "White Christmas," "I'll Be Home For Christmas," and "Have Yourself A Merry Little Christmas," along with spirited standards like "Jingle Bell Rock," "A Holly Jolly Christmas," "Marshmallow World," and "Winter Wonderland." Barnett's robust delivery on her contemporary yet retro-sounding country and pop-tinged material harkens back to the likes of all-time great female singers and timeless sounds. Among the many publications praising Barnett's talents, the Los Angeles Times has heralded her "pipes of steel," "big, brassy voice and vintage-sounding arrangements." USA Today calls Barnett one of the "finest classic country and torch singers" to come out of Nashville. Here, Barnett takes her cue from the enduring Christmases of the golden era — imagine the smooth and sophisticated sounds of Perry Como, Brenda Lee, Burl Ives, and Connie Francis updated with Barnett's soaring, sparkling vocals. Barnett's commanding voice and stage presence are sure to put you in the holiday spirit! Read more about Mandy Barnett. Tickets are $24. For additional information or to purchase tickets, call 708-747-0580 or visit www.freedomhall.org.
Lisa Rock's Carpenters' Holiday Show – Tickets Now on Sale
On Tuesday, December 16 at 11 a.m., Freedom Halls' Matinee/Senior Theatre will present Lisa Rock's Carpenters' Holiday Show. One of the great holiday TV specials was that of The Carpenters. Now, singer Lisa Rock and her 6-piece band are keeping the tradition alive and bringing their unforgettable holiday songs to the stage. Based on the music from The Carpenters two holiday albums and Christmas variety shows, it's a concert that spreads joy and cheer to all! Tickets are $13. For additional information or to purchase tickets, call 708-747-0580 or visit www.freedomhall.org.
Grande Prairie Singers, 266 Somonauk Street, Park Forest
Grande Prairie Singers Holiday Concert – Sunday, December 14
The 60-voice Grande Prairie Singers, directed by Jo Rodenburg, will ring in their 37th season of bringing song to the Southland with its annual "Winterlude" concert at 4 p.m. Sunday, December 14 in Faith United Protestant Church, 10 Hemlock Street, Park Forest. This family friendly holiday show features a musical celebration of the season with songs ranging from a fifteenth century English carol to contemporary melodies saluting the time of year. Adding to the musical festivities will be the delightful and talented Grande Prairie Children's Choir directed by Oksana Rodak and the mystical and transporting silvery sounds of the bell choir. The Grande Prairie Singers are a dedicated group of songsters from throughout the south suburbs with a six decades age span and led by Ms. Rodenburg who has gained fame on both the opera stage and the concert hall. "Winterlude" is the first of three programs to be presented by the Singers. On Saturday, March 8, 2015, "The Lovers" will combine Henry Purcell's timeless opera "Dido and Aeneas" with Leonard Bernstein's "West Side Story." The final concert, on May 17, 2015, will include choral works by both Haydn and Mozart, two brilliant composers who were also fast friends. Season subscription tickets are $40. Single concert tickets are $15; $20 at the door or $10 for students with an ID. Tickets may be ordered online at www.grandeprairiechoral.org or by phone at 708-481-8684.
Park Forest Historical Society, 141 Forest Boulevard
Park Forest House Museum, 141 Forest Boulevard
'Step Back Into a 1950s Christmas' – Through January 3
'Step Back Into a 1950s Christmas,' exhibit will be on display at the 1950s Park Forest House Museum which is open Wednesdays and Saturdays through January 3 from 10:30 a.m. to 3:30 p.m., or by appointment, if possible. Period decorations are on display in every room. A Black Forest green metal tree is decorated in period ornaments, and stands on a pedestal which plays Christmas carols. The stockings are all hung with care; toys and gifts are under the tree. Period wrapping paper and cards are there. Dolls, toys, and games, and even Howdy Doody are there to bring back memories or to share with other family members and friends. Call Jane Nicoll, Museum Director, at 708-481-4252 to confirm opening in case of extreme bad weather. Take a break from the hustle and bustle of 21st Century holidays to revisit the holidays of your past in this gem of a museum, just down the street. The special admission/donation for December is $3.00 for adults; 12 and under free with a paying adult. The museum tour is free with the purchase of a Marshall Field's Brick. Several other Park Forest related gift ideas are available at the museum and in the online store at www.parkforesthistory.org. Convenient street parking is available in front of the museum!
Park Forest Public Library, 400 Lakewood Boulevard
Holiday Items for Sale at PF Library
The Park Forest Public Library will once again be offering Holiday Pecans, calendars and other unique items for the holidays. For more details, visit the library or check them out on-line at www.pfpl.org.
Holiday Toy Drive – Through Sunday, December 14
Through December 14th, Santa's helpers at the Park Forest Library will be accepting new unwrapped toys for children ranging in age from infants to 13 years old. Please no stuffed animals.
Prairie State College (PSC), 202 South Halsted, Chicago Heights
PSC Wind Ensemble Performs Seasonal Favorites – Monday, December 8
The PSC Wind Ensemble will perform a concert of seasonal favorites from 7:30 to 9:30 p.m., Monday, December 8, in the Conference Center Auditorium on the college's main campus in Chicago Heights. For the first time, the adult choir from the First Unitarian Church of Hyde Park will join the ensemble to perform several selections, including the "Hallelujah Chorus" from Handel's oratorio, Messiah. The performance also will showcase two of the ensemble's principal musicians. Clarinetist Kenneth Carlborg brings a lively klezmer quality to the piece "Viktor's Tale" from John Williams' music for the motion picture, The Terminal. Trumpeter Christopher Davis flexes his musical muscles on the famous Arban tour de force, "Variations sur Le Carnaval de Venise (The Carnival of Venice)." The band also will perform excerpts from Tchaikovsky's ballet, "The Nutcracker Suite," featuring PSC Professor Valerie Nicholson on piano. The Wind Ensemble is a collaboration of musicians from the college, community and local high schools, and is directed by Phillip Crews. The Hyde Park Unitarian Church Choir is directed by PSC alumna Amanda Thomas. The performance is free and open to the public. If you are interested in more information about the concert, or a musician interested in joining the band, contact Nicholson at 708-709-3742 or [email protected].
Salon Artists Gallery, 367 Artists Walkway, Park Forest
Annual Holiday Sale – Through December 19
Come see wonderful gifts available at reasonable prices at the Salon Artists Gallery annual Holiday Sale taking place now through December 19. Gallery hours are Tuesday and Wednesday from 10 a.m. to 4 p.m.; Friday from 1:30 p.m. to 4 p.m.; and Saturday, from 10 a.m. to 4 p.m. For additional information, call 708-833-5108.
South Suburban College (SSC), 15800 South State Street, South Holland
Give a Gift of Scholarship This Holiday Season
The South Suburban College Foundation (SSCF) is seeking year-end gifts from those who wish to help make a difference in the lives of local college students who need assistance. The SSCF Scholarship Donor Drive will continue through the end of the year, providing both a charitable gift opportunity and tax-deduction for all donors. This support provides scholarship assistance each year to many students who otherwise would be unlikely to begin or complete their college education. One-hundred percent (100%) of Donor Drive donations benefit scholarship and student assistance funds. Whether it is a high school graduate, an unemployed resident looking for a career change, or a single parent pursuing their college degree for the first time, the SSC Foundation offers scholarship assistance to all students in need. Helping students achieve their college dream can give them the tools to improve their lives and their communities. Scholarship opportunities are critical for SSC students. Many are struggling to balance family, employment, and school responsibilities while they are often unable to receive Financial Aid. The majority of SSC scholarship recipients do not qualify for any other type of financial assistance. Scholarship money is provided primarily through the annual fall Scholarship Donor Drive. All scholarship contributions to the SSCF are 100% tax-deductible (TIN: 23- 7191736). The SSCF staff works cooperatively with individuals and organizations to develop a donor plan of any level. New scholarships can also be established with a $750 donation. Donations may be made online at www.ssc.edu/foundation, via PayPal to [email protected] or mailed to:
"SSC Foundation"
15800 S. State Street
South Holland, IL 60473
At SSC, 90% of students fall under the low income, first generation or disabled criteria. The SSCF once again awarded over $100,000 in total awards to these students in 2014, and has now granted over $1.6 million since 1987. For more information, please contact the Foundation Office at 708-596-2000, extension 2697 or [email protected].
Tall Grass Arts Association, 367 Artists Walk, Park Forest
Annual Holiday Show – Through January 10
The Annual Holiday Show will open at Tall Grass Arts Association will run through January 10. The show will feature one-of-a-kind artwork, jewelry and other items, perfect for gift giving. Curated by Giselle Pereault, the entire gallery will be magically converted into a gift shop. Mark your calendar and begin your holiday shopping with a visit to the Tall Grass Gallery. For additional information, visit: www.tallgrassarts.org or call 708-748-3377.
Thorn Creek Nature Preserve, 247 Monee Road, Park Forest
Annual Holiday Food Drive – Through Saturday, December 13
Thorn Creek Nature Center is hosting its annual holiday food drive for the Rich Township Food Pantry. Donation items can be dropped off at the Nature Centre during open hours through Saturday, December 13. Acceptable items are: non-perishable food items (including boxed, canned and dry foods) especially cereals and peanut butter; personal care items for men and women, especially toothpaste, deodorants and razors; zip lock quart and gallon size bags; baby formula; and disposable diapers (adult and infant). For additional information, call 708-747-6320.
'Woodland Carols' – Saturday, December 13
'Woodland Carols' on Saturday, December 13 from noon to 2 p.m. at Thorn Creek Nature Center marks the end of the food drive. Savor homemade soups while listening to a variety of holiday and seasonal music and carols sung by popular area performers. Cost for program is $10 per person, or one bag of groceries per person. Help a local family enjoy the December holidays by making a food donation today. To register or for additional information, call 708-747-6410 or e-mail [email protected].
Union Street Gallery (USC), 1527 Otto Boulevard, Chicago Heights
Annual Twelfth Month Art Exhibit & Boutique – Through December 20
Union Street Gallery will hold its Twelfth Month Annual Art Exhibit & Boutique through December 20. Twelfth Month is Union Street Gallery's much anticipated annual exhibit of local and regional fine art and fine craft. Twelfth Month combines both a traditional gallery style exhibit and a gallery gift shop with boutique style displays of smaller works of art spread throughout the exhibit. This provides a dynamic and unique way for visitors to view and shop the exhibit. Twelfth Month is an inspiring and eclectic exhibit that highlights local talent and introduces the public to a broad range of styles, mediums, and concepts. This exhibit also promotes hand-made gifts and supporting the local art scene. Some art exhibiting and for sale includes: paintings, drawings, collages; sculpture, large and small; prints and reproductions; handmade cards; pottery; hand painted wooden bowls; handmade hats, scarves, purses; jewelry; ornaments – glass, metal, felt; hand-made home décor; and so much more! The exhibit is free and open to the public. For additional information, call 708-754-2601 or visit www.unionstreetgallery.org.
Unitarian Universalist Community Church (UUCC). 70 Sycamore Drive, Park Forest
Edgar's Place Coffeehouse Presents Dave Rudolf's Completely Cracked Christmas – Saturday, December 13
Edgar's Place Coffeehouse will present Dave Rudolf's Completely Cracked Christmas on December 13 at 8 p.m. at the UUCC. Whatever holiday you may celebrate, everyone has a great time at Grammy Nominated & Gold Record Winner Dave Rudolf's hilarious and very popular holiday show. This show features Dave with the beautiful harmonies of the "Three Wise Guys" and other great musicians. Besides the hilarity, you can expect to hear some of Dave's original tropical holiday tunes and maybe even a song to touch the heart. Tickets are $15 for adults and $10 for children. If you bring a can of food or toiletry item to donate to Respond Now, you will receive $1 off admission. Don't miss a great evening of fun while helping those less fortunate in our community. For additional information, call 708-481-5339 or visit www.uuccpf.org.
Volunteering this Holiday Season
If you/your family might be looking for ways to give back to your community this holiday season, organizations that you can either volunteer with, or donate to, include the following:
St. Irenaeus Church in Park Forest sponsors a local food pantry. The pantry operates from 10 AM to Noon on Mondays in the Religious Education Building of the church. For more details on the food pantry, and other services offered in conjunction with it, see the attached flyer or contact the church office at 708-748-6891. On a related note, there is a Good Vibes Clothing Closet being coordinated at St. Irenaeus byway of Suburban Open Access. For more details on this program, please contact Nick Koster at 708-799-9190.
The Rich Township Food Pantry is always accepting food donations. The Township is also conducting its annual Toy Drive wherein new, unwrapped toys can be donated through December 21st. For more details, contact: Vicki Sline, Director at 708-228-5035 or visit www.richtownship.org/food-pantry.
Respond Now in Chicago Heights is accepting food, clothing and toy donations with the following contact information:

Carl Wolf, Executive Director
Amy Weber, Associate Director
1439 Emerald Street
Chicago Heights, Illinois
708-755-4357
Green Events
Sauk-Calumet Group of the Illinois Sierra Club, Matteson
Adventures in Wild Alaska – December 8
The Sauk-Calumet Group of the Illinois Sierra Club will hold its monthly meeting on Monday, December 8, at 7:15 p.m. at the Frankfort Community Center, 140 Oak Street. PLEASE BE ADVISED: for the foreseeable future meetings will NOT be held at the Frankfort Public Library but at the Frankfort Community Center. This month's program will feature Gregg and Christy Mazrimas-Ott, who will be showing pictures and telling of their adventures in wild Alaska, including their explorations of Anchorage, Denali, the Kenai Peninsula, Kodiak Island, and Afognak Island. Christy is a member of our local Sauk-Calumet group and a polar bear keeper at the Brookfield Zoo. The Frankfort Community Center is at 140 Oak St. From the corner of LaGrange Rd. and Route 30, go south on LaGrange Rd. When you reach Nebraska, turn left (east), and drive 5 blocks to Oak St. Turn right (south) on Oak St. Go one and a half blocks to the Center. It will be on the right. Sierra Club meetings are free and open to the public. People who enjoy outdoor activities, who want to protect the environment, or who wish to preserve the world in which we live, are encouraged to attend. For additional information, contact Patrick Coffey, Publicity Chair, at [email protected].
Thorn Creek Nature Preserve, 247 Monee Road, Park Forest
Become a 'Friend of Thorn Creek'
Friends of Thorn Creek Woods is the citizen activist group responsible in very large part for preserving and securing the dedication of the Thorn Creek Woods as an Illinois Nature Preserve. Friends' volunteers continue to provide support in so many ways: staff the nature center on weekends; trail work; displays; leading hikes; special events; cleaning; pruning; artwork; music; research; and so on. Friends is a voice for the Woods and preservation values, donates funds for equipment and sponsors an annual meeting, Garlic Fest and Earth Day. Members receive a quarterly newsletter. Annual membership in Friends is $10. For additional information, call 708-747-6320.
Experience the Thorn Creek Nature Center
Thorn Creek Nature Center is housed in a historic building, originally Immanuel Lutheran Church of Matteson, Illinois built in 1862, and later Village Bible Church of Park Forest. A gothic frame country church, its notable architectural features include curved ceiling, tongue-and-groove paneling and a raised pulpit. Its current attractions are displays of the preserve's flora and fauna, a bird feeder viewing area, Eugene E. Schwartz reference library and an expanded children's section. The Nature Center is open Friday through Sunday, noon to 4 p.m. Trails are open daily year-round, dawn to dusk. For additional information, call 708-747-6320.
This & That
League of Women Voters of Park Forest Area
Discussion on Management of Charter Schools – Sunday, December 14
The League of Women Voters of the Park Forest Area will host a meeting to provide information on the state League study of the management of charter schools, at 2:00 PM on Sunday, December 14 at the Park Forest Public Library, 400 Lakewood Boulevard. The Charter School Study Committee will present an informational video of a panel discussion of issues relating to accountability, transparency, and funding of charter schools. Panelists include: Dr. Marvin Hoffman, University of Chicago, founder of Kenwood/Oakland Charter School; Andrew Broy, President of the Illinois Network of Charter Schools; Kurt Hilgendorf, Researcher, Chicago Teachers Union; and Dr. Gary Miron, Western Michigan University, specialist in studies for profit and nonprofit charter management organizations. The meeting is open to the public and anyone interested in the topic is encouraged to attend to learn more about issues related to oversight and accountability for charter schools. The League of Women Voters is a nonpartisan political organization which encourages informed and active participation in government, works to increase understanding of major public policy issues, and influences public policy through education and advocacy. The League does not support or oppose any candidate for public office. Anyone interested in promoting responsible government is invited to be a member. For more information about the program or membership in the League, please contact Mary Lubertozzi, 708-747-1359.