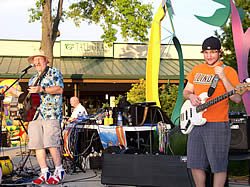 Park Forest, IL–(ENEWSPF)– With the opening of school just around the corner, it's time to stop putting off participating in Park Forest's many activities taking place this week or in the near future.
Send information concerning your community activities or events during the upcoming week by e-mail to Rosemary Piser, Associate Editor, with the details. Submission deadline is noon on Friday of each week.
Village of Park Forest Board and Commission Meetings
The following Village Boards and Commissions will meet the week of August 3:
Plan Commission – Tuesday, August 4 at 7 p.m.;
Senior Citizens Advisory Commission – Tuesday, August 4 at 7 p.m.;
Economic Development Advisory Group – Wednesday, August 5 at 7 p.m.; and
Environment Commission – Thursday, August 6 at 7 p.m.
All meetings are held at Village Hall, 350 Victory Drive. Residents are encouraged to attend.
Park Forest Aqua Center, 30 N. Orchard
Beat the heat and come to the Aqua Center. Be a part of a great summer experience and get the best buy for your money by becoming a member. Daily guest passes available for $10/person and $5/person after 5 PM. A valid photo ID is required for entry.
Looking for the perfect location for a private party? The Aqua Center is available for rental. Call 708-747-9490 for details.
Park Forest Health Department, 350 Victory Drive (lower level)
School and "Sports Only" Physicals
Children of Park Forest and the surrounding area who are going into preschool, kindergarten, sixth grade and ninth grades are required to have a school physical. A fee of $41 will be charged for Park Forest residents and $46 for non-residents (cash only) on:
Saturday, August 7, from 2 p.m. to 7 p.m.;
Saturday, August 29, from 9 a.m. to 3 p.m.; and
Saturday, September 12, from 9 a.m. to 3 p.m.
Appointments are required. To make an appointment or for further information, call 708-748-1118.
Arts and Entertainment
Main Street Nights – FINAL 2009 SUMMER EVENT AUGUST 5
Another great season of Main Street Nights will end this week at Park Forest's DownTown Village Green (Cunningham and Main Streets). Refreshments will be sold. In the event of rain, performances will be moved to Dining on the Green, 349 Main St. Call 708-283-5647 for weather-related changes. For additional information, call the Recreation office at 708-748-2005.
Wednesday, August 5

7:00 P.M. – Soda

Hear music from Johnny Cash to Dave Matthews and from Styx to John Mayer.

Dusk – Wall-E

The movie Wall-E will be shown on a big outdoor screen. The film is rated PG.
Hope Lutheran Church, 424 Indianwood Blvd.
Coffee House for Teens and Adults – Friday, August 7
Open mike. Come show off your talents or just come to support. All youth and adults are invited. For more information, call 708-748-1995.
St. Paul's-Good Shepherd U.P. Church, 480 Lakewood Blvd.
Musical Benefit Concert – Sunday, August 9, TBD
Music is the universal language of the soul. Music reaches across generations and cultures. We will be partnering with children programs to raise funds for children in crisis. Donations will be accepted. For more information, call 708-748-5451.
Park Forest Library, 400 Lakewood Boulevard
Tuesday, August 4 at 8:00 a.m. – Tuesday Morning Walkers. Meet in the north parking lot.
For more information, call 708-748-3731.
Tall Grass Gallery, 367 Artists Walk, Park Forest
With These Hands – 2009 Sculpture Invitational –Thru September 13
A varied compilation of sculptural works will be shown by artists Joshua Andres, Patrician Bohannon, Louis Greer, John Hansen, Angela Lee, Michele P. Owens, Michael Ruback, Eric Steele, Jan Stewart, Grant White, and Robert Williams. Admission is free to the public. Gallery hours are 11 AM to 4 PM Tuesday through Saturday. For more information, call 708-748-3377.
Center for Performing Arts at Governors State University
"Into the Woods" – Tickets on Sale Now
Tickets are now on sale for the Southland Area Theatre Ensemble (SLATE) at GSU's summer production of "Into the Woods." The production will take place on Friday, August 14 at 7:30 p.m. and Saturday, August 15, at 2 p.m. and 7:30 p.m. Adult tickets are $18 to $21 and tickets for children under 16 are $16 to $19. Tickets may be purchased by calling The Center box office at 708-235-2222 or online at www.slatetheatre.org.
Park Forest House Museum, 141 Forest Boulevard (Corner of Forest & Fir)
Relive your childhood memories or show your children/grandchildren what it was like to live in the 'good old days' by visiting the Park Forest House Museum. The Museum is open on Saturdays from 1:00 p.m. to 3:00 p.m. Admission is $5 for adults; children 12 and under are free when accompanied by an adult. Group tours are by appointment. Call 708-748-3731.
Educational Lectures
Governors State University (GSU), 1 University Parkway, University Park
Occupational Therapy Programs – Information Sessions
GSU's Occupational Therapy Programs will host Information Sessions for individuals interested in learning more about the Master of Occupational Therapy (MOT) and Doctor of Occupational Therapy (DrOT) degree programs on Thursday, August 6 in Room G127 at the University. Registration will begin at 9:00 a.m. and the program will run from 10 a.m. to 12 noon.
For more information about the Occupational Therapy information sessions, call Mary Tracy at 708-534-7293.
Prairie State College (PSC), 202 S. Halsted, Chicago Heights
Info Night for Parents and Students
PSC Info Night on Wednesday, August 5 from 5 p.m. to 7 p.m. is a one stop shop for students and parents to learn more about transfer degrees and majors, career programs, financial aid, scholarships, athletics, and student life. Info Night is an open house where parents and students can drop by anytime from 4 to 7 p.m. and stay until they get the information they need and their questions answered from the college's faculty, staff and administrators.
Those who can not attend Info Night are encouraged to meet with an academic advisor; no appointment necessary. Registration for fall classes is ongoing, and classes begin on August 24. Hours for the Counseling and Academic Advising Center are Monday through Thursday, from 7:30 a.m. to 7 p.m.
For more information about Info Night, call 708-709-7776.
This and That
Hallelujah Temple, 1 Dogwood St.
Refreshing Times Senior Ministry
Join us for this informational and inspirational gathering. Seniors participate in arts and crafts, bible activities, games and lunch. All are welcome. For more information, call 708-503-6536.
Thorn Creek Nature Center, 247 Monee Rd.
Moonlight on the Lake Night Hike
Take a leisurely stroll around Pine Lake and watch the moon rise on Thursday, August 6 from 7 p.m. to 9 p.m. The event is interspersed with songs about the moon as a naturalist leads the way around the lake. All ages, $5 per person, family rates apply. Registration is recommended. Call 708-747-6320 to register or for more information.
Trail Work Day
Give back to Thorn Creek Nature Center and join the Thorn Creek Trail Crew in maintaining Thorn Creek Preserve on Saturday, August 8 from 8 a.m. to 1 p.m. Wear sturdy shoes. Ages 15 years and up. Community groups welcome. Call 708-747-6320 for more information.
Community Blood Drive
State Representative Anthony DeLuca and LifeSource will hold a community blood drive on Thursday, August 13, from 12 Noon to 6 p.m. in the Chicago Heights City Hall Parking lot located at 1601 Chicago Rd. To donate, donors must be at least 17 years old, weigh at least 110 pounds and present a current photo ID prior to giving blood. For more information, call LifeSource at 877-LIFESOURCE or Representative DeLuca's office at 708-672-0200.
Moo-alisa "Win This Cow" Raffle
Moo-alisa was created by the Salon Artists of Park Forest and was the mascot for the Park Forest 10 Ton Challenge. Raffle tickets are $5 each for your chance to win her. The Drawing will be held on Sunday, September 13 at the Park Forest Art Fair. Raffle proceeds will benefit local children through the Tall Grass Arts Association School and the Abraham Lincoln Allen, Jr., Youth Services Fund of the Friends of the Park Forest Health Department. Contact Brenda Walker at 708-748-1118 or stop by the Park Forest Health Department, 350 Victory Drive to purchase your ticket.
Wine and Chocolate Tasting
Park Forest's Economic Development Department will sponsor a Wine and Chocolate Tasting on Friday, August 14, from 7 PM to 9 PM. The Tall Grass Arts Association has agreed to let the Village utilize their facility for the event. Wine vendors who wish to donate or become a sponsor for this event should call Evelyn Sterling at 708-283-5621. Tickets are $15 in advance and $20 at the door.
Village of Park Forest Commission on Human Relations
Good Egg Award – NOMINATION DEADLINE AUGUST 3
Do you know someone who went beyond the call of duty? The Commission on Human Relations is looking to honor an individual or individuals who have made an impact in race relations, good neighborliness, human relations, and/or is a proponent of diversity in the South Suburbs. Nomination forms can be found on the Village of Park Forest web site (www.villageofparkforest.com), or by emailing Evelyn Sterling at [email protected], or calling 708-283-5621.
Shop Park Forest First!
Park Forest Farmers' Market
The 36th Annual Park Forest Farmers' Market will be held on Saturday's from 7:00 a.m. to Noon through the end of October. Vendors from across Illinois, Indiana, and Michigan will have a tremendous array of fruits, vegetables, plants, flowers, breads, cheese, organic eggs and meat, and the "best pork chop sandwiches in the universe." Come early and enjoy a breakfast burrito and cup of coffee while you shop the Market. The Market is located in the parking lot of the Eagle Movie Theater at the corner of Lakewood Boulevard and Cunningham Drive in DownTown Park Forest.
Greening of Park Forest
Safe Disposal Program – Bio-waste
The Park Forest Health Department and Environment Commission have partnered to provide information on the proper disposal of bio-waste such as used syringes or lancets (medical sharps). Begin by purchasing a Sharps container to dispose of your medical sharps for $10 at the Park Forest Health Department. Return the filled container to the Park Forest Health Department and purchase a new container. Call Brenda Walker at 708-748-1118 for more information. You can find additional recycling information by clicking on the "Recycling" icon found on the front page of eNews Park Forest.
Recycle Used Cell Phones and Cell Phone Accessories
The Rotary Club of Park Forest is conducting a used cell phone and accessory collection drive to benefit the families and programs of the South Suburban Family Shelter. Donated items can be placed in the collection box located in the lobby of Village Hall. For more information, call Denyse Carreras at 708-283-5603.
Go Green with a Free Tote Bag
The Village of Park Forest encourages residents to visit Village Hall to pick up an environmentally friendly canvas bag that can be used for your day-to-day shopping needs. These bags are free while supplies last with only two expectations: 1) that residents have a valid email address so that future environmentally conscious concepts can be shared by the Village's Environment Commission; and 2) that bags are limited to one per household. For more information on this program, visit the Village Manager's Office on the second floor of Village Hall of call 708-748-1129.
Rain Barrels
Rain barrels have become the "must have" item for Park Forest residents. The Park Forest Environment Commission and the Park Forest Recreation and Parks Department are facilitating the sale of rain barrels for $49 each. Residents interested in buying rain barrels can visit the Recreation and Parks window on the main floor of Village Hall, 350 Victory Drive, to order a barrel in the color of their choice (terra cotta, gray, black or blue) and pick them up at the Farmers' Market on Saturday, September 5th. You can also purchase a rain barrel at the Farmers' Market with colors limited to the stock-on hand. Common rain barrel accessories will also be available for sale at the Farmers' Market. Payment can be made in either cash or personal check. For further information, call Village Hall at 708-748-2005.
Human Interest
Donate Unused Air Miles to Support Families of Wounded Servicemembers
"Operation Hero Miles" collects unused frequent flyer miles to help military families visit service members who were injured in Iraq or Afghanistan and are recovering in military hospitals around the world. Airline partners are: AirTran, Alaska Airlines, American, Frontier, Midwest, Northwest, United, and US Airways. To donate airline miles, visit www.FisherHouse.org.
Donate to Troops Serving Abroad
The Village of Park Forest is currently seeking the names and addresses of local military personnel currently serving overseas so that they may receive packaged donations from Park Forest residents. If you are a Park Forest resident and have a family member from your household currently deployed or if you have recently returned from a tour of duty, please call Judi Lancaster at 708-283-5608 or stop by the Manager's Office at Village Hall, 350 Victory Drive.
Sources: Village of Park Forest Weekly Manager's Report; State Representative Anthony DeLuca, Spring/Summer 2009 Calendar of Events, Park Forest Library, Tall Grass Arts Association, Center for Performing Arts, Prairie Sate College, Illinois Theatre Center, and Park Forest Historical Society websites.