Dieterich, IL-(ENEWSPF)- A downstate legislator is the primary sponsor of a bill to make remote testimony for victims under 13 years of age the standard practice in alleged abuse cases. The Illinois House Judiciary Criminal Committee advanced the legislation by State Rep. Adam Niemerg (R-Dietrich).
House Bill 2607 establishes a presumption that the testimony of a victim who is a child under 13 years of age shall testify outside the courtroom and the child's testimony shall be shown in the courtroom by means of a closed circuit television. The presumption could only be removed if the defendant proves the child will not suffer emotional distress by providing testimony in the courtroom.
"I introduced this bill because I find it incredulous that we expect children who are the victims of sexual assault to testify in open court," Niemerg said. "Sexual predators who sexually abuse children use their roles as adults to intimidate and silence their victims. There is no question testifying in open court about sexual abuse allegations would be traumatic and distressing to children. We must protect our kids."
Niemerg said he has put in a lot of work to gain some bipartisan support.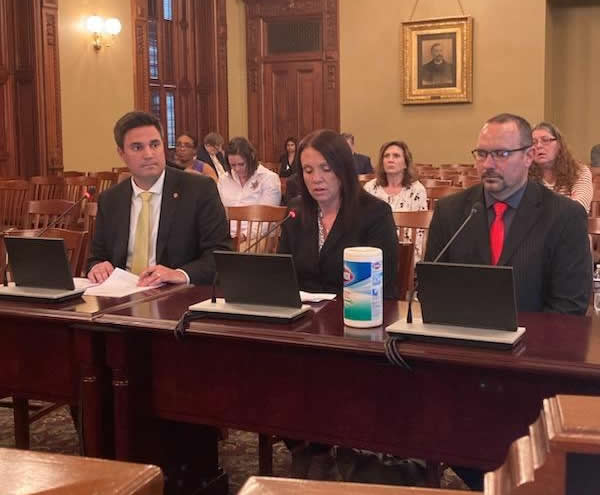 "I have met with any members on the other side of the aisle willing to talk in order to build support for this legislation," Niemerg said. "There is nothing more important than ensuring our kids are protected."
19 Republicans, 2 Democrats Sponsor Abuse Bill So Far
House Bill 2607 on alleged child abuse cases advanced to the House Floor for further consideration.
The bill has 19 Republican sponsors and two Democratic: Reps. Kevin John Olickal and Kelly M. Cassidy, both of Chicago. Cassidy is an LGBT rights activist and organizer and former legislative director for the National Organization for Women. Rep. Olickal is a lifelong resident of Skokie and son of immigrants. He formerly worked on House Democratic Staff. He was Executive Director for the Ind-American Democratic Organization.
Rep. Niemerg is a Teutopolis native and resides in rural Dieterich in Effingham County. They are members of the St. Isidore Catholic Parish and they attend St. Aloysius Church.