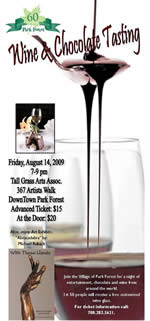 Park Forest, IL–(ENEWSPF)– Join the Village of Park Forest for a night of entertainment, chocolate and wine from around the world on Friday, August 14, 2009. The event will take place between 7:00 and 9:00 p.m. at Tall Grass Arts Association, 367 Artists Walk, in DownTown Park Forest.
The 1st 50 people will receive a free customized wine glass.
Tickets are $15 in advance, $20 at the door.
For more information, call 708-283-5621.
Source: VOPF