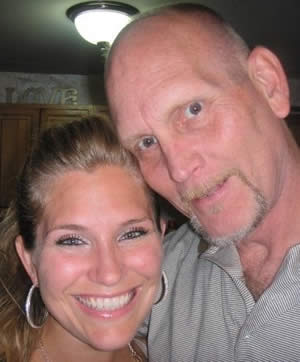 Jenna and Dirk Schnittker. (PHOTO SUPPLIED)
Commentary
By Gary Kopycinski
Will you help save Dirk Schnittker's life?
Received the following heart-rending letter from Jenna Schnittker today about the almost impossible plight her father finds himself, facing devastating illness with no health insurance.
In America.
Jenna writes about a fund raiser she is throwing for her father, Dirk Schnittker.
"My father has always gone above and beyond when it comes to being a great role model, loving father, nurturing and caring provider. Not to mention he's super funny! Unfortunately, recently life hasn't been too kind to him. It all started January 31st 2009 when my stepmother of almost 20 years passed away suddenly.
"My father was absolutely devastated.
"Shortly after, he lost his millwork job (he had been in the field his entire life) followed by his home. He spent the next years simply trying to find work. He searched all over, including different states and countries. He was desperate. Things seemed to look up when he finally find another millwork job in September of 2011. Although he took an almost 50% pay decrease, he was still ecstatic."
She continues that her father hadn't been feeling well for some time, had lost his health insurance when he was laid off, and was waiting for his new insurance to "kick in." so he could go see the doctor.
"Dad was only 20 days away from qualifying for his new insurance and two months into his new job when he could wait no more," Jenna continues. "I received a phone call October 29th 2011 from my father stating he needed to go to the emergency room ASAP and wasn't able to take himself due to his eyes being swollen shut. The doctor said that if we didn't come in when we did he would have died.
"He was in complete kidney failure and his bladder was completely shut down and no longer functioning. He was admitted for a week and in that time found out he had the most severe aggressive form of prostate cancer and was already in stage 3.
"My father has been battling his MS since 2001. The doctors aren't sure if the kidney and bladder issues were a result of the MS or possibly even the cancer now too. Needless to say he now has to face years of hormonal therapy and radiation, plus numerous visits to all of his doctors."
All told, Mr. Schnittker now has a neurologist, urologist, oncologist, nephrologist, and a general practitioner.
"If that wasn't bad enough," Jenna goes on, "he was no longer able to get the health insurance that was so close in his reach. My father and I have since spent numerous hours trying to figure out what can be done for him to simply survive. It makes no sense to me that a man, a good man, can spend his entire life devoted to his family and work and have to struggle to try to live.
"We have visited and spoke with every agency and resource you can think of to try to get him insurance, disability, or to simply point us in the right direction."
Since her father is only 55, is not blind or does not have a dependent under the age of 18, he will most likely not get state help, Jenna says.
"We have applied however but was told the process could take up to one full year to find out."
So Jenna and her family are throwing a fund raiser "so that my dad can have the right that everyone deserves, to live.
"I am hoping that if enough people can hear his story, we may be able to gather the funds needed for his treatments."
Jenna asks prayers as well.
Only in America.
Really, that's true.
Of all the industrialized democracies, ours is the only one with a for-profit health insurance system that denies medical insurance to so many.
That debate is in our past and still in our future.
In the present, in the now, there is one among many who needs your help.
Fund raiser for Dirk Schnittker
Location
Pyramid Club, 236 W Lake Street Addison IL 60101
Date and Time
Sunday, February 26th 2012
2 – 7pm
About

Please join us for a fun night of pool, appetizers, raffles, prizes and a live band (Shades of Blue) all in honor of my father Dirk Schnittker. My father was recently diagnosed with Stage 3 Prostate Cancer as well as MS, Kidney and Bladder damage and needs your help! With no job, money or insurance it's going to be hard to get the years of treatments and care he needs to survive.  During the past three years he has lost his wife, home, job, insurance and car.  Please don't let him lose his life as well.  There will be a $10 cover for the event (extra donations appreciated) and lots of raffles, fun and good company. All proceeds will go directly to Dirk to help with health related expenses. Please spread the word to everyone you know. Please help us save his life!!! Hope to see you there.

If you or anyone you know cannot attend but would like to make monetary donations to help him in the battle of his life, please go to www.paypal.com and specify that your contribution should be sent to [email protected]. These funds will Dirk's Charitable Cancer PayPal account.

Contributions may also be mailed to the following address, checks payable to Dirk Schnittker:

Dirk Schnittker
125 S.Iowa Ave.
Addison, IL 60101

Thank you for all of your support, however it may come.