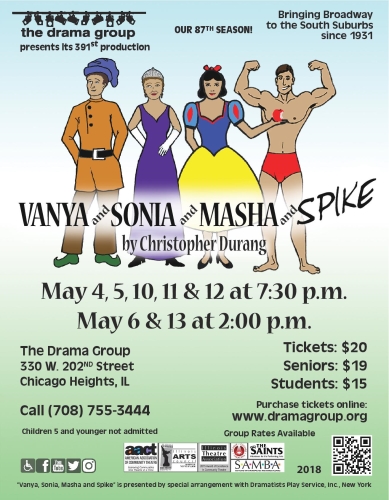 CHICAGO HEIGHTS—(ENEWSPF)—April 9, 2018
By: Tina Zagone
The Drama Group is will present 'Vanya & Sonya & Masha & Spike,' a zany comedy by Christopher Durang to our audience directed by Mary Ellen Fawk.  Performances will be held at The Drama Group's Milord Studio Theatre on May 4, 5, 10, 11 & 12 at 7:30 pm and matinees on May 6 & 13 at 2:00 pm.
Tickets are $20 for adults; $19 for seniors and $15 for students with ID. Group discount rates are also available. Good seats are available. Tickets can be purchased by calling the Box Office at 708-755-3444 or online here.
SYNOPSIS – 'Vanya & Sonya & Masha & Spike'
Middle-aged siblings Vanya and Sonia share a home in Bucks County, PA, where they bicker and complain about the circumstances of their lives.  Suddenly, their movie-star sister, Masha, swoops in with her new boy toy, Spike.  Old resentments flare up, eventually leading to threats to sell the house.  Also on the scene are sassy maid Cassandra, who can predict the future, and a lovely young aspiring actress named Nina, whose prettiness somewhat worries the imperious Masha.
Some of the show's elements were derived from works of Anton Chekov, including several character names, the play's setting in a cherry orchard and the theme of the possible loss of an ancestral home.
Get your tickets now for this sunny play about gloomy people!
Vanya & Sonya & Masha & Spike Actors
NAME
CHARACTER
CITY/STATE
Karen Cassin
Sonya
Beecher, IL
Alicia Cuccia
Cassandra
Mokena, IL
Ron Edwards
Vanya
Chicago Heights, IL
Regina Gadotti
Masha
Chicago Heights, IL
Samm Hilger
Nina
Burbank, IL
Geoffrey Purvis
Spike
Homewood, IL
PRODUCTION STAFF
Mary Ellen Fawk
Director
Chicago Heights, IL
Barbara Whitney
Assistant Director
Richton Park, IL
Russ Hoganson
Set Design
Homewood, IL
M.J. Renzi
Set Construction
New Lenox, IL
Wayne "Skipp" Poulton
Painting
Chicago Heights, IL
Wayne "Skipp" Poulton
Props & Décor
Chicago Heights, IL
Diane Principe
Costumes
Crete, IL
Regina Gadotti
Make up & Hair
Chicago Heights, IL
Jennifer Larkin
Light Design
New Lenox, IL
Rose Crockett
Stage Manager
Chicago Heights, IL
Tina Zagone
Marketing / Publicity
Olympia Fields, IL
Diane Kaffka
Publicity Photos
Tinley Park, IL
For additional information, call 708-755-3444 or visit: www.dramagroup.org.
The Drama Group's Milord Studio Theatre is located at 330 W. 202nd Street in Chicago Heights. For directions and other information regarding Drama Group activities, please visit: www.dramagroup.org.
Source: www.dramagroup.org