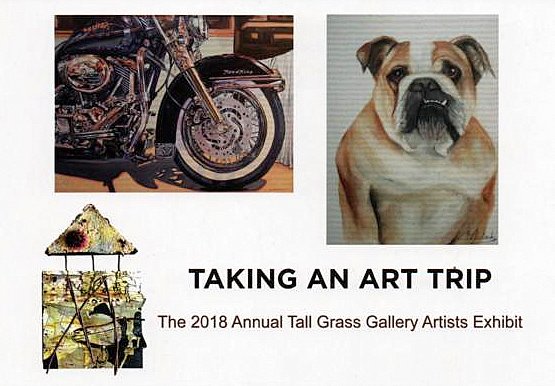 Park Forest, IL—(ENEWSPF)—July 23, 2018
By: Rosemary Piser
The 2018 Annual Tall Grass Gallery Artists Exhibit 'Taking an Art Trip' will open on Friday, August 3 and runs through Sunday, September 16. An Artists' reception will be held on Saturday, August 4 from 1 p.m. to 3 p.m. Both the exhibit and reception are free and open to the public.
Tall Grass Gallery will provide visitors with a refreshing break from their daily routines and responsibilities  – a brief but inspiring visual vacation –  by presenting a broad range of works by fifty-one members of our talented Tall Grass family of Juried Artists. Their images include a great mix of subjects, viewpoints and directions – people, landscapes, architecture, animals, observations, memories, inventions, transformations, metaphors, design and more.
Artists presenting works are:
David Abrahamson, Marjorie Anderson, Judi Boehner, Mary Bookwalter, James Bowden, Susan Brauer, Javier Chavira, Claudia Craemer, Maureen Cribbs, Bronwyn Elkuss, Judy Fan, Andrea Fox,  David George, Margi Hafer, Cedric Hampton, Judy Hanacek, Linda Lane Haynes, Jeanine Hill-Soldner, Janet Hubbard, Jean Janssen, Jack Kapost, Seung Jae Kim, Harry Mackie, Paula Mattson, Claudia McCarthy, Tim McCue, Joe McIlhany, Art McNaughton, Janice Meister, Jennifer Meyer, Chuck Michaels, Patricia Moore, Diane Nadler, Bob Nardi, Sandy Newell, Kate Patterson, Stuart Pearson,  Michael Perrott, Kiet Pham, Ginny Raftery, John Ray, Antonia Ruppert, Richard Schmidt, Glenn Steward, Patrick Thompson, Jaime Torraco, Mary Ann Trzyna, Nance Tucker, Elmira Wilkey, Patricia Wiseman, and Reg Ziemann.
Through paintings, drawings, photographs, prints, mixed media, sculpture and jewelry, these artists invite you to come away, take a break, and enjoy an art excursion within the Gallery at Tall Grass.
Gallery Hours are Tuesday through Saturday from 11 a.m. to 4 p.m. For additional information, call 708-748-3377 or visit www.tallgrassarts.org.
Source: www.tallgrassarts.org