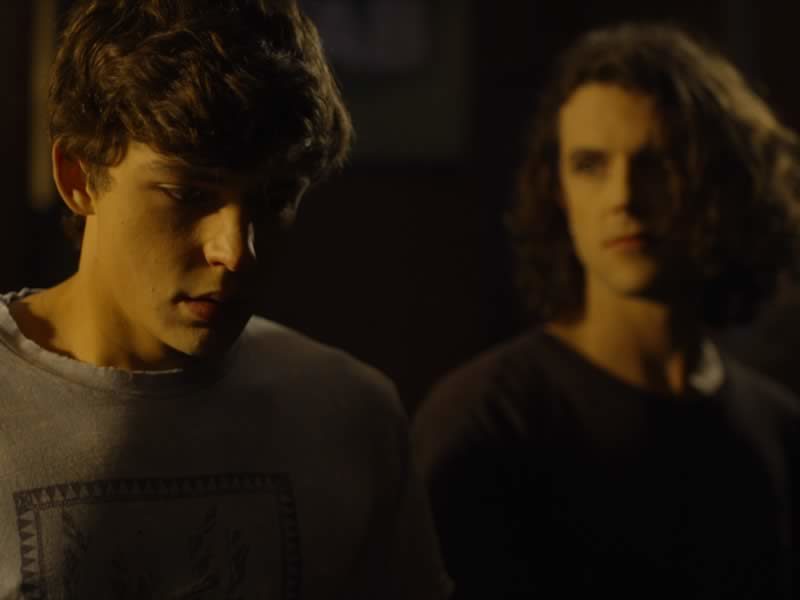 Chicago, IL-(ENEWSPF)- Reeling, the second-oldest LGBTQ film festival in the world and a beloved Chicago cultural institution for more than 35 years, kicks off fall with an exciting slate of movies that showcases the diversity of the queer experience. From the hilarious French comedy, THE SHINY SHRIMPS on opening night to the U.S. premiere of 15 YEARS, Yuval Hadadi's erotic Israeli drama of a gay couple's relationship in freefall, the 37th edition of Reeling has something to satisfy every cinephile. This year's Reeling fest will entertain, inspire, amuse, arouse and break a few hearts along the way with Lucio Castro's critically acclaimed END OF THE CENTURY, being hailed as a Spanish variation on Andrew Haigh's Weekend; the sexually adventurous lesbian-themed THE DAUGHTERS OF FIRE; the razor-sharp wit of James Sweeney's comedic debut STRAIGHT UP; the hard-hitting trans drama THE GARDEN LEFT BEHIND (the festival's narrative centerpiece); Traci Lords in the sexy camp comedy STEAM ROOM STORIES; and the jaw-dropping story behind the one-time closeted actor Mark Patton, subject of SCREAM QUEEN: MY NIGHTMARE ON ELM STREET. It all takes place in Chicago September 19-29.
Reeling will present 35 features and 13 shorts programs, nearly all of them Chicago premieres. The festival's opening night presentation takes place at the Music Box Theatre (3733 N. Southport Ave.) on Thursday, September 19, then continues on at Landmark's Century Centre Cinema (2828 N. Clark St.) from September 20-26 and concludes September 27-29 at the firehouse headquarters of Chicago Filmmakers (5720 N. Ridge Ave.). Chicago Filmmakers, a 45-year-old not-for-profit media arts organization, is the presenting organization of Reeling.
Reeling launches its ten-day festival with the Opening Night Gala presentation of THE SHINY SHRIMPS, dual directors Cedric Le Gallo and Maxine Govare's delightful French comedy in the tradition of La Cage aux Folles and The Adventure of Priscilla, Queen of the Desert. When Matthias, a hunky Olympic champion at the end of his career, makes a homophobic statement on French TV, his punishment is to coach the Shiny Shrimps, a flamboyant amateur gay water polo team. The surly Matthias, hoping to qualify for a coveted spot at a meet that will ensure his return to glory, reluctantly agrees to take on the assignment. But the team – filled with an assorted group of gay men and a trans woman – are as hopeless in the water as they are assured, funny, and sharply opinioned out of it. In its rave review of the film, The Hollywood Reporter noted, "The Shiny Shrimps is perfect for audiences, "hungry for something fizzy and light." The 7:00 pm Music Box Theatre Screening will be preceded by a 6:00 pm pre-party in the Music Box Lounge.
Reeling's closing night feature SCREAM QUEEN: MY NIGHTMARE ON ELM STREET travels back to 1985 when Mark Patton's career seemed about to take off. The young actor, a recent triumph in Robert Altman's Broadway hit (and film adaptation), Come to the Five and Dime Jimmy Dean, had snagged the lead in the second installment of the Nightmare on Elm Street horror franchise. But the result – considered the gayest film in horror history – instead, destroyed that promise. Now, decades later, Patton is ready to not only face his past but to embrace it and kill it once and for all.
Reeling 37 puts a special emphasis on several homegrown filmmakers. The pilot of WORK IN PROGRESS, a new half-hour comedy series created by Chicago improv mainstays Abby McEnany and Tim Mason, and co-written by Lilly Wachowski (The Matrix, Sense8) will screen on Saturday, September 21 at noon followed by a panel discussion with special guests from the series. A funny and uniquely human comedy, WORK IN PROGRESS features McEnany as a 45-year-old self-identified fat, queer dyke from Chicago whose misfortune and despair unexpectedly lead her to a vibrantly transformative relationship. Chicago-based performer Karin Anglin co-stars alongside Celeste Pechous, with Julia Sweeney (Saturday Night Live, Shrill) appearing in a crucial role as herself. Theo Germaine (The Politician) will also appear as a guest star. WORK IN PROGRESS will premiere Sunday, December 8 at 11 p.m. ET/PT on SHOWTIME.
Also coming out of Chicago is an increasing number of queer web series, which will be the focus of a panel discussion and screening of episodes from several Chicago web series. Creatives from these series will discuss how they got started, how they achieved visibility in a crowded online environment, and what impact their web series has had on their careers.
Other locally-connected films include the Documentary Centerpiece, the inspirational MAKING SWEET TEA, a film adaptation from directors John L. Jackson, Jr. and Nora Gross of author, playwright, performer, and Northwestern Professor E. Patrick Johnson's best-selling book, an examination of the lives of black gay men, showing here in its world premiere. Chicago-based actor, writer, and director Jesús Canchola Sánchez makes his feature debut with BITTERSWEET WATERS, the romantic drama about love on the down-low set in rural Mexico while former Chicagoan writer-director Wendy Jo Carlton (Easy Abby, Jamie, and Jessie Are Not Together, Hannah Free) returns to Reeling with her latest lesbian-themed romantic drama, GOOD KISSER. Writer-director Laura Madalinski explores similar themes from a comedic standpoint in TWO IN THE BUSH: A LOVE STORY.
Relationship dramas are always popular at Reeling and the festival will screen several this year including SELL BY, starring Scott Evans (Grace and Frankie and brother of Chris Evans), whose relationship with his partner is facing an expiration date. The venerable Patricia Clarkson heads the supporting cast. FROM ZERO TO I LOVE YOU finds Darryl Stephens, adored by gay audiences for his work in the long-running queer-themed soap opera Noah's Arc, falling in love with his latest conquest: a straight married man exploring his queer proclivities. Elena Undone director Nicole Conn returns to Reeling with MORE BEAUTIFUL FOR HAVING BEEN BROKEN, in which a former FBI officer finds herself drawn to a woman raising a child with health challenges, while the Italian film AN ALMOST ORDINARY SUMMER is a tale of two elderly men who come out to their adult children to announce their upcoming marriage.
On the sexy side, the festival has a bevy of offerings to choose from. Among them are END OF THE CENTURY(noted above); THE BLONDE ONE, the latest from Brazilian director Marco Berger, master of the gay slow burn; ORPHEUS' SONG, German filmmaker Tor Iben's erotic, modern-day variation on a Greek myth; SEQUIN IN A BLUE ROOM, Australian director Samuel Van Grinsven's ultra-sexy tale of a teenage boy who lives for anonymous gay hookups until he meets The One; while the aforementioned THE DAUGHTERS OF FIRE is an unapologetic exploration of lesbian erotica. Thrillers are represented by Jaki Bradley's LAST FERRY and legendary German queer director Rosa von Praunheim's latest, DARKROOM – DROPS OF DEATH – both are sexy and deadly!
Other highlights of the festival include a double episode sneak preview of the fourth and final season of the wildly popular Netflix series EASTSIDERS; a notable number of Latinx queer-themed features and shorts including the offbeat BRIEF STORY FROM THE GREEN PLANET; the US premiere of the delightful gay romantic comedy COUSINS; and COPA 181, a surprisingly moving slice of life drama set in a bathhouse. WHERE WE GO FROM HERE is a timely, heartbreaking fictional triptych set against the backdrop of three gun-related violent tragedies, including the Pulse nightclub massacre, while CUBBY is the super offbeat story of a young dreamer who arrives in New York, finding work as a nanny while fantasizing about a hot leather daddy not afraid to issue commands.
Documentaries, as always, are part of the Reeling line-up. In addition to the previously mentioned MAKING SWEET TEA and SCREAM QUEEN: MY NIGHTMARE ON ELM STREET, the line-up includes LEONDARD SOLOWAY'S BROADWAY, the telling portrait of the legendary 90+-year-old producer as he mounts his latest hoped-for Broadway triumph; UNSETTLED, a ripped-from-the-headlines look at several queer asylum seekers whose status is endangered under the current administration's immigration policies; JONATHAN AGASSI SAVED MY LIFE, the frank and ultimately moving story of an infamous porn star from Israel; and THE ARCHIVETTES, the story of a group of dedicated lesbians who for decades have created a repository for The Lesbian Herstory Archives.
Reeling celebrates the amazing talents of more than 70 filmmakers from 15 different countries with an array of films packaged into 13 shorts programs. Films cover a wide range of genres, including comedy, drama, experimental, documentary, thriller, and sci-fi, all making their Chicago debut. Highlights include LOVE FROM BRAZIL, a program of gay, lesbian, and trans narrative and documentary shorts from Brazil; a stellar program of films from The Netherlands, Germany, and the UK that pack a powerful punch in KNOCKED OUT; a program of remarkable narrative and documentary films about gender in DREAMS OF ANOTHER BODY, including two haunting works from Iran and Georgia; and the short film HANK (showing in the program BEHIND CLOSED DOORS), featuring critically acclaimed actor and comedian Jason Stuart, who will be in attendance.
Click here for the full festival line-up.
Reeling Public Information
For more information, the public can call (773) 293-1447, consult the festival website here, or follow ReelingFilmFest on Twitter, reeling.filmfest on Facebook and @reelingfilmfest on Instagram for the latest Reeling news and ticket promotions.
Reeling Ticket Information
Advance tickets and passes may be purchased online beginning August 12, 2019, or in person at Chicago Filmmakers (5720 N. Ridge Ave.) from September 9 to 18. Ticket prices are $13 for regular screenings at the Landmark, $11 for regular screenings at Chicago Filmmakers, with member discounts of $3 per show. Special admission programs include the opening night film, THE SHINY SHRIMPS, $15for the film only and $40 for the film and pre-party; and $30 for the closing night film SCREAM QUEEN! MY NIGHTMARE ON ELM STREET and after-party.
Reeling Pass Information
Discount passes are available at $55 for a Pick-5 Pass ($45 for members), $100 for a Pick-10 Pass ($90 for members), and $130 for a Festival Pass ($110 for members). Passes are good for regularly priced screenings only.
This is a release from REELING2019.