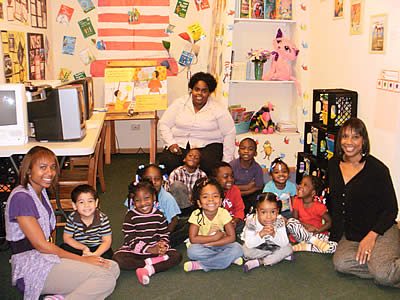 Students and faculty of Foundation 4 adVANCEment. (Photo: Rosemary Piser)
Park Forest, IL-(ENEWSPF)- Recently, I had the opportunity to spend some time with Wanikka Vance, M.ed the founder and CEO of Foundations 4 AdVANCEment College and Career Readiness Academy located in Steger. Ms. Vance, who resides in Park Forest, is a 32 year old educator with ten years educational experience turned entrepreneur. After working in the public school system for more than nine years, Ms. Vance realized that there was a need for improvement in our educational system and decided to follow her passion to open her own school where the children could be taught the "adVANCEd" way without any restrictions or hindrances.
When you first enter Foundations 4 adVANCEment, there is a sign prominently displayed that reads, "College Graduation is not an Option, but an Expectation." This philosophy is carried throughout the school and made very evident to students, staff, parents, and visitors. Each individual classroom is named after a particular university or college. There are also college and career pendants throughout the school. Vance strongly believes that by establishing high expectations for her students in their foundational years it will help them achieve at a higher level in the future.
The academy currently enrolls students from age 3 to second grade. "Our goal is to provide each child with a strong educational foundation and a quality education so they can excel in school and life," said Vance. The academy's curriculum includes a focus on entrepreneurship, college, careers, reading, writing, and math.
Vance believes in hands on instructional activities as well as real life application. At Foundations 4 adVANCEment students partake in several extracurricular activities such as chess, art and music lessons, foreign language, as well as etiquette lessons. One real-life application being used by Vance is with the student's etiquette lessons. At the conclusion of the students' etiquette classes, the students will be invited to go on a field trip to the Signature Room located on the 95th floor of the John Hancock Building in downtown Chicago to put the skills they have learned into practice.
Students attend classes Monday through Friday from 8 a.m. to 3 p.m. Students wear uniforms each day except Friday when it's dress-up day.  On Friday boys are in shirt and ties and girls wear dresses or skirts.  Vance has adopted a practice used in Scandinavian countries where children not only take off their hats and coats before class, but also remove their shoes. Studies in these countries have found that children learn more in a relaxed atmosphere. Vance and her staff also teach in their stocking feet.
Classes are small with only 8 to 12 students in each classroom, in order to provide more one-on-one instruction. Lessons are taught at one or two levels higher than currently done in public schools.
Vance strongly believes that parents and caregivers are a child's first and most influential teacher. The Academy's staff encourages both parents and students to strive for the best. The Academy even offers free programs for parents to help their children succeed in school, as well as a monthly family literacy program.
In addition to the daily programs, the Academy also offers homework help sessions, private tutoring, amateur athletics and holiday camps for children ages 3 to 18. These additional programs are held either after school or on Saturdays.
Ms. Vance believes in providing quality education and programs at an affordable rate. Tuition and fees for programs vary and some programs are free of charge. There are also scholarships available. Ms. Vance has funded the Academy out of her own pocket so far, but is always looking for donations of money and materials to build a computer lab and offer other programs and components.
After spending some time with Wanikka and her students, it is clear that this Park Forest educator's dream to build a legacy of excellence is well on the way to becoming a reality.
To learn more about the Foundation 4 AdVANCEment, call 708-248-5926 or visit www.f4advance.com or on their page on Facebook at: http://www.facebook.com/pages/Foundations-4-adVANCEment/140835622604066.