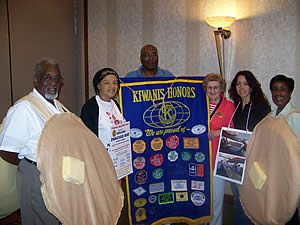 Park Forest, IL–(ENEWSPF)– The Kiwanis of Park Forest is preparing for the return of the Pankatron when it hosts its 59th Annual Pancake Day on Saturday, September 25, under the big tent in downtown Park Forest.
Kiwanians Calvin Brandon, (from left), Theresa Harris, Lionel Harris, Terry Townsend, Vanessa Galvan, and Elaine Davis are excited to serve you an all-you-can-eat feast of pancakes and sausages for $5 per adult ($6 at the door) and $2 per child ($3 at the door).
Come and see the amazing pankatron simultaneously cook up to 366 pancakes from 7 a.m. to 1 p.m. This unique griddle/conveyor belt machine was invented by Kiwanians for exclusive use on Pancake Day. Tickets may be purchased from Kiwanians in your neighborhood or from Park Forest Village Hall, US Bank, or Tower Cleaners.
In his book Park Forest: Dreams and Challenges, Jerry Shnay says Lou Alleson is credited with inventing the Pankatron. "The entire machine consists of a large griddle, a massive pourer, and a series of belts and pulleys that transport hot pancakes to waiting customers," Jerry writes.
For more information, contact Elmer Washington at (708) 748-8256.