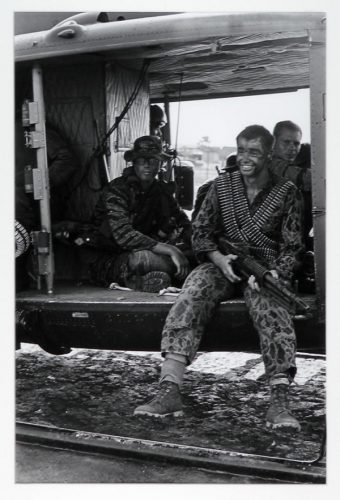 CHICAGO—(ENEWSPF)—March 26, 2018
By: Rosemary Piser
The latest exhibit at the National Veterans Art Museum (NVAM) is 'Vietnam –The Defining Moment.' This exhibit is part of NVAM's decade-long anniversary marking 50 years since the Vietnam War, The exhibit features artwork created by over 30 Vietnam veterans exploring the specific moments that transformed and shaped the lives of the military veterans and those close to them.
The exhibit will run through April 28 and is free and open to the public.
The defining moment in life is the point when internal and external forces combine to make fundamental changes in who we are. This transformation reveals our true character and determines the course of our future. Each man and woman touched by the Vietnam War had a defining moment and came home a different person than the one that left. For some it came suddenly, with hot searing pain. For others, it came slowly, with the soul wearying grind of war.
Artists featured in 'Vietnam – The Defining Moment' have captured the nature of these transformations, portraying both their own changes and those they witnessed. The artwork was created over a period of fifty years, some in the heat of battle and some only after years of reflection.
The exhibit is curated by two Vietnam veterans, Jim Moore and MIke Helbing. Of the artwork chosen for the exhibit, Moore states, "We aimed identify moments that were turning points for the subjects of each artwork and examine the role of the veteran artist in capturing either their own defining moments or those of others."
Artists in 'Vietnam-The Defining Moment' include:
Mike Helbing
John Plunkett
Charlie Shobe
Ray Blackman
Richard Lindsay
Ted Gostas
Ed Rivara
Scott Neistadt
David Smith
Elgin Carver
Leo McStravick
Richard Yohnka
Stephen Ham
Laszlo Kondor
Frank Romeo
Helen White
Jean Watson
Mike Duffy
Bill Dugan
Dale Samuelson
Dean Sharp
Cao Ninh
Farris Parker
Frank Dahmer
Ulysses Marshall
Nick Rizzo
Mike Brostowitz
Clevland Wright
Randall Heidepriem
The National Veterans Art Museum is located at 4041 North Milwaukee Avenue in Chicago. Museum hours are 10 a.m. to 5 p.m. Tuesdays through Saturdays.
For additional information, call 3121-326, 0270, email [email protected] or visit www.nvam.org.
Source: www.nvam.org