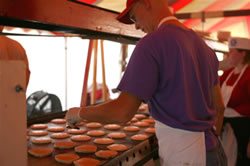 Park Forest, IL–(ENEWSPF)– The Kiwanis Club of Park Forest is hosting its 58th Annual Pancake Day on Saturday, September 26, from 7:00 a.m. to 1:00 p.m. under the big tent on Indianwood Blvd. next to the Park Forest Fire Station. The 40 members of Kiwanis welcome all of South Suburbia to enjoy meeting with old friends and establishing new ones while feasting on pancakes, sausages, and beverages.
This "all you can eat feast" is served at the pre-event price of $5.00 per adult and $2.00 per child under 12. Tickets are available from Kiwanis members, Kiwanis Key Club members at the three Rich Township High Schools, other community organizations such as Rotary, Park Forest churches, Village Hall, and USBank. The Kiwanis Pancatron will return for its 58th season to simultaneously cook up to 366 golden pancakes. This 3 feet wide and 30 feet long device is a creative assemblage of propane burners, steel plates, conveyer belts, wheels, tracks, and hoppers.
eNews Park Forest is proud to be this year's ticket sponsor for this popular family and community event.
Details are on the eNews Park Forest Community Calendar.
Photo Galleries: