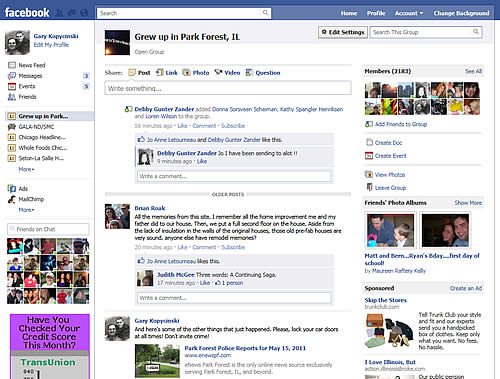 Grew up in Park Forest had 2,183 very active "Friends" as of this writing. (Graphic: Gary Kopycinski)
Park Forest, IL—(ENEWSPF)— Did you grow up in Park Forest? Many who did have found each other on Facebook on a page of the same name. As of Sunday evening, the page Grew Up In Park Forest, IL had 2,183 Facebook friends. And over the last few weeks, the page has come to life, with many sharing memories, from 1948 on.
Really.
With several posts a day, followed, literally, by at least a hundred comments a day on various posts, Park Foresters who live here now, grew up and moved, or moved and came back, are reminiscing about old times, finding out what happened to their homes, who might be living there now, and more.
The group was started by Allison McNeil DelaGarza, who says she had the "BEST" childhood growing up in Park Forest. " My Grandparents moved into the rentals at 52 Indianwood from Kankakee in 1966, the year my mother graduated high school. In 1969, my mother and father married, and settled into a rental at 343 Forest, right across the street from the Plaza (The Sears side). We stayed there until my parents bought a home on Minocqua street in 1989 and I enjoyed being able to walk to school (Rich East) in about 10 minutes!
"We attended St. Irenaeus, and oh the memories I have of the library! I remeber the carnivals in Central Park, being able to trick-or-treat through six different courts without ever crossing a street, and the wonderful friends we made during those years.
"My father has since passed away, but my mother still lives in Park Forest, now in a co-op on the other side of the plaza, but back on Forest! She celebrated 26 years at the bank (first Bank of Park Forest, then Firstar, now U.S. Bank) this past January.
"I am sure you know her if you bank there; her name is Charlene McNeil. And I am happy to report that my Gram is doing good, and still lives in Park Forest as well, a true Park Forester for 45 years now!"
Allison could not believe the traffic on the Facebook page she started, "I am truly amazed at the traffic on the site. This was just a little page I made with the hopes that I would reconnect with some old friends from high school. I never thought it would get this big!"
She appreciates resident Judith McGee's help with the page, "I cannot tell you how I appreciate Judith's involvment with this page. She is absolutley behind all of the hard work and posts you see on this site. She is amazing and is so very dedicated to Park Forest. A wonderful woman, for sure."
Park Foresters, past and present, share many, many recollections on the page.
"All the memories from this site," Brian R. wrote Sunday. "I remember all the home improvement me and my father did to our house. Then, we put a full second floor on the house. Aside from the lack of insulation in the walls of the original houses, those old pre-fab houses are very sound. anyone else have remodel memories?"
"Three words: A Continuing Saga," replied current Park Forest resident and frequent-flyer on the page Judith McGee.
"Memories working in the Plaza, first job was at the pizza place, then left and worked at the Hong's (?) for at least a year before moving over two more stores to Saxon's Paint and Wallpaper," writes Teresa M. "Had some great time in the corner of the plaza, but its gone now." This post won over a dozen comments.
Jo Anne Letourneau, also a frequent flyer on the page, shared a serene fly-over of Park Forest from YouTube:
Tim C. remembered his education, "Remembering teachers… Does anyone remember Mr. House at Lakewood Elementary? He was one of the most influential teachers for me in those days – and the only male teacher I had until Junior High."
"Who Remembers "Dandy's burger joint on Western. Where all the hoodlums and cool people met with their hot rods?" asks Gregory L. There were over 20 responses.
Paul L. reflects on being one of the first to live in the village, "Mother's Family is from Montana where I lived for about 2 years but visited every summer after moving to PF. Moved to PF in late 48 I was told as I have a good memory but not that good. Interesting to see the old home on Google map. No trees back then by most of the new homes. Now, everything is green and of course a lot smaller than I remembered."
On growing up in Park Forest, Patricia A. says, "Even though I left Park Forest when I was 16, I still can say that I grew up there. Park Forest was an amazing place to live, play and grow. I had a lot of good friends that will live in my heart forever and the memories that we shared will last as long as I do.. I am excited to be a part of this FB page. can't wait to see faces I remember from the past.. Have an AWESOME day everyone!"
"Wow now you have me blasting back into the past," added Donna S. on Sunday. "Lets see…first memory was going to The grill…near Goldblatts and having bubble gum ice cream, while I waited for my mom to get off work. I loved hanging out at the Plaza. Any Sears charm school grads here? LOL Mom worked at Marshal Fields for several years in there restaurant. How about the Pickle Barrel, any one remember that place? The move theater was great too!"
Many discover, while Park Forest has changed, many things remain the same.
"It's really bringing back a lot of memories, some I had forgotten about." Jo Anne Letourneau told eNews Park Forest. "It's just fun, interacting on it. It's very bittersweet, conjuring up the memories."
While she laments the absence of a grocery store in Park Forest, a sentiment shared by many, Ms. Letourneau says she is looking forward to spending time at the Park Forest Aqua Center soon enough. Last summer, she and a group of friends at the Aqua Center used to chat about the "old days" in Park Forest. With some recent changes in the way Facebook formats pages, much of that discussion has moved to Grew Up In Park Forest, IL.
While much has changed in a town more than 62-years-old, there are those who discover that some of the places they remember in Park Forest well-kept. "Being on this site prompted me to Google my old Park Forest address," Linda M. shared on Sunday. "Fun to see an updated image of the old place. Trees are enormous! House is smaller than I remembered, but someone is taking good care of it. The 360 degree feature let me see the neighborhood and down the street, too. Memory lane!"
Judith McGee adds that she is enjoying sharing as one of the Facebook administrators for the page, "The site was created by Allison McNeal DelaGarza, who is a site administrator. As I see it, my purpose as one of the administrators is to read and write about participants' (and to reflect on my own) memories of Park Forest, and then to suggest what it is like to live in present-day Park Forest through recommendations to the many online sites that transmit information about the Village.
"The Village has a fascinating past and a intriguing future as shown in the sites of the Park Forest Historical Society, enewspf.com and the Village of Park Forest, to name but a few. We are very fortunate in having the people who collect the information and create the sites in our midst."
And the memories live on.