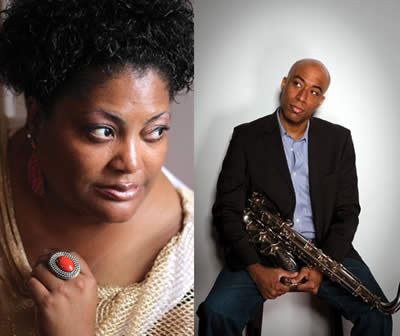 Marcya Daneille "6" Featuring Chris Greene. (SUPPLIED)
Park Forest, IL-(ENEWSPF)- Jazz vocalist and Park Forest native Marcya Daneille will perform in concert at Freedom Hall in Park Forest with featured guest, saxophonist Chris Greene, accompanied by a quintet of the finest Jazz artists from America. Daneille's debut CD is "Keeping It Simple," her melodious voice has been described as "…the perfect blend of Ella Fitzgerald, Dinah Washington and Sarah Vaughan with a dash of Billie Holiday."
Born in Stuttgart, Germany, Marcya Daneille has dedicated most of her life to pursuing the dream of becoming a professional singer. Classically trained in both piano and voice,  Marcya has created a niche for herself as a versatile vocalist with an inspiring musical sensibility and impressive technical skill. She can swing a Jazz standard, deliver a heartfelt rendition of a Negro Spiritual and may even toss in an aria or art song for fun.
Marcya (McReynolds) was raised in Park Forest, Illinois. Her earliest public music experiences were as a student in School District 163 and then later at Rich East High School where she received her first professional singing opportunities. After high school, Marcya continued her vocal training in college. As a competitive singer during her undergraduate studies at the Chicago Musical College (currently known as The Music Conservatory of the Chicago College of Performing Arts at Roosevelt University) Marcya was able to continue developing her career as a singer. She is the recipient of numerous awards including Young Artist of the Year with the Lakeview Music Society, Young Artist of the Year with the Bel Canto Chorus of Milwaukee, an honorable mention from N.A.T.S. (National Association of Teachers of Singing), as well as a Young Artist slot at the International Art Song Festival held at the University of Wisconsin/Milwaukee. Marcya was granted her first contract with a regional opera company (Lyric Theatre of Illinois) as a freshman in college. Upon graduating from college Marcya continued to sing professionally as a member of Lincoln Opera Chicago, but eventually left the area to attend the University of Iowa on a full graduate fellowship. At the University of Iowa, Marcya completed graduate coursework in Voice Performance, focusing primarily on the roles of Verdi and Puccini heroines. Marcya juggled her academic studies while maintaining a private voice studio of her own and an active performance calendar.
After relocating to the East Coast, with the encouragement and support of Burt Eckoff, a former accompanist of Dakota Staton, Marcya decided to expand her vocal work to include Jazz. Marcya maintains an active schedule as a soloist and session singer in Jazz, Smooth Jazz and Dance Music. She has recorded/performed with various local and international Jazz artists including trombonists Wycliffe Gordon (Wynton Marsalis Septet), pianist Burt Eckoff (Dakota Staton; Eddie Jefferson) and bassists Lisle Atkinson (Nina Simone), and Michael Max Fleming (Gloria Lynne). She is an established voice coach whose clientele includes local, regional and international talent.      
Dance Music produced and sung by Marcya has been released in Europe on independent labels. In addition to her monthly shows at Caffe Cielo, located in the Theater District of Manhattan, Marcya has performed at many well-known New York venues such as Rose Theater (Jazz at Lincoln Center), Alice Tully Hall, S.O.B.s, Sugar Bar, Crash Mansion and 5C. Her debut CD "Keeping it Simple" was released on Wycliffe Gordon's Blues Back Records in the fall of 2010.
Saxophonist and composer Chris Greene was born in Evanston, IL. He began playing saxophone at 10, and he eventually spent his formative years in the award-winning Evanston High School Wind and Jazz Ensembles. Around this same time, he began to play professionally with many local pop/rock and jazz bands. Greene eventually went to Bloomington, IN to attend the prestigious Indiana University Jazz Studies program and studied with renowned professor and cellist David Baker. He quickly made his mark within the ranks of the music departments; he rapidly developed his individual style and became lead alto saxophone in the IU concert and lab jazz bands.
Greene left the Indiana college town in 1994 and returned to Chicago. He immersed himself in the regional music scene and has since collaborated with some of the nation's most creative and versatile musicians. In the Chicago area alone, Greene can be seen with many different groups – in many different genres. He also leads his own critically-acclaimed group, the Chris Greene Quartet. He has also performed or recorded with the following artists: Common, The Temptations, Sheena Easton, Steve Cole, Michael Manson, Andrew Bird, Typhanie Monique, Zach Brock, Chris Rob, Vic Lavender, Jesse De La Pena, Liquid Soul and The Mighty Blue Kings. Chris Greene has perfomed at the following venues: The House of Blues, Park West, Chicago Metro, Double Door, Jazz Showcase, Green Mill, Pops for Champagne, Andy's, Baker's Keyboard Lounge, RIBCO, Elbo Room…
Tickets for this concert are $28 and can be purchased at Freedom Hall, 410 Lakewood Boulevard, Park Forest, IL.  Series package discounts are available. For more information call the Freedom Hall box office at 708/747-0580 or visit the website at www.freedomhall.org.