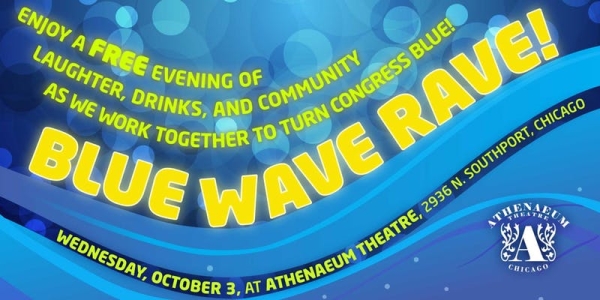 Free October 3 rally features members of Second City, Annoyance, iO theaters
CHICAGO, Ill. –(ENEWSPF)—October 2, 2018
Indivisible Chicago, a coalition of local, community-based chapters formed in the wake of Donald Trump's election, is teaming up with Chicago's legendary improv actors to inspire volunteers to get out the vote for candidates running in the November 6 elections. Together, these partners are producing a one-night-only event expected to draw more than 500 activists to the Athenaeum Theatre this Wednesday, October 3.
Get Out The Vote (GOTV) Focus
The volunteer drive kicks off with the Blue Wave Rave, Wednesday October 3 from 6 to 9 p.m. at the Athenaeum Theatre (2936 N. Southport Ave., Chicago).  This one-night-only event will feature an improv show by members of The Second City, iO, and Annoyance Theatre (see cast bios). Attendees will be encouraged to sign up for canvass shifts in the final weeks leading up to Election Day, in support of 5 key races throughout the region. Tickets are free but, as the show may sell out, registration is encouraged.
"Indivisible Chicago is adding an entirely new layer of support to progressive campaigns throughout the region," said Executive Director Darcey Regan. "We know Republicans and their PACs will likely outspend Democrats in state and Congressional races, but we fully intend to outnumber them on the ground because we know there is no blue wave unless we do the work."
Indivisible Chicago's chapters have developed an aggressive schedule to support progressive candidates in tightly contested suburban Congressional districts, with canvassing trips, phone banks, and postcard parties between now and Election Day. Blue Wave Rave attendees will be asked to sign up for the highest impact work: canvassing. This event supports the Indivisible Chicago goal of activating 1,000 volunteers for field work in these final weeks before Election Day, on behalf of Democratic candidates up and down the ballot.
Yes, you Canvass!
With so many newbies stepping up to participate in field work this year, Indivisible Chicago has also offered specialized training sessions that demystify the potentially intimidating process of going door-to-door to talk to voters. These also include improv actors leading exercises to promote productive conversations, pairing with the Blue Beginning chapter of Indivisible for these special canvass training sessions throughout the coming weeks leading up to Election Day.
"Improv actors have the communications skills needed for conversations that can be difficult, and we're happy to share those skills with activists making a difference this fall," said TJ Shanoff, Blue Wave Rave producer and The Second City director. "This is the most important election of our lives, and we don't want to leave anything on the table."
"Knocking on doors to talk to voters is the purest form of campaign work, and the most important," said Blue Beginning co-founder Marj Halperin. "Yet, many people are afraid to have a political conversation with strangers, especially in this highly partisan year. Our training helps volunteers feel more comfortable with the process and turns apprehension into eagerness."
Tickets for the Blue Wave Rave are free but require registration here.
All scheduled Blue Beginning canvass training sessions have ended, but those who would like to host a training should request information from [email protected]
For Indivisible's list of canvass, phone banking, and other Get Out The Vote actions, click here.
Source: Indivisible Chicago