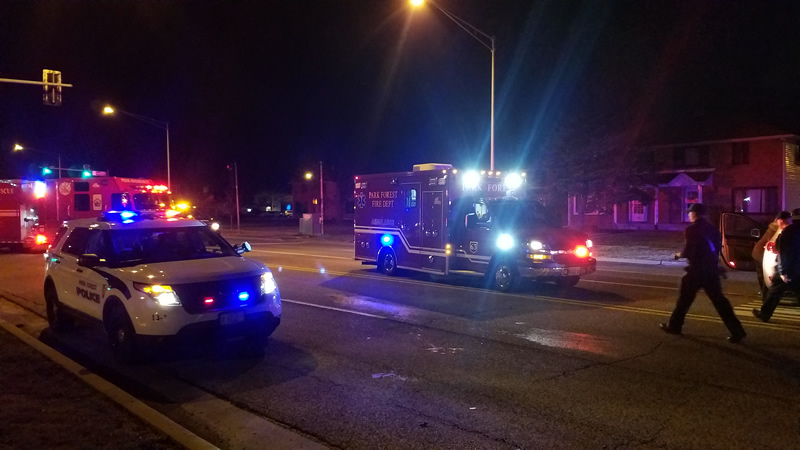 Park Forest, IL-(ENEWSPF)- The Village Board is considering a proposal to raise ambulance fees to capture more revenue from insurance companies and ending the practice of sending people who don't pay to collections. By raising rates across the board, the Village would capture more revenue than it currently does by charging less. The current fee structure is in line with what Medicare, Medicaid, and public aid will pay, but far below what private insurance in general pays.
Private insurance has been paying either the entire rate charged by the Village, or a portion, depending on individual plans. Because the rates the Village was charging were only structured for Medicare, Medicaid, or public aid, the Village received less than it could have, given what private insurance now pays.
In bringing this matter before the board, Village Manager Tom Mick said there were some basic questions staff considered, "What is typically reimbursed or paid for by insurance, Medicare? We also look at, what are our neighbors doing?"
The last time the Village increased ambulance fees were 2014. "Ultimately, we're looking to increase across the board."
Ambulance Fees Rising to a Flat Rate for All Transport Categories
According to the proposal, ambulance fees will rise regardless of the type of transport. The current fee schedule follows a tiered approach:
| | | |
| --- | --- | --- |
| Service | Resident | Nonresident |
| Basic Life Support | $425.00 | $700.00 |
| Advanced Life Support | $525.00 | $800.00 |
| Advanced Life Support 2 | $725.00 | $900.00 |
| Mileage (per mile) | $12.50 | $12.50 |
| Treat/No Transport | $100.00 | $200.00 |
The proposed fee schedule would make all life support categories the same, with resident fees jumping to $1,000 and non-resident to $1,250:
| | | |
| --- | --- | --- |
| Service | Resident | Nonresident |
| Basic Life Support | $1,000.00 | $1,250.00 |
| Advanced Life Support | $1,000.00 | $1,250.00 |
| Advanced Life Support 2 | $1,000.00 | $1,250.00 |
| Mileage (per mile) | $15.00 | $15.00 |
| Treat/No Transport | $100.00 | $200.00 |
The proposal was unveiled at the last meeting of the Village Board on July 16. The Manager said he sometimes hears questions regarding ambulance fees from the public, "Why do we have those fees and why do we charge them? I think it's no different than a lot of the other services that we offer the community. We basically are going to provide operations in our community in each department by property taxes, user fees, and, if we're lucky, grants; plus, whatever you may be able to support with the General Fund, whether it be fees that we get from the state or sales tax, etc."
"Every so often, you have to look at, what are those user fees?" Mr. Mick continued. "In this case, when it comes to ambulance transport, our goal is to try to offset the expenses for our Fire Department, especially when we know that insurance agencies and Medicare are going to reimburse us to certain limits."
Shouldn't property taxes cover ambulance transport? "That is one train of thought that I think is out there, and I think it's a valid one," Mr. Mick said. "But if we didn't have transport fees and if we didn't go to the insurance companies to offset those costs, our costs being passed on to the taxpayers to underwrite services provided by the Fire Department would be that much more expensive as well."
"I think sometimes there has to be a little bit of a reconciling with those folks who are using the actual service. Ideally, when we go to Freedom Hall, we talk to Chuck [Sabey] about the tax support we have for Freedom Hall services. We want to be able to offset as much of the tax support as possible by people that are coming to see the shows. In many respects, we're looking at something similar when it comes to ambulance rates, especially when we know what insurance is going to pay either through private insurance carriers or Medicare," the Village Manager said.
According to Fire Chief Tracy Natyshok, the Fire Department staff started working on this project months ago.
"It started with the potential of ambulance fee adjustments. They included a list of comparables, researching billing trends throughout the industry and a review of our current fees with our third party billing company. Traditionally, the fees schedule is based on a derivative of the actual cost associated with operating the ambulance services. The fees are in line to comply with Medicare fee schedules so our patients can receive maximum coverage from Medicare, Medicaid, and/or public aid."
Current rates in Park Forest are mostly below what other communities charge. Only three communities surveyed charge less than $1,000: Richton Park, Crete, and Steger Estates. All other communities charge $1,000 (South Chicago Heights for Basic Life Support only) or more. Beecher charges $1,100 for Basic Life Support (BLS), $1,250 for Advanced Life Support (ALS), and $1,500 for Advanced Life Support 2 (ALS2). Frankfort and Matteson come in at the high end, charging $1,800 for each category. Other communities, Flossmoor, New Lenox, and Orland Park all charge more than $1,000.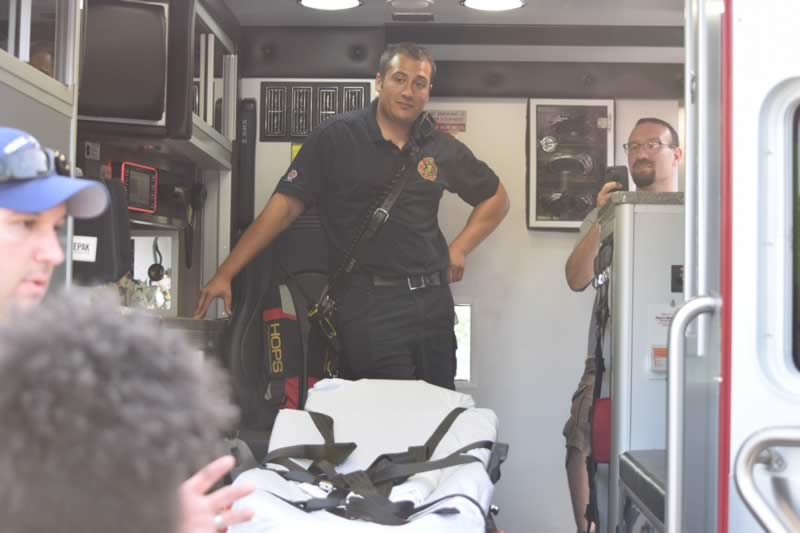 "It's important to know the fees the department charges do not completely cover the cost of operating the ambulance service, but, by design, are intended to offset some of the operating costs by those who use the service," Chief Natyshok told the Village Board. "The remaining costs are funded through taxes, grants, through the Fire Department budget."
"While doing the research, two interesting things really came to the forefront, the chief said. "The first one being, while we are in line with Medicaid and Medicare, we are well below what private insurance companies pay. Private insurance companies pay up to $1800 throughout the country for ambulance services.
"So we're not really collecting the maximum amount of revenue that's available through insurance billing.
"The other topic that was of interest was that of collections. Currently, while we keep our rates lower to meet the Medicare standard, anyone that doesn't have insurance to cover that amount is sent to collections."
Last year, third-party billing service collected $6,000 total through collections, the chief told the board.
"Soft Billing" to Replace Sending People to Collections
"Our concept that we're looking at is to increase our fees so we collect a higher amount from private insurance and not send any of our citizens to collections, do what they refer to as a 'soft bill.' Kind of like when you go to your own doctor, they'll accept the amount that your insurance pays," Chief Natyshok said.
"Some of our neighbors have decided to go all the way up to $1,800," the Chief said, adding that an increase of that magnitude would "look too big." Instead, proposed fee increases will go to $1,000, about halfway up to the $1,800 insurance companies pay on average for ambulance transport.
Mayor Ostenburg asked for clarification, "So if I understand correctly, what that means is, when the bill is issued, what the insurance company or Medicare will pay is what you will accept, and you won't be turning the extra amount over to collections?"
Chief Natyshok acknowledged that this was correct.
"By increasing the fee, you will recoup more of what the insurance company will pay," Mayor Ostenburg continued, "and that gives you the flexibility to be able to do that?"
"That's correct, sir," Chief Natyshok responded.
In essence, the $6,000 that was recovered last year from collections would not be needed as the added revenue from insurance companies would be greater, an increase of more than $65,000, according to budget projections.
"In theory, that $6,000 won't be coming from our citizens, it will be coming from the insurance companies," the chief responded.
"So, by increasing fees, we're actually saving our citizens money," Mayor Ostenburg added.
"That is correct," Chief Natyshok replied.
Ambulance Fees in More Depth
In a subsequent phone interview with Fire Chief Natyshok, the chief said he read some of the public comments on a Facebook thread where people were discussing the proposed ambulance fee increases. He said it appeared some needed some clarification on the billing concept for ambulance transportation.
"Every few years," the Chief said, "the Fire Department staff does a study to see where we're at as far as billing goes. One of our main goals is to always remain competitive and to be able to bring the best service at the most fiscally-responsible price to the people of Park Forest."
The Chief said one step in the review process is to compile a list of comparables from other towns to see what other towns are charging and to likewise see how much their respective billing companies are charging those towns.
"While we were doing our research, a couple of things came to light. We were actually paying a higher percent than some other towns that don't run near the amount of calls as us," Chief Natyshok said. "We were really, on a comparable basis, a lot lower on our charges than other departments."
"We brought in a couple of the other billing companies and had some conversations with them," the Chief continued. These conversations brought two things to light, "We've always tried to align our ambulance fees with Medicare. That way, we can receive maximum coverage from Medicare, Medicaid, and/or public aid. The amount that wasn't covered by that, those residents would have been sent to collections," again reiterating that, in the previous year, collections recovered only $6,000.
Chief Natyshok said that, in the course of the conversations, he expressed his desire to send no one to collections in the future. "I don't think that's something that we want to do," he said. "The idea came to light that we weren't capturing the full amount of insurance revenue because, while we were in line with Medicaid, we were way below what private insurance pays."
The Chief said the discussions progressed and those in discussions arrived at a consensus that, by raising ambulance fees, the Village would capture more money from private insurance, "…then we'll just write off the non-paying, the ones that we sent to collections," under the current policy.
People will still receive two bills for the difference if the money received does not cover the new fees, whether that is from insurance, Medicare, Medicaid, public aid, or those with no insurance.
"By law, we have to send a second notice," the chief said. "So, everybody will receive a bill. We don't do the billing ourselves. We use a company called Andre's Medical Billing." That company operates out of Arlington Heights.
If someone pays the bill sent by Andre's Medical Billing, the Village won't turn down the payment. However, if they don't pay, or, if they can't pay, the matter will end after the second bill is sent.
"When we transport someone to the hospital, that information goes to Andre's, who then sends that person a bill," Chief Natyshok said. "If they don't get payment for that bill, what would happen is, in the past, they would get a second notice because they have to send a second notice. That's the way the law's written. And then, if they don't receive payment after the second notice, they go into collections."
"What we're going to do is, we're going to send the second notice, and that's what Andre's has to do, but we don't pursue it after that point. That's where it ends."
Even under the current system, Chief Natyshok said he will receive calls from "hardship cases," e.g. people without medical insurance, "and we will write them off now." A lot of times, the chief said, if a person does not request consideration for hardship, "we won't even know about it because it's a third party doing the billing."
Money written off because of hardship considerations was just lost revenue. The proposed system would help make up that difference also with the added $65,000 anticipated extra revenue.
Regarding the added revenue, the chief noted, "We're not looking to spend that money. It's actually just going to reduce the tax burden. Our budget doesn't change as far as we're going to spend $65,000 more. The whole project and the whole concept was, what can we do to help our citizens? The fact that we can now keep our citizens from having to go to collections because they needed an ambulance, and that we could actually reduce of tax burden that is required to operate the Fire Department, because we'll now have a different revenue stream: in our minds, it was a 'win, win' for the citizens."
Chief Natyshok said the department has charged ambulance fees for 20-25 years.
On the Closing of St. James Hospital in Chicago Heights
Another proposed item from the Fire Department relates to specifying that Park Forest will only transport patients to St. James Olympia Fields Hospital now that St. James in Chicago Heights is due to close.
"It really comes down to, how can we best protect the people of Park Forest?" Chief Natyshok told eNews Park Forest. "The truth of the matter is, if we opened it up to South Suburban, there are some benefits, but the danger is the downtime of the ambulance. With the increased downtime, with the number of calls that we run with our manpower, it just puts us in a tough decision. Of course, we would love to be able to go there to better serve our citizens, but, the reality of it is, it would be adding a risk that, at this time, with our current situation, the benefits don't outweigh the risks."
The risk would be not having anyone to respond to a citizen who called for an ambulance, the chief said.
"Last year, I think we ran 968 concurrent calls," Chief Natyshok said. "What that means is that 968 times both ambulances were gone at the same time. So, you need to get one of those ambulances back in service as quick as possible. When both ambulances are gone, that means there's only one person at the fire station. If you increase the amount of time they were out of town, that would increase your exposure to where you have no ambulance, and/or no manpower to handle an ambulance call."
It is expected that both ordinances proposed by the Fire Department, that relating to ambulance fees and the other relating to transporting exclusively to St. James Hospital in Olympia Fields, will be on the next Regular Meeting of the Village Board for second reading and a vote for approval.
Related: Park Forest Agenda: Ambulance Fees To Nearly Double, Hospital Choices Will Drop To One