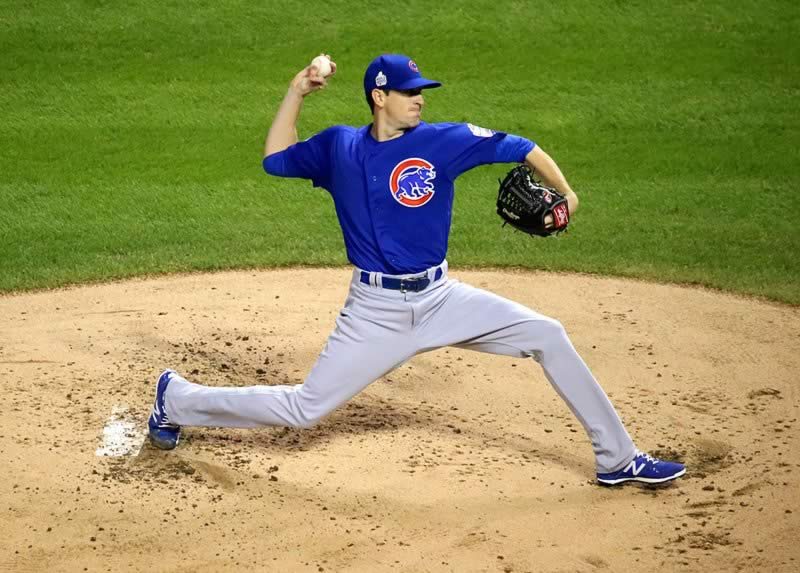 Atlanta, GA-(ENEWSPF)- The Cubs(1-2), after a disappointing opening series where they scored 26-runs and poor pitching from the bullpen, including one blown lead late against the Texas Rangers, the Northsiders were looking to bounce back at SunTrust Field in Atlanta to face the Braves(0-3) in front of a sell-out crowd of 41,912 fans. Kyle Hendricks, coming off a 14-11, 3.44 ERA season in 2018 was on the rubber for the Cubs vs. Left-hander Sean Newcomb for the Braves.
The Cubs looked to start a scoring threat early. After an Albert Almora Jr. fly-out to start the game, Kris Bryant took the first pitch into center field and found the gap for a double. Fly-outs by Anthony Rizzo and Javier Baez would end the Cubs' top half of the 1st.
The Braves didn't waste any time to get to Hendricks in their bottom half of the frame. After an error by rookie Mark Zagunis on a foul pop-fly, Braves' leadoff hitter Ender Inciarte would blast a 414ft shot to right-center field on an 0-2 Hendricks changeup to get the scoring going for Atlanta. Third baseman Josh Donaldson would follow up with a sharp single to Mark Zagunis in left-field. Two batters later, Hendricks would surrender a walk to Ronald Acuna to put runners on 1st and 2nd for Atlanta. On an 0-1 count, Nick Markakis would hit a ground ball to Anthony Rizzo, who, threw out Acuna at 2nd, scoring Josh Donaldson. A throwing error by shortstop Javier Baez allowed Markakis to be safe at 1st and give the Braves a 2-0 lead. Leftfielder Ozzie Albies doubled on a misplay by Javier Baez at short, putting runners on 2nd and 3rd.
Atlanta was not done yet. Brian McCann would come up next and hit a single to centerfield, scoring Markakis and Albies and give the Braves a 4-0 1st-inning lead. Hendricks, would get Dansby Swanson to ground out to Baez at short to stop the bleeding and the inning.
The Cubs, after a red-hot offense in their opening series against Texas, were looking to get something going in the 2nd. Catcher Willson Contreras led off with a walk and David Bote followed with a single to put runners 1st and 2nd to start the inning. Up next, was Jason Heyward. Heyward, would ground into a double-play. A Kyle Hendricks walk put runners on 1st and 3rd with 2 outs for the northsiders. Mark Zagunis struck-out looking on a 2-2 count to end a Cubs'scoring opportunity.
In the Cubs top half of the 3rd, a Kris Bryant walk, a two-out Javier Baez single, and a Willson Contreras walk would load the bases. However, a David Bote groundout to Josh Donaldson would end a chance for the Cubs to chip away at the Atlanta lead.
The Braves got to a struggling Kyle Hendricks again to start the bottom of the 3rd with a Ronald Acuna homerun to deep left-center field and put the Braves up 5-0. If there was any highlight for the Cubs' defense last night, with one-out, Ozzie Albies hit a sharp-liner to right field where Jason Heyward made a nice diving catch to his left for the 2nd out of the inning. Up at the dish with two outs next was Brian McCann. McCann hit a grounder to Cubs' first baseman Anthony Rizzo, who, would commit a fielding and throwing error which wound up putting McCann on 2nd. Dansby Swanson struck-out swinging to end the Braves' 3rd.
The Cubs tried to get something going again in the 4th, but continued to struggle. After a Jason Heyward leadoff single and a two-out single by Almora Jr., Kris Bryant failed to come up with a much needed clutch hit by grounding out to Swanson at short.

On to the bottom of the 5th, the Braves were at it again. With one-out, a Nick Markakis single and Ozzie Albies double put runners on 2nd and 3rd. Up next was Brian McCann.
The Cubs intentionally walked McCann to set up a double-play situation. Dansby Swanson would hit the much needed ground ball that they were looking for, back up the middle, only to ricochet off of Hendricks' glove to Bote at 2nd. Bote would scoop it up and a throwing error scores Markakis and Albies to give Atlanta a commanding 7-0 lead. That was the Cubs' 5th error of the night. Reliever Brandon Kintzler would enter the game in relief of Hendricks who would exit the game after going 4 ⅓ innings, 10 hits, 7 R, 2 ER, 3 BB, 4 K's, and 2 HR.
After a one-out double by Atlanta first baseman Freddie Freeman, Atlanta would tack on another run on an Ozzie Albies single off of reliever Randy Rosario to score Freeman to expand the Braves' lead to 8-0.
With the heart of the Cubs' order up, Kris Bryant, Anthony Rizzo, and Javier Baez would go down 1-2-3 in the 7th.
Tempers would flare in the 8th. After a one-out single by David Bote, Jason Heyward grounded into his second double-play of the game to end the inning. After the play, Braves' 2nd baseman Ozzie Albies had a few words with Bote at 2nd after what he felt was a dirty slide by the Cubs' second baseman. The benches and bullpen would clear, but no punches were to be thrown. Bote said about the slide after the game, "I just go hard every time. It was a clean slide, nothing dirty. No matter what the score, you play hard until the last out."
Cubs' pinch-hitter Kyle Schwarber would strikeout to start the top of the 9th.
Following a David Bote double, Albert Almora Jr. popped into a weird double-play to Ozzie Albies at 2nd who flipped the ball over to Swanson at 2nd to double up Bote to end the game and give the Braves the 8-0 win.
After the game, Cubs' skipper Joe Maddon was asked about the team's poor defensive play. "We attempted to make plays we shouldn't have attempted to make. More mental errors. I know there were physical errors, but they were more like, to me, mental errors that I don't know why they popped up today. I thought we were in pretty good shape coming into this game. I do have a lot of confidence that that will go away."
Maddon continued on to say, "Weird game. I know it was the home opener, but we did not have to cooperate that much. It's just a really poorly played game on our part from the beginning. It just was. A lot of awkward things. The errors were not difficult plays that we just did not make, so all of a sudden all these errors pop up. We made some mistakes that we have not been making. They turned into four runs early, and that's what made the game look so bad."
Cubs' second baseman David Bote was quoted as saying, "It was just one of those days. You just flush it and go the day after tomorrow. Only on April Fools' does a game like that happen. That's why we've got 158 left to go."
After an off day today, the series concludes Wednesday evening at 6:20 PM CDT with Jon Lester for the Cubs going up against Julio Teheran for the Braves.
WP- Wes Parsons(1-1); LP- Kyle Hendricks(0-1)
GAME NOTES:
The last time the Cubs committed 6 errors was in an 11- inning game on September 12, 2006 vs. the Los Angeles Dodgers.
Last night was the first time the Cubs committed 6 errors in a 9-inning game since 1982, and the first time a team had 6 errors since the New York Mets did it on September 1, 2014.
N.B. It had been 54yrs since the Cubs were shutout while making that many miscues, according to the Elias Sports Bureau.