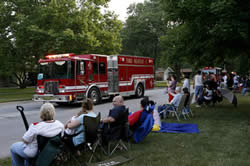 Park Forest, IL–(ENEWSPF)– Come and enjoy the Village of Park Forest's annual 4th of July Celebration in Central Park. Residents are encouraged to spend the day with family and friends in and around Central Park where a full slate of attractions will take place, including children's activities, food booths, the annual parade, a free concert and fireworks at dusk. Details include:
4:00 p.m. – Attractions and food vendors in Central Park for family and kids.
6:00 p.m. – The patriotic parade kicks off on Orchard Drive near the Aqua Center and proceeds around the perimeter of Central Park along Orchard Drive, Westwood Drive and Lakewood Drive.
7:00 p.m. – Free concert in Central Park by the Chicago Groove Connection, an act which specializes in rock, Motown, R&B, funk, contemporary and jazz music.
Dusk – Fireworks – which by the way, are some of the best in the south suburbs, as attested by the number of visitors to Central Park from out of town.
And don't forget to decorate your home this 4th of July. Show your patriotism and pride this 4th of July by decorating your home in red, white and blue. As a village originally built for servicemen returning from war, all in Park Forest are encouraged to honor our history and celebrate our independence by decorating.
Enjoy your 4th of July in Park Forest.
Source: Village Manager's Report