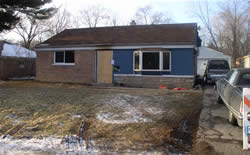 Park Forest, IL—(ENEWSPF)— Police issues their final report on the arson/suicide incident on Monee Rd. that occurred in the early morning hours of January 19. As previously reported in eNews Park Forest, shortly after 1:30 in the morning, police were investigating a report of gun shots in the area of Monee and Western. A police officer conducting a traffic stop at the intersection of Steger Rd. and Western Ave. heard what appeared to be a single gun shot in the direction of Monee Rd., according to police reports. A resident from Monee Rd. had also called in to the dispatch center relating hearing what appeared to be two gun shots in the area. Investigating patrol units observed that the single family home located at 8 Monee Rd. was engulfed in flames.
According to police reports, the first officer to respond to the scene observed "flames from the inside of the residence were exiting through the top of the front door. A large amount of smoke engulfed the residence." The officer observed that all the windows and doors were closed and appeared to be intact. Because of the smoke, the officer was unable to observe anything inside the residence. He notified residents on either side of the burning house of the fire, in case there was a need for an evacuation.
The Park Forest Fire Department had responded to the scene also, and additional Park Forest police officers responded. Entry to the house had to be forced by the fire department through the locked front door of the residence, and "while trying to enter the front door, the firefighters found that front door was still being obstructed from something behind the door," according to police reports. After extinguishing the fire, firefighters found the body of 41-year-old Glenn Gereg.
Firefighters observed an open, red plastic gas can in the kitchen area of the house, and smelled what appeared to be a heavy odor of gasoline throughout the interior of the house. The firefighters secured the scene with barrier tape, and the Illinois State Fire Marshall's office was contacted, and an arson investigator was requested to the scene, according to police reports.
Detectives observed a dark colored metal revolver about one foot from Mr. Gereg's feet. There were three guns recovered from inside the residence, two rifles and one handgun.
Through the window of one of the vehicles parked in the driveway, detectives noticed "several pictures in frames, legal documents, envelopes with hand-written notes on the outside, various papers," and other items, according to police reports. The items were placed on the seat "in what appeared to be a staged fashion," according to the report. Detectives also observed a small, micro recording device that had been placed on the dash board, just above the steering wheel.
"Going to see Julie"
While still at the scene on January 19, a detective was approached by a neighbor who asked if Mr. Gereg had killed himself. When asked why she might have thought that, the neighbor responded that Gereg had been depressed for several months, and he had been cleaning his residence, garage, and yard, as if in preparation for death, the police report says. In early January 2007, Gereg had told another neighbor that he was "going to see Julie," according to the report.
Julie Salame, Gereg's girlfriend of 12 years, had been killed in a car crash several months earlier, according to the police report. This had made Gereg increasingly depressed.
One of the detectives at the scene was approached by a friend of Glenn Gereg's. Information from this person led investigators to Jack's Bar in Steger, IL, where some of Gereg's friends were. The detective went to Jack's Bar, and learned spoke to a woman who received a voicemail on her cell phone on January 18. While parts of the message were not understandable, she reported that she did understand Gereg to say, "I'll be leaving today: tonight I'm going," and, "See you in the next life."
She also reported that she was aware that Gereg was scheduled to spend time in jail for traffic charges that were currently pending in the courts. Gereg had told her that he would die before he went back to jail.
The report says that in early January 2007, Gereg learned that he would have to serve a period of time in the county jail or state prison for traffic charges that were currently pending in court. A plea agreement had been worked out, but Gereg had backed out of the agreement at the last minute, according to the report, stating that he would never go back to jail. This was confirmed by another person police interviewed, a childhood friend of Glenn Gereg. This was perhaps the last person to speak with Mr. Gereg. Their conversation concluded around 1:00 a.m. on January 19. She reported that during the conversation, Gereg was at home, "and very distraught," according to the report.
Gereg repeatedly told her during the conversation that he would rather die than go back to jail. Mr. Gereg ended the telephone conversation by stating, "I'll see you again some day."
It was determined that Mr. Gereg had died by suicide.
Risk factors for suicide
The Mayo Clinic website lists several risk factors. Factors that put people at higher risk include:
A prior suicide attempt
Having a psychiatric disorder, such as depression, bipolar disorder, schizophrenia or personality disorders
Alcohol or substance abuse
A family history of mental disorders or substance abuse
A family history of suicide
Family violence, including physical or sexual abuse
Firearms in the home
A significant medical illness, such as cancer or chronic pain
Potential warning signs of suicide
While stressing that some people don't reveal any suicidal feelings or actions, the Mayo Clinic website lists some typical warning signs:
Talking about suicide, including making such statements as "I'm going to kill myself," "I wish I were dead," or "I wish I hadn't been born"
Withdrawing from social contact and having an increased desire to be left alone
Wide mood swings, such as being emotionally high one day but deeply discouraged the next
Preoccupation with death and dying or violence
Changes in routine, including eating or sleeping patterns
Personality changes, such as becoming very outgoing after being shy
Risky or self-destructive behavior, such as drug use or unsafe driving
Giving away belongings or getting affairs in order
Saying goodbye to people as if they won't be seen again
Hopeline Network
Park Forest resident Joanna LaBelle, NCC LPC, who also serves as a guidance counselor at Marian Catholic High School, provided the following comments in light of this tragic event, "Suicide is a very permanent solution for what may feel like an overwhelming obstacle in your or someone else's life. Remember to take the feelings of hopelessness seriously. There are people who will listen and help and really care. If you are in need of help please call the hotline number or contact a counselor, teacher, clergy, doctor, parent, or friend. DO NOT ISOLATE YOURSELF. You do not have to be alone. Reach out immediately!"
LaBelle provided the number of the Hopeline Network, 1-800-SUICIDE (1-800-784-2433).
Sources: Park Forest police reports, http://www.mayoclinic.com, http://www.hopeline.com/